My Triangle 2019.08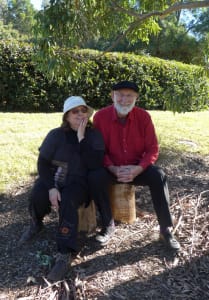 Tilba couple finds peace, beauty and a sense of belonging
Cathie and Denis Muller were seduced by the beautiful land and waters around Gulaga when they brought their extended family here on holiday in 1998, and in 1999 they bought five acres near Central Tilba. They built a weatherboard home designed by Narooma architect Phil Rose and pulled lantana and blackberry by hand to restore a degraded gully to cool-temperate rainforest. They now nurture and enjoy an extensive garden of South-Eastern Australian trees and shrubs.
If you wander through the Central Tilba Market on Saturday mornings you will probably hear Cathie playing piano arrangements of music by the Beatles, Simon and Garfunkel, Billy Joel, Carol King or Elton John, but true to her classical roots, she also plays a little Beethoven, Chopin and Scott Joplin. Cathie has taught piano and theory to AMEB Diploma level, but now appreciates having an incentive to brush up her technique and expand her repertoire. She has returned to teaching, this time encouraging adult students who have had some previous training and are eager to regain their confidence and skills.
Denis likes being part of the Market scene and can often be seen sitting at a small table near the piano, reading the Saturday papers or chatting with friends and passers-by.
Denis is a social researcher, academic and journalist. As a journalist, he worked for 23 years on The Sydney Morning Herald and The Age. He does a weekly live broadcast for ABC regional Victoria, often out of the ABC studio in Bega. As an academic, he teaches media law and media ethics at the University of Melbourne and is a regular contributor to The Conversation. As a social researcher, in 1999-2000 he explored attitudes among Aboriginal and non-Aboriginal Australians for the Council for Aboriginal Reconciliation, in collaboration with Irving Saulwick. Their reports provided a foundation on which policies to promote Reconciliation could be built. Denis was the moderator for the lively and informative panel discussion at the recent NAIDOC celebration in Central Tilba.
Cathie's family first settled in Nerrigundah in the 1850s, but her sense of belonging is enriched by her community activities. She is a member of the Gulaga Reconciliation Group which facilitates events that provide opportunities for cross-cultural understanding and friendship, and she teaches in the Primary Ethics program at Narooma Primary School, which is designed to help children develop their own framework for critical thinking and ethical decision-making.
Denis dabbles in leadlight and art glass and Cathie enjoys gardening and the challenge of designing for both prospect and refuge. She expresses her delight in the delicacy and wonder of natural things in pencil and ink drawings.
Denis and Cathie frequently join the Tilba Song Circle at the Drom where Denis admits to having a 'roar' on the guitar and Cathie taps away on a family drum acquired in Papua when she lived there as a child. In quieter moments they attend the more reflective gatherings at Open Sanctuary, the little, heritage-classified church building in Tilba Tilba where small gatherings of people of all faiths and ethical frameworks ponder big thoughts.
Cathie and Denis have lived and worked in Sydney and Melbourne and London, but it is here on the Far South Coast that they feel privileged to have a home base for their family, to live in a place of beauty and abundance, and to be part of a generous, diverse and inclusive community.
https://thetriangle.org.au/wp-content/uploads/2020/12/My-Triangle-2019.08.jpg
1200
837
Debbie Worgan
https://thetriangle.org.au/wp-content/uploads/2021/01/masthead-orange.svg
Debbie Worgan
2020-12-30 14:50:05
2020-12-30 14:50:05
Cathie and Denis Muller