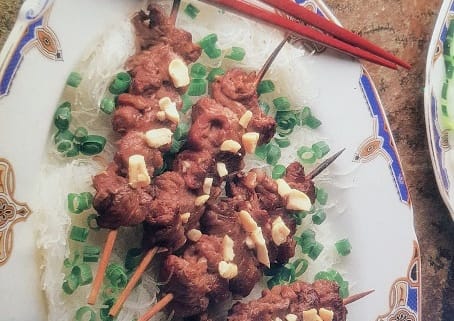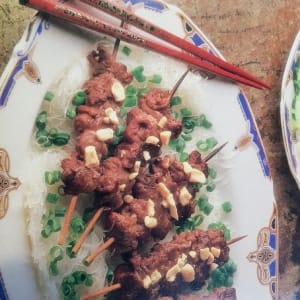 Anh-Thu Stuart
1 kg fillet steak or rump steak
1 large onion, minced
4 cloves garlic, minced
3 tablespoons finely chopped lemon grass
1 teaspoon sugar
½ teaspoons salt
5 tablespoons oil or lard
100 g roasted peanuts, crushed
bamboo skewers (soak skewers in a dish of water for 30 minutes before using)
Method:
Discard all the gristle and fat from meat. Slice meat thinly (about 0.3 cm thick and 2.5 cm x 6 cm). Mix meat with onion, garlic, lemon grass, salt, sugar, two tablespoons oil and two tablespoons crushed peanuts. Let the mixture stand for at least two hours in refrigerator.
Thread meat slices on skewers, folding each slice into two or three before threading. Do not put slices too close to each other or they will not cook properly.
Preheat the barbecue flat-plate to moderately hot, brush plate lightly with oil before adding the beef skewers. Let the beef skewers cook on one side until moisture appears before you turn. Make sure you do not overcook. It is better to have the meat well browned outside and slightly rare inside. Sprinkle the remaining crushed peanuts on the meat before serving.
How to serve:
This dish can be eaten with boiled rice or rice vermicelli, chopped spring onions fried in hot oil and salt, bean sprouts, cucumber and mint salad, and lemon and garlic fish sauce. It can also be eaten rolled in rice paper with rice vermicelli, lettuce, cucumber and mint, and lemon and garlic fish sauce.
https://thetriangle.org.au/wp-content/uploads/2022/05/Open-Sauce-1-beef-skewers.jpg
454
454
Debbie Worgan
https://thetriangle.org.au/wp-content/uploads/2021/01/masthead-orange.svg
Debbie Worgan
2022-05-28 13:42:32
2022-05-28 14:09:34
Beef skewers (Bo nuong)