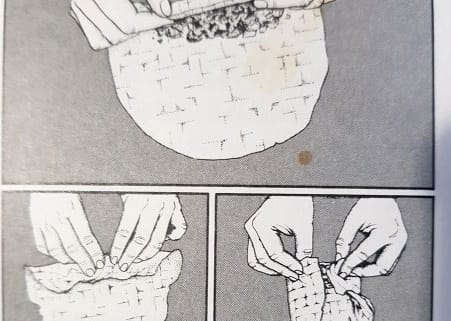 Pork and prawn rice paper roll (Goi cuon)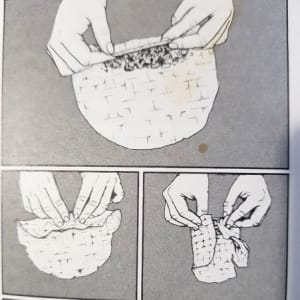 Anh-Thu Stuart
400 g boneless belly pork (remove skin) or pork rashers
½ teaspoon salt
300 g cooked or uncooked, small to medium prawns
100 g medium rice vermicelli
20 rice papers (medium to large)
lettuce leaves
mint leaves
150 g fresh bean sprouts
1 bunch garlic chives (optional)
Method:
Wash pork thoroughly. Boil two litres of water in saucepan, add salt and meat. Boil over moderate heat for twenty minutes or until cooked. Remove meat from water. Slice meat thinly (2-3 mm).
If prawns are uncooked add to boiling water. After they float to the surface, keep boiling for another two minutes. Then drain and cool. When cool, shell prawns and slice the big ones in half.
Place vermicelli in boiling water and boil until soft (five to ten minutes). Wash in cold water and drain in colander.
How to make the fresh spring rolls:
Lightly wet rice paper in warm water one sheet at a time.
Place rice paper on plate and put ingredients on it in the following order: lettuce leaf, two or three mint leaves, bean sprouts, vermicelli and about four slices of meat.
Fold in the two sides and roll paper up once. Place two or three prawns on unrolled paper, roll up once more. Then add a stalk or two of garlic chives if you're using them, letting them poke out of the roll. Finish rolling up.
How to serve:
Pour sauce (you can use hoi sin sauce) into individual sauce bowls with a dash of chilli sauce if required, and dip roll in sauce.
https://thetriangle.org.au/wp-content/uploads/2022/05/Open-Sauce-2-How-to-roll-rice-paper-roll.jpg
451
451
Debbie Worgan
https://thetriangle.org.au/wp-content/uploads/2021/01/masthead-orange.svg
Debbie Worgan
2022-05-28 14:06:02
2022-05-28 14:06:02
Pork and prawn rice paper roll (Goi cuon)