Annie Dunne, by Sebastian Barry, $19.99

Reviewed by Heather O'Connor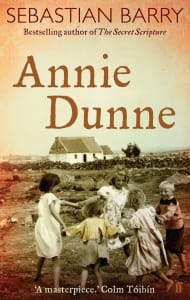 One of the greatest joys of my life is reading almost anything written by almost any Irish writer – and Sebastian Barry is in my top five favourites. Over Christmas I read Days Without End, and then found Annie Dunn. Set in the 1950s in Ireland, it could have been describing the lives of 19th century rural women. So little had changed for those who struggled on marginal farming land, who were unmarried and who relied so heavily on themselves and their relationships with family and neighbours. Annie and her cousin Sarah manage a small farm by themselves; as "spinster aunts" they also take on the responsibility for two young relatives whose parents are away in London looking for work. The book describes the everyday challenges of unrelenting work and the precarious ability to survive when faced with such decisions as selling their only horse, thus their only means of transport.
Annie's existence relies entirely on the continuing support of Sarah who has provided her with a home in exchange for her labour. The relationship between the two women is so touching it occasionally brought tears to my eyes. Just the description of their work together on washing day tells it all. But there are also extremely grim issues of abuse, of the vulnerability of women living without men, and of the uncertainty facing those without a home to call their own.
Sebastian Barry's writing is often described as poetic, and Annie Dunn is the ultimate example of that truth – it is really beautiful. In 230 pages he packs in a fabulous description of Irish country life, of families, of the essential decency of humanity in the face of the dark side. Treat yourself to reading it straight through.
https://thetriangle.org.au/wp-content/uploads/2015/10/book-2.jpg
1280
811
Darryl Butler
https://thetriangle.org.au/wp-content/uploads/2021/01/masthead-orange.svg
Darryl Butler
2020-12-07 23:28:46
2020-12-10 12:38:17
Annie Dunne