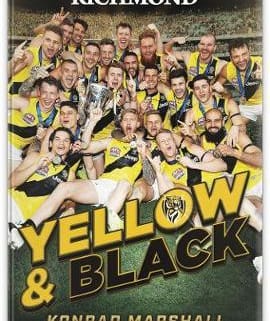 Konrad Marshall, Yellow and Black: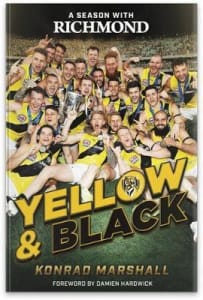 A Season with Richmond, $34.95
Normally, the monthly Triangle review involves a best-seller, hopefully with fairly wide appeal. But this one is unashamedly for the handful of AFL tragics, of whom I am proudly one. Detailed conversations, descriptions, explanations covering one season for the Tigers – the Premiership year of 2017. How could it warrant a book of 500 pages? Easily!
Sixty years of following Aussie Rules and I had no idea of the enormity of the enterprise which is the modern AFL club. In the case of Richmond – 140 staff, an annual turnover of $60 million, 70,000 members (more than the combined membership of the major political parties!), countless volunteers who fund-raise, construct banners, wash jumpers, house new recruits, and provide mentorship, financial advice, social media training and ethics, even table manners and other social skills. The Club runs dedicated education and leadership programs for Indigenous boys and girls, and encourages philanthropic and charity work amongst its players.
Read the book and you will be privy to detailed conversations before, during and after every match of the year; you will learn about game strategies and tactics and the planning thereof. Never heard of 'recovery nutrition'? Wondered what Dusty Martin prefers as his half-time snack? (eight rice crackers); contemplated how training schedules, individual fitness programs, leadership training, rotation guidelines are devised? This is the book for you!
One of the central questions the book tackles: how to develop the 'Richmond Man'. What are his qualities? How can he learn from past heroes and legends? What is the importance of peer leadership and inspiration? What does he add to the story of the Club and to each individual game? How is he shaped by the army of specialists to whom he has access – experts in medicine, nutrition, psychology, fitness, motivation, leadership training, researchers who study opposition teams, statisticians who explain their own game plans?
Reading this was pure indulgence. As one review pointed out, '… this is not just a book for the club faithful. This is a book for the game's enthusiastic multitude, and a piece of literature written with writerly grace to match the soaring moment of on-field elegance.' Read it and you can visualise the player who '…zipped across the grass like an out of control lawn mower.' Makes you proud to be part of the army.
https://thetriangle.org.au/wp-content/uploads/2018/08/book.jpg
400
270
Darryl Butler
https://thetriangle.org.au/wp-content/uploads/2021/01/masthead-orange.svg
Darryl Butler
2020-12-08 11:57:46
2020-12-10 12:30:16
Yellow and Black