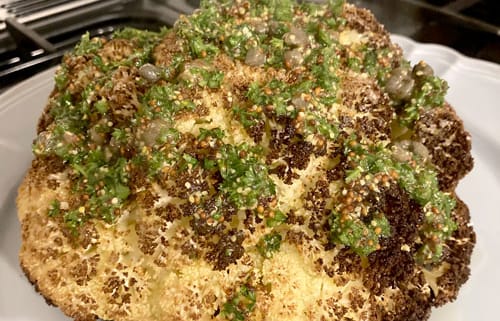 Whole roasted cauliflower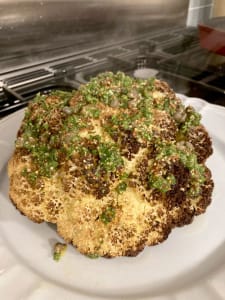 Angela Marshall
Mark Twain claimed that cauliflower was just cabbage with a college education but I think he's pithy but wrong. We eat the leaves of a cabbage but the pre-flowering part of a cauliflower. Cauliflower is a quite distinctive vegetable and, if you're relying on growing your own, it is a really good winter to early spring crop that doesn't handle heat well. We grow and eat cabbage year round but, for us, cauliflower is a strictly seasonal vegetable and there has been a super-abundance of cauliflowers coming in from the garden over the last few weeks with a couple more to come. But, fortunately, we really like them and each year I find new ways to prepare them – soup, fritters, warm salads, roasted whole and in pasta sauces or stir-fries as well as the obvious comfort food – cauliflower cheese. This year's big hits have been a whole roasted cauliflower (big on visual drama as well as great flavour); a pasta sauce with cauliflower, leek and pumpkin; and a side dish (hot) or salad (room temperature) of roasted cauliflower with nuts, sultanas and saffron. Roasting cauliflowers really intensifies the flavour and they char dramatically and beautifully.
1 cauliflower
2 tablespoons olive oil
½ teaspoon salt
Find a baking dish that neatly fits your cauli, trim off the outer leaves, cut the base so that it sits flat and cut a cross in it. Drizzle the olive oil over and sprinkle with sea salt.
Bake in a hot oven for about an hour (longer if it's a very big beast, shorter if it's petite). A sharp paring knife should go through the thickest part with ease.
Dressing:
¼ cup good quality olive oil
½ teaspoon salt
1 tablespoon wholegrain mustard
1 tablespoon salted baby capers, rinsed
1 tablespoon finely chopped parsley
Whisk all ingredients together.
Once cauliflower is well cooked and very tender, pour the dressing over it and present it whole at the table for people to help themselves.
https://thetriangle.org.au/wp-content/uploads/2021/09/Open-Sauce-whole-cauli.jpg
667
500
Debbie Worgan
https://thetriangle.org.au/wp-content/uploads/2021/01/masthead-orange.svg
Debbie Worgan
2021-09-30 14:52:24
2021-09-30 14:52:24
Whole roasted cauliflower