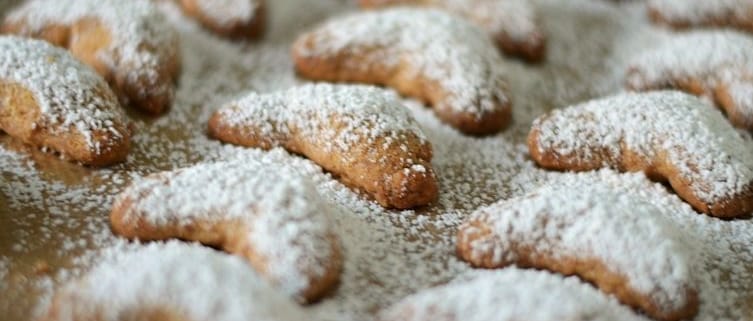 Vanilla Kipferl 'Vanilla Crescents'
Alfred: 'This is my mother's Christmas Biscuit recipe. Biscuit baking started 6-8 weeks prior to Christmas Eve or 'Heiligen Abend' according to my mother. She would bake about a dozen different types of biscuits in amounts that could have rivalled Arnott's output, and these were given away as presents during the festive season. Given the butter needed, these are best made when it isn't too hot in your kitchen – perfect for Christmas in July!
200 g butter (room temp)
125 g caster sugar
½ tsp vanilla sugar
100 g almond meal
250 g plain flour
Coating: 3 tbs caster sugar: 2 tsp vanilla sugar
Pre-heat oven to 180C. Beat butter until creamy, whilst slowly adding all other combined dry ingredients to form a soft dough. Let the dough rest for one hour. Break off pieces roughly weighing 30 g each and roll into crescents. Place onto greased or baking paper-lined baking tray and bake for about 12–15 minutes or until golden. Roll Kipferl biscuits in sugar mixture.
https://thetriangle.org.au/wp-content/uploads/2015/10/kipferl.jpg
502
753
Darryl Butler
https://thetriangle.org.au/wp-content/uploads/2021/01/masthead-orange.svg
Darryl Butler
2020-12-08 22:25:07
2021-01-06 16:18:48
Vanilla Kipferl 'Vanilla Crescents'