Threads of Life: A History of the World through the Eye of a Needle
Claire Hunter,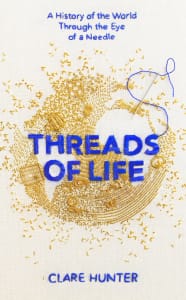 Threads of Life: A History of the World through the Eye of a Needle
$32.99
I chose this book because there are so many people in the Triangle area who love all forms of needlework, and also because I know absolutely nothing about any of this. What a revelation this fantastic piece of research was for someone as ignorant as me!
Each chapter is devoted to some form of sewing: embroidery, tapestry, the making of banners, the production of burial garments, quilting, textile arts of every conceivable form. Claire Hunter is a community artist, supporting projects in Scotland and devoting herself to documenting how sewing projects have supported political campaigns of all sorts. The mothers of the Disappeared in Argentina, the women of Greenham Common, unionists, prisoners of war, men in prison and people with dementia … all are included in this broad sweep of stories across centuries and across continents.
Hunter also tells of how beads, threads, mirrors, pompons, sequins etc have been used to ward off evil spirits; how textile hangings were used as barriers of protection; how clothes for babies were constructed from textiles from older persons as a means of protection; of the importance of communal cloaks for Chinese babies; and of how the names of AIDS sufferers were incorporated into quilts—as memorials and expressions of love and hope.
If all this were not enough, each chapter is situated within the most appropriate historical period. I loved the chapter on the making of banners and their importance to the miners protesting in Thatcher's Britain. Whoever knew that returned soldiers from the First World War formed the Disabled Soldiers Embroidery Industry? Gems like these appear throughout.
So even if you have no direct interest in sewing, you will love this book, written with passion by a first-class researcher.
https://thetriangle.org.au/wp-content/uploads/2019/10/book-colour.jpg
2551
1585
Darryl Butler
https://thetriangle.org.au/wp-content/uploads/2021/01/masthead-orange.svg
Darryl Butler
2020-12-08 12:29:06
2020-12-10 12:24:36
Threads of Life: A History of the World through the Eye of a Needle