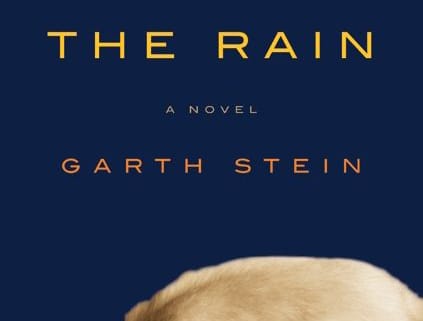 The Art of Racing in the Rain

Reviewed by Debbie Worgan

The Art of Racing in the Rain


Garth Stein
$26.99
I imagine this book has a different impact on readers depending on whether they have a dog or not. Enzo the dog is the narrator, the friend, the confidant and ally, with a human soul. Other readers might find it predictable and unbelievable. I believed it because I've seen how my dog looks knowingly at me at times.
The story begins when Enzo (named after Enzo Ferrari, the racing car driver and founder of Ferrari) is dying. The old golden retriever is waiting for Denny, his master and best friend, to return home. Denny is an aspiring racing car driver and much of the racing circuit terminology used in the book was lost on me, but it didn't detract from my appreciation. When Denny returns home to find Enzo unable to move, the dog begins to narrate his life for the reader.
Enzo recounts Denny's life: marriage to Eve, the birth of their child Zoë, and then Eve's decline into ill health. Enzo could smell a 'rotting wood' odour coming from her head. She is subsequently diagnosed with brain cancer and dies.
The storyline then turns nasty with the always critical grandparents and the often-absent Denny fighting over custody of Zoë. Events continue to spiral out of Denny's control. Then Enzo is hit by a car and Denny, exhausted of money and patience, agrees to an out-of-court settlement with the grandparents. There are more twists and turns, but finally, unexpectedly, Denny wins back custody of Zoë.
Throughout the book Enzo speaks of his belief in reincarnation. So, when Enzo dies eight years later and a young, blond-haired car-racing fan asks for an autograph, Denny is not surprised to discover his name is Enzo.
This book was made into a movie of the same name in 2019, and features Kevin Costner as the voice of Enzo.
If you have a dog, used to have a dog or just love dogs, you will enjoy the human truths that Enzo, the dog narrator, shares with us. It will make you laugh, cry, and look at your pets in a whole new way. If you aren't already wondering what your dog thinks of you, you will be after reading this.
https://thetriangle.org.au/wp-content/uploads/2020/05/book-colour.jpg
648
423
Darryl Butler
https://thetriangle.org.au/wp-content/uploads/2021/01/masthead-orange.svg
Darryl Butler
2020-12-08 12:35:39
2021-01-04 14:57:28
The Art of Racing in the Rain