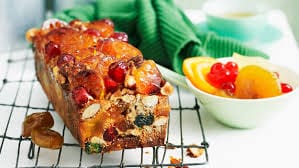 Stained Glass Window Cake
I used to call this 'Jewel Fruit Cake'. But we were discussing Christmas recipes at a Triangle meeting and Niki Hutteman said, 'Oh, that was a favourite with our family. We called it "Stained Glass Window Cake".' I was quite taken with the name. It's because of the glacé cherries.
It's mostly nuts and fruit and has very little flour, so it's very easy to substitute gluten-free flour in this recipe. No-one will know the difference.
250g whole brazil nuts
250g walnut halves
250g pitted dates
125g mixed peel
100g seeded raisins
100g red glacé cherries
100g green glacé cherries (it's easier to find mixed red, green and yellow cherries these days)
¾ cup plain flour
Pinch of salt
½ tsp baking powder
¾ cup sugar
3 eggs
1 tsp vanilla
Place all nuts and fruit in a large bowl and mix. Add sifted flour, salt and baking powder and stir to coat nuts and fruit. Add sugar and mix.
Beat eggs and vanilla and add, stirring thoroughly to form a stiff mixture.
Spoon into a well-greased loaf tin lined with baking paper, pressing down as you go.
Cook at 150C for 2½ hours. You might need to place a piece of aluminium foil over the top after a while if it starts to turn too dark.
Remove from oven and leave in tin 10 minutes, then turn onto a rack and remove paper (important as it will be harder to remove later).
When cool, wrap in a clean towel. Apparently it could last for weeks in an airtight container, but we've never put it to the test.
https://thetriangle.org.au/wp-content/uploads/2015/10/Cake-1.jpg
168
299
Darryl Butler
https://thetriangle.org.au/wp-content/uploads/2021/01/masthead-orange.svg
Darryl Butler
2020-12-08 22:47:05
2021-01-04 14:39:33
Stained Glass Window Cake