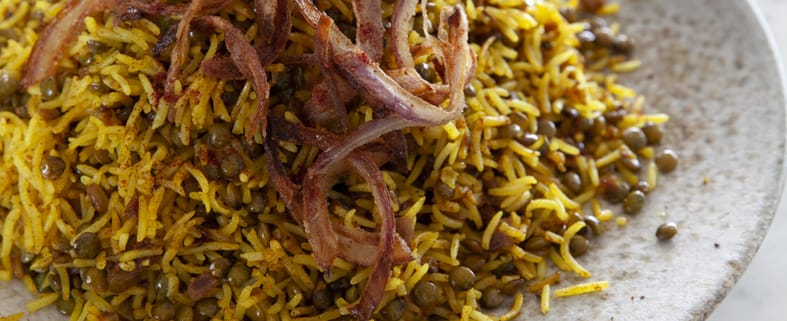 Rice with Lentils and Onions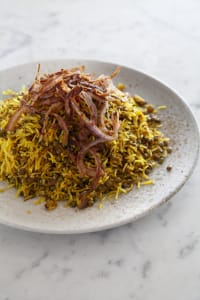 What I love about this polow is the combination of rice and lentils and the crunchiness of the fried onions.
Serves 6 people
200 gm Iranian or basmati rice
• 250 gm green lentils
• 3 large Spanish onions, sliced
• 1/3 cup plain flour
• 200 ml sunflower oil
• 1 1/2 teaspoons ground turmeric
• 1 1/2 teaspoons ground cinnamon
• 2 teaspoons sumac
• 1 teaspoon ground coriander
• 2 teaspoons ground cumin
• 1 teaspoon black mustard seeds
In plenty of salted water boil the lentils until just tender, drain and set aside.
Wash the rice 3-4 times until water runs clear.
Then boil the rice in plenty of salt water.
Add 1 tablespoon olive oil.
When rice is still a little 'al dente' drain and set aside.
With your hands, mix the sliced onions and flour.
In a fry pan heat the sunflower oil.
Fry the onions in batches until golden, do not burn them.
Drain the onions on some kitchen paper.
Discard the oil and wipe the fry pan.
Pour 3 tablespoons of olive oil into the pan.
Add all the spices, except the sumac and gently heat them.
Mix the rice through the spices until all is well amalgamated.
Now add the drained lentils and half the fried onions.
Sprinkle the sumac over the rice and lentils and mix well, using a fork.
Gently re-heat it on the stove.
Pile the rice on a plate and add the rest of the onions on top.
https://thetriangle.org.au/wp-content/uploads/2019/11/Soft-Footprint-Rice-with-Lentils-and-Fried-Onions.jpg
1181
787
Debbie Worgan
https://thetriangle.org.au/wp-content/uploads/2021/01/masthead-orange.svg
Debbie Worgan
2020-12-10 15:55:46
2021-01-05 21:54:12
Rice with Lentils and Onions