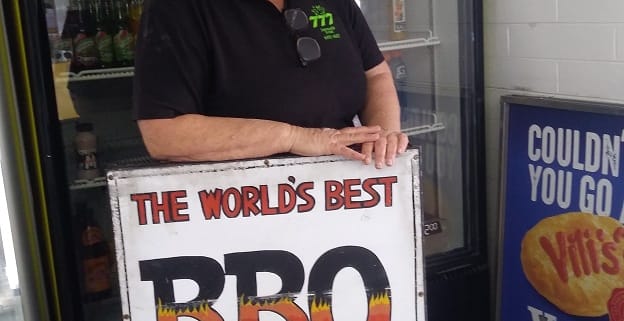 Rhonda Drakos – Are you being served?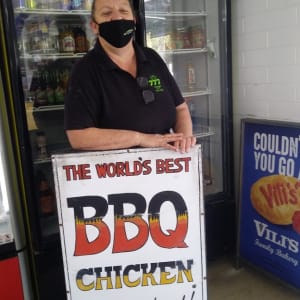 Georgina Adamson
On the north side of the river, opposite the primary school that is on the site of one of the original buildings of the town, the 777 Store is a landmark in Bermagui. It has always been a general store selling a range of grocery essentials, fruit, vegetables and meat and it is also a newsagency (it was the original north side Post Office) and a craft gallery … it has had many owners and transformations.
For the last fifteen years, the most recent owner has been Rhonda Drakos (née Mead) who is finally passing on the baton to a new proprietor. Rhonda has been the mainstay of this business and will be sadly missed by her faithful staff and regular local customers. The shop is more than a food store and newsagency and a visit to the store usually gives you more than just your essentials. There's often a piece of local information or an opinion offered, a comment or quip to brighten your day, and sometimes you'll get more than you bargained for …
Rhonda is a true-blue local, born in Bermagui. She is from one of the early families to settle and shape the town. Her father Joe was a bricklayer and was responsible for laying the foundations of much of the town. She reminisces about the role her father and grandfather played in the history of the town and she has a wealth of information about early Bermagui.
Rhonda went to school locally and on to work at various jobs around Bermagui. She married Jim Drakos whose family had moved down from Cooma. His family had run a corner store in Cooma and, when they moved to Bermagui, they ran the Blue Marlin Café (on the site of the bottle shop). Jim went into the building trade and became the Drakos Brothers, a well-known and respected building company responsible for many fine homes in the district. 
Rhonda and Jim have two children who have grown up and made their own lives in the town.
In 2006 Rhonda took over as the owner of 777 and gave it her unique stamp, stocking basic groceries and an extensive and interesting line of deli products, many with a Continental influence.
When a large corporation opened a branch of its supermarket in Bermagui there was concern that the smaller businesses would be forced to close. But opposition to that development and loyalty to 777 meant it kept the doors open and grew. Even though the number of cooked chooks diminished!
There have been tough times, and Rhonda recalls that, within the first few weeks of taking over, a number of the fridges and freezers broke down. Power outages, late deliveries and in winter, when the freezing westerlies blow through the front door, flooding. More recently, the bushfires and COVID have affected the business, as they have throughout the town. Rhonda's attitude is 'put one foot in front of the other and hope it'll end soon'.
The thing she loves the most is contact with the regulars and sharing their life stories. As for the tourists, well, they are important to the survival of the business and often provide material for her quick humour.
But Rhonda has enjoyed her time there, although she is ready to retire and enjoy her role as a full-time Nanny and get into her garden. There will be plenty to do, but she will miss the people in her life and the many friends she has made.
Having lived here all her life Rhonda has seen many changes in the town. 'Some changes have been good, others not so good. I think I grew up in the time that Bermi was at its best.'
Thanks Rhonda. You will be missed.
https://thetriangle.org.au/wp-content/uploads/2021/10/My-Triangle-Rhonda-Drakos.jpg
832
624
Debbie Worgan
https://thetriangle.org.au/wp-content/uploads/2021/01/masthead-orange.svg
Debbie Worgan
2021-10-29 15:53:30
2021-10-29 16:33:01
Rhonda Drakos – Are you being served?