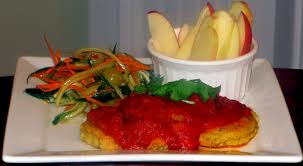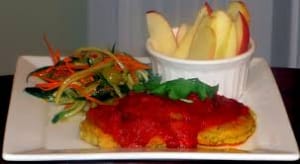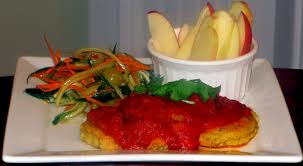 Linda Sang
Harvest days are here and I am busy chasing my garden's bounty and the generous overflow of friends' abundance.
I'm loving the satisfaction of bottling and preserving – seeing the wonderful array of reused jars cadged throughout the year filled with summer goodness. My corn, leeks and tomatoes are jumping out of the garden demanding to be used. The following recipe for a polenta slice
is really versatile – can be eaten hot or cold as a main meal, or as I did the other day, a bite-sized canapé with a spicy tomato kasundi salsa on top. It's also vegan and gluten and diary free if you don't want to add cheese in and on top.
Polenta Slice serves as a meal for 4 or heaps of small bites for many
1 medium carrot finely diced
1 medium leek finely diced- use mostly the white part but some green is good
Kernels from a cob of corn
2 crushed garlic cloves
Some chopped herbs, whatever you have- parsley, coriander or some chives
Olive oil for greasing pan and sautéing your vegetables
1 cup of polenta (which is finely ground maize corn)
3 cups of vegetable stock – use good vegetable stock cubes or Vegata powder
Salt and freshly ground pepper to taste
Optional parmesan cheese
Optional sprinkle of paprika for the top
In a pan heat a tablespoon or so of oil and sauté the vegetables till tender (not brown) adding the garlic near the end. Put aside.
In a medium saucepan bring 3 cups of vegetable stock to the boil. While the water is still simmering whisk the polenta into the stock. On a low heat continue to stir the polenta with a wooden spoon till it becomes thick and creamy – about 5 – 8 minutes. While it is still hot and creamy stir in the vegetable mixture. Add some parmesan now if you want. Season with salt and pepper to taste.
In a small baking dish which has been lightly oiled, pour and spread the mixture evenly in the dish. This will set pretty quickly and hold its' shape. Now one could eat it just like that cut into pieces cold, or you could bake it in an 180c oven till it gets lightly browned. Sprinkling cheese on top is good here but not necessary.
Serve with your choice of chutneys and sauces, with salad or vegetables on the side. Cold or hot.
https://thetriangle.org.au/wp-content/uploads/2016/03/Polenta-1.jpg
166
303
Darryl Butler
https://thetriangle.org.au/wp-content/uploads/2021/01/masthead-orange.svg
Darryl Butler
2020-12-08 21:25:14
2021-01-06 16:07:37
Polenta Slice