Reviewed by Heather O'Connor
Not Just Black and White

Lesley Williams and Tammy Williams

UQP, $32.95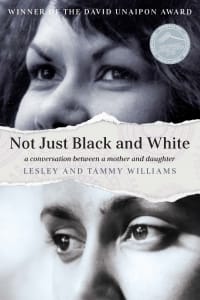 One of the easiest and best ways to learn about Indigenous culture and history is to work your way through the winners of the David Unaipon Award. It was established to celebrate both Indigenous writers of both fiction and non-fiction, in collaboration with Queensland University Press. This award acknowledges the importance of storytelling as the primary method of education.
Not Just Black and White is a conversation between a mother, Lesley Williams, and her lawyer daughter, Tammy. Lesley was born on the Cherbourg mission in Queensland and raised mainly by her grandmother who, well into her seventies, assumed responsibility for all her grandchildren – a not uncommon story even today.
Under the Aboriginal Protection Act, white authorities were able to send very young people out west to work on properties as domestics and farm hands. Given no choice in the matter, hundreds of Indigenous teenagers left family and friends to travel, alone, hundreds of miles inland, to provide this essential workforce, often living in totally inadequate accommodation, being paid 'pocket money' while their wage was withheld by government. It was this injustice, plus the failure to recognise the contribution of Indigenous workers to outback life, that inspired Lesley Williams to campaign tirelessly for over a decade to force the government to offer both an apology and restitution of stolen wages.
Her story is of itself a remarkable tribute to all those who have campaigned so long about this and other injustices. And the battle continues even today in other states to restore earned wages. If you want to understand the real life consequences of these policies, which continued well into the 1960s, you can do no better than read this heart-warming and inspirational book, one well worthy of the awards it has won.
https://thetriangle.org.au/wp-content/uploads/2020/09/Book-colour-scaled.jpg
2560
1703
Darryl Butler
https://thetriangle.org.au/wp-content/uploads/2021/01/masthead-orange.svg
Darryl Butler
2020-12-08 12:42:17
2021-01-04 14:50:30
Not Just Black and White