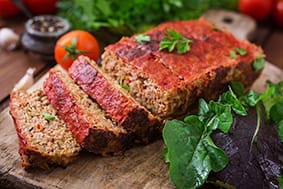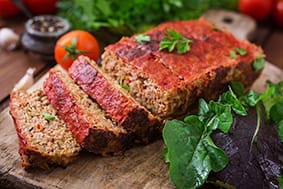 from Georgie Adamson's parents' days
This was one of Dad's specialities and made for family get-togethers where it was mainly served cold with Mum's home-made relish or tomato sauce.
Mix together in a large bowl:
500g finely minced steak, 250g sausage meat, ½ cup bacon pieces chopped finely, ½ cup breadcrumbs, 1 large onion finely chopped, 2 tsp salt, pepper to taste, 1 tsp Worcestershire sauce, 1 tbs tomato sauce and 1 egg. Finely chopped parsley or herbs may be added. Add a little water or milk to moisten.
I do recall Dad mincing the ingredients all together in the old meat grinder.
Mix all thoroughly and form into a loaf shape. Cook in a greased loaftin covered and cook for 1-1½ hours in a moderate oven.
Cool well before serving. Great left overnight in the refrigerator.
https://thetriangle.org.au/wp-content/uploads/2023/09/meatloaf-.jpeg
189
283
Debbie Worgan
https://thetriangle.org.au/wp-content/uploads/2021/01/masthead-orange.svg
Debbie Worgan
2023-09-27 14:15:53
2023-09-27 14:15:53
Meat Loaf