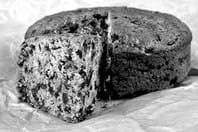 Ginger Ale Fruit Cake, Evelyne A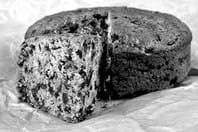 My lovely friend Janet, who we all lost a little time ago, cooked these two things with me often. We met on the street at the Cobargo Market and ended up cooking together, making jams and pickles, sharing our love of food and good times.
Aahh, the fruit cake! How many people say, "NO, I don't eat fruit cake"? Well, that's because they have never eaten a good one. And lots of recipes make it sound difficult and expensive.
Trust me, this one will change many minds, give it a chance. I actually like to cook this in a small baking dish which invites small thin slices alongside a sliver of blue cheese and a couple of chocolates, making a delightful dessert.
1kg mixed fruit
600ml dry ginger ale
2 cups SR Flour
1/4 cup fortified wine (port, sherry, etc)
Place fruit in a large bowl, stir in dry ginger ale and the port. Cover and leave overnight.
Line base and sides of pan with baking paper, extending 2cm above edges
Add the flour, mixing well, spoon into prepared pan and smooth over.
Cook in slow oven (150C) for about 1 hour 40 minutes or until skewer inserted comes out clean.
Cover hot cake with a sheet of baking paper. Wrap pan and cake in a tea towel and leave overnight in the pan.
https://thetriangle.org.au/wp-content/uploads/2015/10/fruit-cake.jpg
132
198
Darryl Butler
https://thetriangle.org.au/wp-content/uploads/2021/01/masthead-orange.svg
Darryl Butler
2020-12-08 22:40:07
2021-01-05 21:27:21
Ginger Ale Fruit Cake, Evelyne A