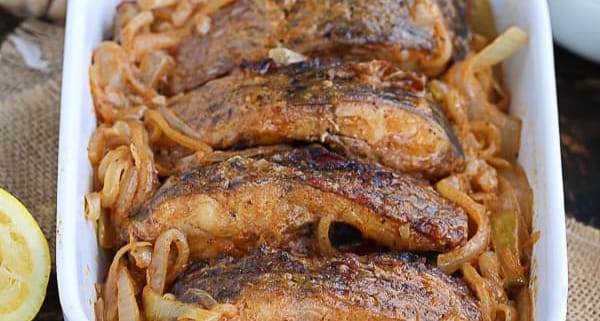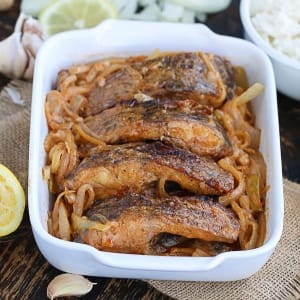 by Bhagya
Yassa looms large in the cuisine of Senegal. If you've never had it and love lemon and onions, give it a try! You can cook the fish in a pan or on the BBQ before finishing it off in a delicious caramelised onion, lemon mustard sauce. The BBQ gives the best flavour, with a hint of char.
Ingredients
1 kg firm fish cutlets, skin on
3 onions, thinly sliced
2-3 cloves of garlic, minced
½ cup lemon juice
¼ cup neutral oil (peanut, sunflower, vegetable, etc)
1½ tablespoons Dijon mustard
½ teaspoon salt
1 Scotch Bonnet or other super-hot chili pepper
1 bay leaf
½ cup fish stock or water
4 tablespoons oil, divided
Sliced green olives (optional)
Instructions
Rinse the fish, pat dry, then season.
Prepare the marinade by whisking together the lemon juice, garlic, mustard, salt and oil.
Pour the marinade over the onions and toss with the Scotch Bonnet and bay leaf.
Bury the fish in the marinade and refrigerate for up to 4 hours.
Remove the fish and reserve the onion marinade.
BBQ method
Wipe down the hot grill with oil then immediately lay the fish on the grate. Grill for about 1-2 minutes on each side. Remove and place on a plate.
Frying method
In large frying pan, heat 2 tablespoons oil over medium heat, add the fish, cook each side until cooked through. Remove fish and set aside.
Putting it together
Heat 2 tablespoons oil in an acid-tolerant pan. Fry the reserved onion marinade on medium low until the onions are a golden brown.
Add ½ cup fish stock or water, cover and simmer 4 – 5 minutes. Adjust for seasonings. Discard the bay leaf.
Place the fish back in the pan, covered in the sauce.
Simmer for another 5-8 minutes until the flavours
come together.
Discard the Scotch Bonnet.
Arrange the fish on a plate, top with the sauce.
Serve on rice with bitter greens on the side.
Scatter with green olives if desired.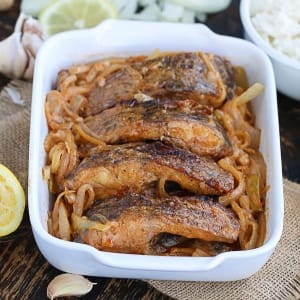 https://thetriangle.org.au/wp-content/uploads/2023/07/Open-Sauce-Pic-1-Fish-yassa-in-dish.jpg
600
600
Debbie Worgan
https://thetriangle.org.au/wp-content/uploads/2021/01/masthead-orange.svg
Debbie Worgan
2023-07-25 15:30:33
2023-07-25 15:30:33
Fish Yassa from Senegal