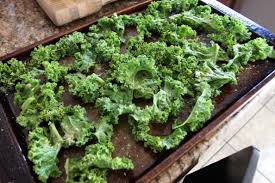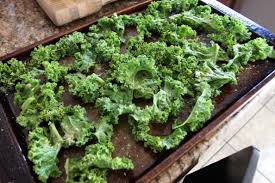 Lena Kuppens
Equipment
Salad Spinner
Mixing Bowl
Baking Tray
Baking Paper
Ingredients
Few drops of Olive Oil
Bunch of Kale Stalks
Pinch Chilli Flakes
Pinch Salt
Preheat oven to 160C. Line two large baking trays with baking paper.
Prepare the ingredients : Remove the stems very quickly by grabbing the base of the stem with one hand and pulling outwards along the stem to slide off the leaves. Tear the leaves into bite size pieces. Rinse the kale and dry the leaves very well in a salad spinner.
Massage : Mix the kale in a big bowl with a few drops of olive oil and a small sprinkle of chilli flakes. 'Massage' the oil into the leaves to ensure all the nooks and crannies are coated. Oil also helps the spices stick to the leaves. Spread kale out in a single layer on prepared trays.
Baking : Bake for 12-15 minutes, swapping trays half way through cooking time, or until leaves are crisp. Serve sprinkled with sea salt.
https://thetriangle.org.au/wp-content/uploads/2016/05/Kale.jpg
183
275
Darryl Butler
https://thetriangle.org.au/wp-content/uploads/2021/01/masthead-orange.svg
Darryl Butler
2020-12-08 21:35:15
2021-01-06 16:09:59
Crispy Kale Chips