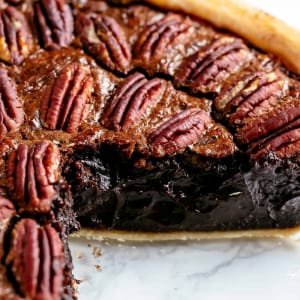 The Triangle Team
For the crust
150 grams (1¼ cups) plain flour, plus more for dusting
¼ teaspoon fine sea salt
140 grams unsalted butter, chilled and cubed
2 to 4 tablespoons ice water, as needed 
For the filling
170 grams (1½ cups) raw pecan halves
85 grams unsalted butter
60 grams dark chocolate, chopped
¾ cup corn syrup
4 large eggs
100 grams (½ cup packed) light brown sugar
1 tablespoon unsweetened cocoa powder
2 tablespoons bourbon whisky
¼ teaspoon fine sea salt 
Method
Make the crust: In a food processor, pulse together the flour and salt. Add butter and pulse until the mixture forms chickpea-size pieces. Add ice water, 1 tablespoon at a time, and pulse until the dough just comes together. It should be moist but not wet. On a lightly floured surface, gather the dough into a ball. Flatten into a disk with the heel of your hand. Cover tightly with plastic wrap and refrigerate for at least 1 hour and up to 2 days.
On a lightly floured surface, after removing plastic wrap, roll out dough to a 30 cm circle. Transfer crust to a 23 cm pie plate. Fold over any excess dough, then crimp edges. Prick crust all over with a fork. Chill crust for 30 minutes.
While the dough chills, heat the oven to 190 degrees. Line chilled crust with aluminium foil and fill with pie weights or dried beans. Bake for 25 minutes. Remove foil and bake until very pale golden, 5 to 10 minutes longer.
Reduce oven temperature to 175 degrees. Spread pecans on a rimmed baking sheet. Toast nuts, shaking pan occasionally, until fragrant, 8 to 10 minutes. Cool.
Make the filling: In a small saucepan over low heat, melt butter and chopped chocolate, stirring until smooth, leave to cool.
In a large bowl, whisk together cooled chocolate-butter mixture, corn syrup, eggs, sugar, cocoa powder, bourbon and salt. Pour the mixture into the prepared crust. Arrange pecans over filling. Transfer to a large rimmed baking sheet. Bake until the filling is just set when the pan is jiggled, 30 to 40 minutes. Remove pie from the oven and cool completely on a wire rack before serving. 
https://thetriangle.org.au/wp-content/uploads/2021/11/Pie.jpg
800
1200
Debbie Worgan
https://thetriangle.org.au/wp-content/uploads/2021/01/masthead-orange.svg
Debbie Worgan
2021-11-28 17:55:08
2021-11-28 17:55:08
Chocolate Pecan Pie