Chicken Yassa from Senegal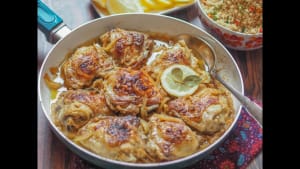 6 chicken thighs on the bone
5 onions peeled, halved, and thinly sliced
1 or 2 super-hot chilies
Marinade:
1/2 cup fresh lemon juice
1/4 cup olive oil
2 tablespoons Dijon mustard
4 medium garlic cloves, crushed
1/2 teaspoon salt
For browning and braising the chicken:
Sea salt
Freshly ground black pepper
1 tablespoon frying oil (peanut is good)
1 cup chicken stock
2 bay leaves
Garnish:
1 cup pitted green olives, sliced
Place the chicken and onions into a large glass (non-reactive) bowl. Cut a few slits in the peppers and add them to the bowl. Whisk marinade ingredients together and pour on top. Toss to coat. Cover with plastic wrap and marinate in the fridge for at least 3 hours or, preferably, overnight.
Preheat the oven to 175C.
Heat 1 tablespoon oil over medium-high heat in a large heavy pot or Dutch oven. Remove the chicken from the marinade and sprinkle pieces with a few pinches of salt and a few grinds of pepper, to taste. Brown chicken on both sides in batches, about 5 minutes per batch. Transfer to a plate and set aside. Spoon out some of the chicken fat from the pot, leaving about one tablespoon.
Set the hot pepper aside and scrape the onions and all the marinade into the pot over medium-high heat. Cook, stirring, for about 5 minutes to get the onions hot and cooking. Add the bay leaves. Cover the pot and turn the heat to medium-low.
Let the onions cook, stirring occasionally, for about 10 minutes more, until they are soft and starting to caramelise. Regulate the heat so they don't burn.
Using a spatula or wooden spoon, move the onions aside and put the chicken pieces in the bottom of the pot. Mound the onions on top. Place the hot pepper in the middle. Pour in the chicken stock. Turn the heat to medium high and bring to a simmer. Cover and put in the oven for about 1 hour and 20 minutes or until tender.
Garnish with sliced green olives and serve with fluffy white rice and dark green veg.
https://thetriangle.org.au/wp-content/uploads/2019/08/chicken-yassa-colour.jpg
720
1280
Debbie Worgan
https://thetriangle.org.au/wp-content/uploads/2021/01/masthead-orange.svg
Debbie Worgan
2020-12-10 18:43:07
2020-12-10 18:43:07
Chicken Yassa from Senegal