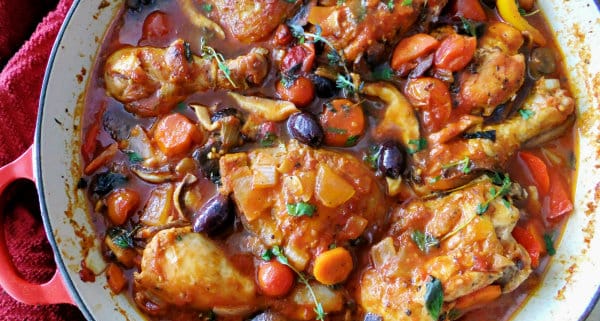 Janine Halasz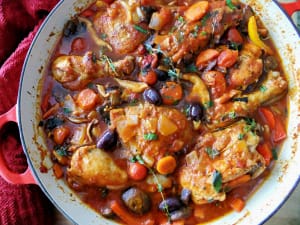 The Central Tilba School of Arts Trust were asked if they could cook one Sunday a month for Cobargo BlazeAid. Our committee is small but there were lots of offers of person-power and financial donations locally, and from my relatives in Sydney, who saw this contribution going directly to those in most need.
My job now was to plan a menu, work out quantities for 100 people, plan the cooking process using all my eager-to-be-involved volunteers, make a roster, borrow slow cookers, shop and cook.
We started on the Saturday afternoon at my home then started again early Sunday morning through till 5 pm, packed two cars to the roof and drove all the food to Cobargo, ready to serve at 6.30 pm. We had five slow cookers filled with Chicken Cacciatore, 10 trays of baked polenta, mixed lettuce leaves with dressing to add, three large Rum Apple Cakes and whipped cream. We were welcomed with open arms (touching was okay at the time) and given lots of help unpacking the cars. The food was appreciated and there was plenty more for other meals at BlazeAid and meal packages to give to those in the community in need. We will repeat this in April, May and … who knows?
I have included two of the recipes for you to try.
(for up to 10 people with leftovers for another meal 
or for your friends/neighbours)
1/4 cup olive oil or as needed
10 chicken thigh fillets (trimmed and halved/quartered depending on the size)
Plain flour, about 1/2 cup
2 capsicums cut into strips
4 onions sliced and diced
3 garlic cloves diced
800g tin of diced tomatoes with 2 teaspoons of sugar
Bay leaves, 2 teaspoons of mixed herbs or Italian herbs or any amount of fresh herbs from your garden (oregano, thyme, basil, parsley …)
3/4 cup of white wine or 1/2 cup of water, with a chicken stock cube added.
Handful of pitted Olives
Parsley chopped to sprinkle
Roll chicken pieces in plain flour seasoned with salt and pepper.
Heat olive oil in a pan and brown the fillets on both sides. Remove to a plate.
Add all ingredients except the chicken, wine/water and stock cube to a slow cooker or frypan. Simmer.
Return the chicken, add the wine/water and stock cube and simmer until cooked.
Add olives and parsley to chicken.
Serve with rice, pasta, polenta or potatoes and a fresh salad.
Enjoy with family and friends, share or freeze.
https://thetriangle.org.au/wp-content/uploads/2020/03/chicken-cacciatore-web.jpg
450
600
Debbie Worgan
https://thetriangle.org.au/wp-content/uploads/2021/01/masthead-orange.svg
Debbie Worgan
2020-12-10 15:36:53
2021-01-05 21:16:44
Chicken Cacciatore