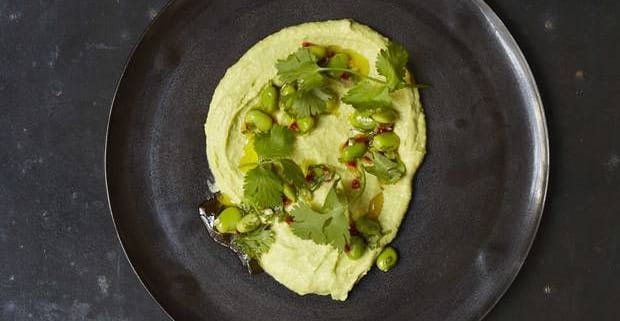 Broad Beans (Salad & Hummus)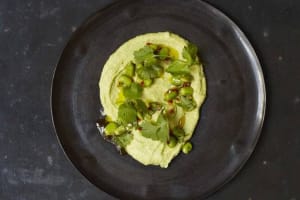 We all love spring. As a newbie gardener I am very excited to come back after a month      away to see the broad beans that were sown months ago laden with pods. If your broad beans are young enough they don't need to be double peeled,
but in most cases after shelling your pods of beans, you blanch them in boiling salted water for a minute or so, refresh them in cold water and then peel the outer skin of the bean and you have a beautiful tender bean that can be used in lots of dishes.
Broad Bean Salad
100gms day old bread cubed, use gluten free if preferred
2 tbsp olive oil
½ red onion, very thinly sliced
2 tbsp red wine vinegar
250gms broad beans, podded
12 cherry tomatoes, halved
2 tbsp olives
1 cup leaves, rocket, small spinach or watercress – or a mixture
12 torn mint leaves
2 tbsp chopped flat leaf parsley
fresh ground black pepper
juice of 1 lemon
100gms feta style goat's cheese
Preheat oven to 160C. Brush all sides of cubed bread with olive oil and place on baking tray. Bake until golden and crisp.
Place onion in a small bowl and cover with the red wine vinegar, and set aside until needed.
Place remaining oil in a large mixing bowl. Double peel your blanched broad beans, dropping them into the bowl. Add the tomatoes, olives, salad leaves, bread cubes, mint and parsley, then grind pepper to taste. Drizzle over lemon juice and mix. Add salt if you wish.
Arrange salad in a shallow bowl or platter and add crumbled cheese and drained onion.
All quantities are approximate and it can be made with whatever is in season.
Broad Bean Hummus
2 cups double podded cooked broad beans
3 cloves garlic, finely chopped
2 tsp ground cumin
pinch of cayenne pepper
¼ cup extra virgin olive oil
2 tbsp lemon juice
salt and ground black pepper
1 – 2 tbsp tahini
Process all ingredients together until smooth. Season to taste.
Oh, and a yummy snack I had while I was away in Spain was Tomato on Bread. Basically it was fresh crusty bread with slices of fresh ripe tomatoes drizzled with extra virgin olive oil. Sprinkled with salt and a grind of pepper it was simplicity itself and totally delicious.
https://thetriangle.org.au/wp-content/uploads/2020/12/broadbean-and-hummus.jpg
413
620
Darryl Butler
https://thetriangle.org.au/wp-content/uploads/2021/01/masthead-orange.svg
Darryl Butler
2015-11-01 09:00:39
2021-01-06 16:06:21
Broad Beans (Salad & Hummus)