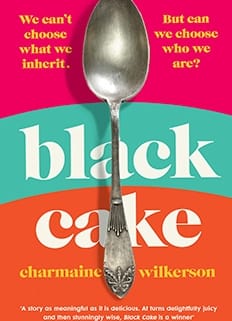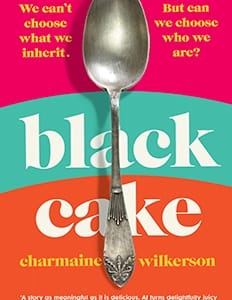 review by Wendy Tucker
Black Cake
Charmaine Wilkerson
Black Cake is a delicious debut novel that shows how history and chance can change a family.
The actual black cake has a complicated history, as does Eleanor Bennett the main protagonist. The cake is dense with fruit soaked in rum for many weeks and finished with burnt sugar and is a Caribbean tradition for all celebrations. For many immigrants from the Caribbean, it is a continual reminder of home and culture. But, as one character notes, '… it was essentially a plum pudding handed down to the Caribbeans by colonisers from a cold country.'
In present day California, two estranged siblings come together to deal with their mother's death and her hidden past. Eleanor leaves her son and daughter, Byron and Benny, a two-hour voice recording and a black cake, to be eaten together when the time is right. They must listen together and in the presence of the family lawyer.
What follows is quite a story, covering fifty-seven years. Each of the many characters from Eleanor's past have multiple narratives, backstories and flashbacks that immerse the reader in the minds and environments of the characters. We move from a small un-named island in the Caribbean to London, Edinburgh and, finally, to America. The novel moves at a riveting pace with short but fully loaded chapters in what is now called flash fiction.
Eleanor shares a tumultuous story of a young promising swimmer who is forced into marriage at fifteen and then escapes her island home accused of the murder of her husband. As Eleanor's tale of tragedy, bravery and chance unfolds including a long-lost sister, Byron and Benny find themselves questioning everything they thought they knew about their lineage, their parents and themselves.
There is a lot to love here, including themes about race, identity and protecting the environment, as well as the power of family recipes. There is a lot packed into this novel but Wilkerson manages it joyously. It is a delicious meal served in bite-sized pieces.
https://thetriangle.org.au/wp-content/uploads/2022/05/book.jpg
364
232
Debbie Worgan
https://thetriangle.org.au/wp-content/uploads/2021/01/masthead-orange.svg
Debbie Worgan
2022-05-28 14:14:23
2022-05-28 14:14:23
Black Cake