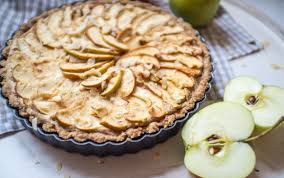 Baked apple tart with ginger cream and pistachios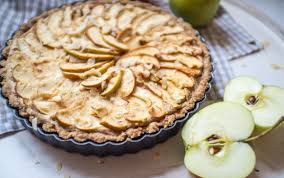 Nikki Hutteman
Apple tart  (serves 12)
4 kg golden delicious apples (or similar)
2 kg granulated sugar (less if you prefer more tart)
Ginger Cream
600 ml Tilba Valley cream
3 tsp local pure honey
2 tsp finely grated ginger
Peel and core apples, using a mandolin, cut widthways into 2 mm thick slices. Place apple in overlapping concentric layers in a 28 cm ungreased springform tin, sprinkling liberally with sugar between layers and pressing down apples as you go. Apples will reach just above side of tin. Place cake tin in a roasting pan to catch juices, then bake at 180 C for 3 hours, basting with juices every 30 minutes after the 1st hour of cooking. Remove apple tart from oven, cool in tin for 10 min, reserving any juices from roasting pan, then release from spring form tin. Leave tart on base to cool to room temperature, then invert onto large serving platter. Place roasting pan over low-medium heat and stir cooking juices until well combined, then simmer for 5-6 minutes or until reduced and syrupy.
For Ginger Cream, beat cream and honey until soft peaks form, then stir in ginger, I have added ground cinnamon sometimes, cover and refrigerate until required.
Serve slices of tart with a little syrup poured over and a dollop of ginger cream on the side, scattered with pistachios, or for the big WOW factor serve whole tart at table with syrup and pistachios over tart.
https://thetriangle.org.au/wp-content/uploads/2015/10/tart5.jpg
178
284
Darryl Butler
https://thetriangle.org.au/wp-content/uploads/2021/01/masthead-orange.svg
Darryl Butler
2020-12-08 21:28:31
2021-01-06 16:08:40
Baked apple tart with ginger cream and pistachios