Amrei's new Bikram yoga studio is open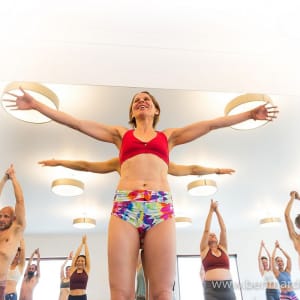 by Linda Sang
Before the fires swept away part of Cobargo's main street, if one were early enough one might have seen a motley group of people dressed in shorts and sweatshirts milling around the entrance of the Bikram yoga studio where yoga is practised at
39˚ C. Or, if it were a Saturday morning, some could be seen, still in inappropriate clothing, buying something sweet as a treat from the Baking Buddies stall a couple of doors up. It was an incongruous sight, particularly during the chillier months. The Baking Buddies are still plying their sweet and savoury offerings but the studio and its neighbours didn't survive those fires.
While husband Ben stayed to defend their property in Upper Brogo, Amrei and her family evacuated to Bermagui where she met with some students who had also evacuated. Encouraged by exhortations to rebuild her studio and continue her classes, Amrei was determined to re-open a space for health and healing for herself, her family and the community. It became a journey of many paths. Her Bikram yoga studio in Cobargo had been well-attended for seven years and her reputation as a highly skilled yoga teacher saw the small studio become a mecca for students, locally and internationally. How to rebuild? Not her building …
Having a cuppa around the kitchen table with Ben and Amrei, with young son Noah playing in the background in their cosy home that they converted from the farm's original shearing shed, I was enthralled to hear of the many plans and pitfalls of creating a new studio from scratch. Initially Amrei looked at any other possible venues in Cobargo and, realising that they weren't realistic options, then thought about buying a block and building a studio in Cobargo. After countless calls, loan applications, DAs, grant applications – you name it – Amrei had thoroughly investigated all possibilities and permutations until she came up with designing a purpose-built, environmentally sustainable, off-grid Bikram yoga studio with accommodation for retreats on the property they already owned in Brogo, about twenty minutes from Cobargo. The design incorporated Amrei's experience from more than twenty years of teaching overseas and here, knowing what would be optimal for her studio, she selected the beautiful site, the views of rolling hills, the absolute peace of the surroundings and a place to grow her family. As of printing, Amrei may have given birth to her new son.
Travelling on Upper Brogo Road through very green dairy country and then driving along curvy roads till I got to Waterloo Creek, I felt I was approaching a special place for learning, similar to the times when I visited monasteries in India. The studio sits on top of a gentle hill after you've passed the family home and the original farmhouse (unrenovated as yet) and outbuildings. The studio is luxurious in space and fittings. It's wonderfully new with the latest technology in heating, lighting, solar power and flooring. It is a beautiful destination for practice and peace. To see this new enterprise fully functional and completed in this very trying time is a testament to the faith and sheer will of a person who is willing to invest in her passion and the community.
To quote Amrei from her website (www.bikramyogasapphirecoast.com.au):
'Whilst I don't want to claim to build a traditional Indian Ashram (since I am not Indian), I do believe, that by building an earth-friendly Bikram yoga studio on Waterloo, I am building something that will be a reflection of the traditional idea and an oasis for our valley and beyond. Please come and visit as we would love to share this place with you!'
https://thetriangle.org.au/wp-content/uploads/2021/05/My-Triangle-Amrei-jpg-1-teaching2-a-1.jpg
800
1200
Debbie Worgan
https://thetriangle.org.au/wp-content/uploads/2021/01/masthead-orange.svg
Debbie Worgan
2021-05-31 18:58:56
2021-05-31 18:59:12
Amrei's new Bikram yoga studio is open