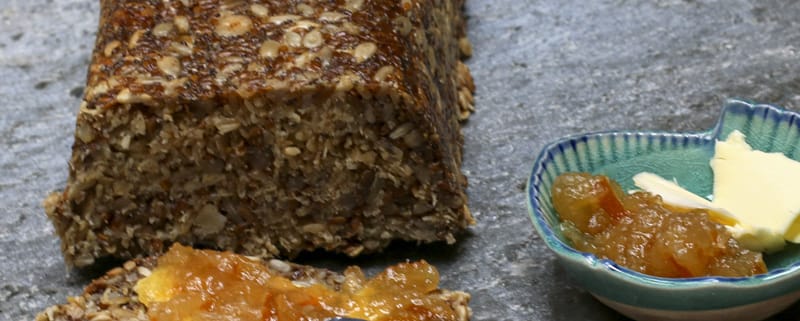 The Life-Changing Loaf of Bread
Linda Sang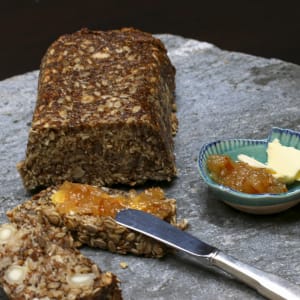 During the Cobargo Folk Festival I billeted 4 performers. They were all lovely people and it was a pleasure to host them. I asked them if there were any food preferences and intolerances or allergies. Luckily no allergies but there were a number of preferences. High on the list was gluten-free. I cook occasionally for groups of people and I find gluten-free dishes are the safest bet with most people, no matter what cuisine. With The Western Flyers, my billets, they were treated to freshly baked loaves from my friend Bhagya, who provided 'The life-changing bread'. This recipe has been adapted through the many times she has made it. My across the road neighbour, Wendy Jackson, is one half of the duo the Passionate Fools who also performed at the Folk Festival. She has given me one of her favourite breakfast collations. And Jen Severn who is not a performer, but is somebody who can't eat gluten, shared her famous Raw cacoa slice. A delicious, rich, chocolaty slice of heaven which satisfies any sweet craving without guilt!
The Life-Changing Loaf of Bread

Makes 1 loaf
1 cup sunflower seeds
½ cup flax seeds
½ cup nuts
1½ cups gluten-free rolled oats
2 tbsp chia seeds
4 tbsp psyllium seed husks (3 tbsp if using psyllium husk powder)
1 tsp fine grain sea salt (add ½ tsp if using coarse salt)
1 tbsp maple syrup or honey
3 tbsp melted coconut oil or ghee
1½ cups water
Line a loaf pan with baking paper.
Grind half the sunflower seeds and all the flax seeds. Put them in a bowl and add the rest of the dry ingredients, stirring well.
Whisk syrup/honey, oil and water together.
Add this to the dry ingredients and mix very well until everything is completely wetted.
Spoon into pan and smooth out the top with the back of a spoon. Let it sit on the counter for at least 2 hours, or all day or overnight.
Preheat oven to 175°C.
Place loaf pan in the oven on the middle rack, and bake for 20 minutes. Remove bread from loaf pan, place it upside down directly on the rack and bake for another 30-40 minutes.
Cool completely on a wire rack before slicing (difficult, but important).
Store bread in a tightly sealed container for up to five days. Freezes well too—slice before freezing for quick and easy toast!
SOME NOTES: Be flexible with the additions; substitute sesame, cashew, etc, put in rice, quinoa or spelt flakes in part for oats. You can also add some polenta. Do not substitute the psyllium. If you have a nut allergy, replace nuts with seeds.
If you grind the flax seeds you will need more water. You will also need more water if you use quinoa instead of oats.
https://thetriangle.org.au/wp-content/uploads/2019/03/LifeChangingBread-colour.jpg
800
800
Darryl Butler
https://thetriangle.org.au/wp-content/uploads/2021/01/masthead-orange.svg
Darryl Butler
2020-12-11 00:20:01
2021-01-05 21:03:14
The Life-Changing Loaf of Bread