Ann Maree Menager & Bhagya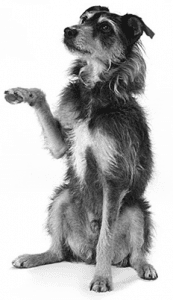 If you're like the dog loving members of The Triangle committee, you want the best for your furry friends and might be sceptical about the quality of some of the treats on offer in the stores as well as baulking at their prices.
The answer is to make your own!
This way, you know that what you're giving your dog is top quality and especially when you buy the livers when on sale, you're getting a lot of treats for a very small price.
Chicken liver crackers
Ingredients: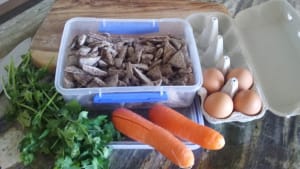 4 cups plain wholemeal flour
1 1/2 cups milk powder (full fat or skim)
1 cup wheatgerm
3 crumbled beef stock cubes
500 gms chicken livers
3 eggs
1 cup chopped parsley
Method:
Preheat the oven to 130 degrees or 110 in a fan forced oven.
Prepare baking trays with some baking paper
Mix in a food processer:
Pop in the flour, milk powder, wheat germ stock cubes and chicken livers and pulse to a crumble consistency. Add in the eggs until the mix is into a rough ball of dough consistency. Add extra eggs if too dry.
Lastly pulse in the parsley briefly to just mix it through the mixture.
Tip onto a floured surface and knead lightly till you have a dough ball you can roll out to 6mm thickness at a minimum or make them thicker if you want a bit of a chewier texture for finished biscuits.
Cut into 4 cm squares or use cookie cutters. Bake for 1 hour to 1 1/2 hours. Cool
completely before placing in air tight container. Store in a cool dry place.
Makes a kilo.
Variations:
Add grated carrot, or broccoli stems instead of parsley or as well as parsley.
For a richer mix, add grated cheese and a substitute an egg with a couple of
tablespoons of peanut butter.
https://thetriangle.org.au/wp-content/uploads/2018/06/dog-treats-photo-colour.jpg
720
1280
Darryl Butler
https://thetriangle.org.au/wp-content/uploads/2021/01/masthead-orange.svg
Darryl Butler
2020-12-10 22:17:45
2020-12-10 22:17:45
Chicken liver crackers