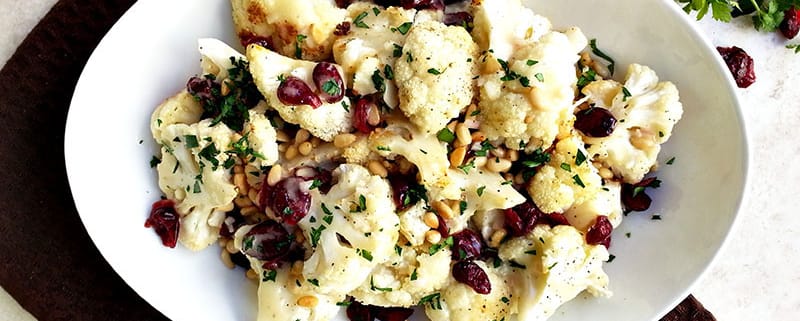 Cauliflower salad with Lemon Dressing
Virginia White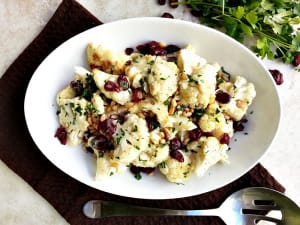 We at the Triangle love sharing food and recipes with our family and friends. Food is what connects us to each other and the world we live in. Seasonal usually means inexpensive for us as there is a glut somewhere we can share in. This salad was inspired by seeing whole heads of cauliflower for $2 (admittedly at Woolies). The Walnut slice is a great one for the repertoire to share with a crowd or the have on hand to defrost – maybe freezing half if you don't eat it all at once. Great with a cuppa when those unexpected guests pop in.
1 head of cauliflower
2 tbsp olive oil
1/4 cup of dried cranberries
2 tbsp slivered almonds, toasted
1/4 cup grated parmesan
Dressing
2 teaspoons chopped spring onions
1tbsp Dijon mustard
3 tbsp lemon juice
1/2 teaspoon  lemon zest
2 teaspoons honey
3 tbsp olive oil
Method
Bake cauliflower florets after drizzling with olive oil and seasoning with salt and pepper in 200c oven, for about 45 minutes until golden brown.
For the dressing, combine all the ingredients and whisk. Season with salt and pepper.
Remove cooked cauliflower from the oven and transfer to a large bowl. Fold in cranberries, toasted almonds and parmesan. Drizzle with dressing and toss to combine.
https://thetriangle.org.au/wp-content/uploads/2018/10/cauliflower-salad-colour.jpg
600
800
Darryl Butler
https://thetriangle.org.au/wp-content/uploads/2021/01/masthead-orange.svg
Darryl Butler
2020-12-10 23:11:38
2021-01-05 21:05:15
Cauliflower salad with Lemon Dressing