Open Sauce
Madhuma Thompson
The Bermagui Pick-Up Kitchen is a not-for-profit, volunteer, takeaway kitchen open Sunday evenings at the River Rock Café. All proceeds go to either to the Batwa tribe in Uganda or the Sewing the Seeds women's empowerment project in India.
BPUK was born from seeing our friends and businesses flailing after the bushfires and then later during COVID-19 lockdown. Dipak and I wanted to offer some kind of relief – at the same time giving ourselves a focus. We came up with the idea of a community kitchen that would provide home-cooked meals at household prices, giving locals a break from cooking every night. We also wanted our efforts to have the most impact for the small amount of cash we'd earn, and then pass that on.
The modest yet regular donations that come from the meals you buy have been making a big difference in the lives of our friends overseas.
The menu changes weekly and can be previewed on our Facebook page or the community email notices.
The recipe below is from one of my favourite chefs – Ottolenghi – and is surprisingly easy to make.
Thai red lentil soup with aromatic chilli oil and snap peas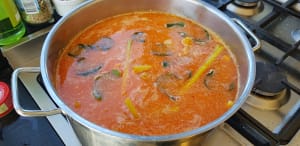 Soup ingredients
3 tablespoons sunflower oil
1 medium onion, thinly sliced
1½ tablespoon vegetarian red curry paste
2 lemongrass stalks, gently bruised with a rolling pin
4 fresh kaffir lime leaves (or 12 dried)
250 grams red lentils
250 ml coconut milk
1½ tablespoons lime juice
1½ tablespoons soy sauce
Salt to taste
Handful of coriander leaves, roughly chopped
Handful of sugar snap peas, sliced diagonally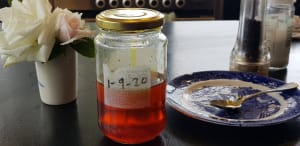 Chilli oil ingredients
180 ml sunflower oil
1 banana shallot, or 2 regular shallots, coarsely chopped
1 clove garlic, coarsely chopped
1 tsp peeled and coarsely chopped fresh ginger
½ red chilli, coarsely chopped
½ star anise pod
2 teaspoons curry powder
1 teaspoon tomato paste
grated zest of ½ small lemon
First, make the chilli oil. Heat 2 tablespoons of the sunflower oil in a small saucepan. Add the shallot, garlic, ginger, chilli, star anise and curry powder and fry over low heat for 5 minutes, stirring from time to time, until the shallot is soft. Add the tomato paste and cook gently for 2 minutes. Stir in the remaining oil and the lemon zest and simmer very gently for 30 minutes. Leave to cool and then strain.
Note about oil: if you want 'aroma' without the heat just omit the chillies completely. The leftover oil is delicious and will keep in your fridge up to a month. It's sensational over eggs, transforms noodles, even cheese sandwiches.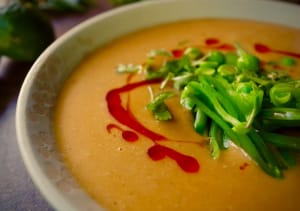 For the soup, heat the sunflower oil in a large pot and add the onion. Cook over low heat, lid on, for 10 to 15 minutes, stirring once or twice, until the onion is completely soft. Stir in the red curry paste and cook for 1 minute. Add the lemongrass, lime leaves, red lentils and 700 ml water. Bring to a boil, turn down the heat to low, and simmer for 15-20 minutes or until the lentils are completely soft.
Remove the soup from the heat and take out and discard the lemongrass and lime leaves. Use a blender to process the soup until it is completely smooth. Add the coconut milk, lime juice, soy sauce and ½ teaspoon salt, and stir. Return the soup to medium heat. Once the soup is almost boiling, ladle into bowls. Garnish with the snap peas, coriander leaves and a drizzle of the chilli oil over each portion.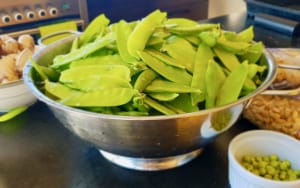 Please note, the soup is a bit spicy even without the chilli oil. You can temper this by reducing the amount of red curry paste and adding more coconut milk.
I often close my weekly menu missives with the tag line, 'There are many hands stirring these pots', and truly there are. Aside from the hands-on involvement, an unexpected joy has been observing how everyone finds their own way of contributing – some with their time, a bag of rice, fresh veggies, a tray of baklava, cash donations, new kitchenware. The list goes on. People basically want to help, because it feels good to be a part of something that's spinning in a positive direction – especially now.
Roasted Cauliflower with Parmesan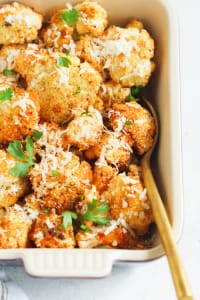 1 head cauliflower, cut into florets
1 medium onion, sliced
4 sprigs thyme
4 (or more!) garlic cloves, unpeeled
3 tablespoons olive oil
Salt and freshly ground black pepper
½ cup grated Parmesan
Preheat oven to 220C. Toss cauliflower florets on a large-rimmed baking sheet with oil, thyme sprigs, salt and pepper. Roast for 15 minutes. Remove from the oven, add the garlic and onion and toss well. Continue roasting until almost tender, another 20 to 25 minutes. Sprinkle with Parmesan, toss to combine, and return to the oven for another 10–12 minutes until tender and nicely coloured. 
Cauliflower Rice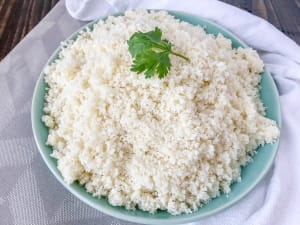 1 cauliflower head
1 tbsp olive oil
Salt and freshly ground black pepper
Remove all green leaves from the cauliflower head and wash and thoroughly dry it. Cut it into quarters. Grate it either by hand using the large-hole side of your box grater or in a food processor using the grater attachment. 
Heat the olive oil in a large frying pan and sauté the cauliflower for a few minutes. Season and stir, then cook covered for 2 or 3 minutes until tender. 
You can then add aromatics to the 'rice' like curry powder or minced green onions if you like. A squeeze of lime is nice too. Be creative and add flavours to complement your main course or serve it just plain. It's delicious.
Creamy Roasted Cauliflower Soup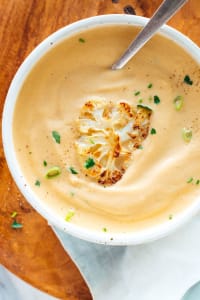 Serves 4
1 large head cauliflower (about 1kg), cut into bite-size florets
3 tablespoons extra-virgin olive oil
Fine sea salt
1 medium red onion, chopped
2 cloves garlic, pressed or minced
1 litre vegetable or chicken stock
2 tablespoons unsalted butter
1 tablespoon fresh lemon juiceScant ¼ teaspoon ground nutmeg
For garnish: 2 tablespoons finely chopped fresh flat-leaf parsley, chives and/or green onions
Preheat the oven to 220C. If desired, line a large, rimmed baking sheet with parchment paper for easy clean-up.
On the baking sheet, toss the cauliflower with 2 tablespoons of the olive oil until lightly and evenly coated in oil. Arrange the cauliflower in a single layer and sprinkle lightly with salt. Bake until the cauliflower is tender and caramelised on the edges, 25 to 35 minutes, tossing after 15 minutes.
When the cauliflower is almost done, warm the remaining 1 tablespoon olive oil in a Dutch oven or soup pot over medium heat until shimmering. Add the onion and ¼ teaspoon salt. Cook, stirring occasionally, until the onion is softened and turning translucent, 5 to 7 minutes.
Add the garlic and cook, stirring constantly, until fragrant, about 30 seconds, then add the stock.
Reserve 4 of the prettiest roasted cauliflower florets for garnish. Then transfer the remaining cauliflower to the pot. Increase the heat to medium-high and bring the mixture to the boil, then reduce the heat as necessary to maintain a gentle simmer. Cook, stirring occasionally, for 20 minutes, to give the flavours time to meld.
When the soup is done cooking, remove the pot from the heat and let it cool for a few minutes. Blend the soup until smooth. Add the butter and blend until incorporated. Add the lemon juice and nutmeg and blend again. Taste for seasoning, adding additional salt if required or a squeeze of lemon for more zing. Blend again.
Reheat before serving. Top each bowl of soup with one roasted cauliflower floret and a sprinkle of chopped parsley, green onion and/or chives. 
This soup keeps well in the refrigerator, covered, for about four days, or for several months in the freezer.
CWA cooks again
While we like to remind people that CWA is 'more than tea and scones', we do find that opportunities to share food and recipes and to cater, come around frequently. Whether it's 'bring a plate' to the School of Arts on Australia Day, providing lunch for CWA members from up and down the coast at Group Council meetings, or trying new recipes from other cultures in our annual 'Country of Study', there's usually something to whet our appetites. More recently some of our members have been involved in cooking for BlazeAid. However, we've become aware that many friends in our community lost their treasured recipe collections in the recent fires, so the three recipes here have a focus on family favourites. Let's hope we don't have to wait too long for large gatherings and feasts with family and friends.
Sorrel Soup                                                                            Ann Holub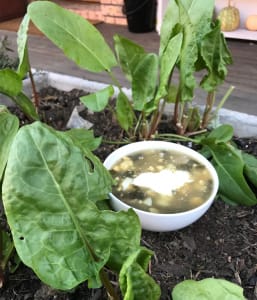 This recipe is as my Ukrainian mother-in-law showed me. The amounts are just really what you have – more or less sorrel depending on how yours has grown. The chicken is optional.
Pick and wash sorrel, cut out stems and cut leaves into 3 cm pieces. Leave aside to drain.
Use chicken or vegetable stock. Boil 4 chicken drum sticks or chicken thighs. When cooked take out and cut meat into bite size pieces and put back into stock with 2 diced potatoes (1cm pieces) and 1 grated carrot. Bring back to boil until soft.
Then put sorrel into pot – it will turn a dark green/grey colour.
To serve, dice hardboiled egg or eggs into small pieces and sprinkle over bowls of soup, with a dob of sour cream. If it's not sour enough for your taste, add a squeeze of lemon juice.
Savoury Rissoles                                                                    Lynne Jones
This recipe was created by my aunty as a family favourite 50 years ago. I remember helping her with our evening meal on a wood stove, and she told me the secret ingredient was the packet of dry Chicken Noodle Soup. I have made my rissoles this way ever since.
Preparation time: 10 minutes
Number of rissoles: 12
500g lean minced beef or lamb
1x10g packet Chicken Noodle soup (1½ tbsp) (4 serves in box)
1 large onion
2-3 cloves grated garlic
1 egg (lightly beaten)
2 level tablespoons tomato sauce
1 level teaspoon salt
Coarsely ground black pepper
½ teaspoon dry oregano
1½ cups home-made breadcrumbs
Plain flour for dusting of rissoles
Place minced meat into a large bowl; add chicken noodle soup, finely chopped onion, grated garlic, egg, tomato sauce, salt and pepper, oregano and breadcrumbs.
Mix all ingredients together with a spatula or your wet hand. Form into 12 rissoles, and roll them into the plain flour. Flatten between your hands.
Cook over a medium heat in a pan of hot olive oil till light brown on both sides. Do not cook on a high heat because the rissoles need to cook through. Another method of cooking is, after light browning place in a preheated medium oven for 20 minutes. Can be served with brown gravy and steamed veggies.
This recipe is excellent for meat balls (16) to be served as 'finger food'. No need to roll in flour.
Hamburger Corn Casserole                                           Sally Halupka
Serves 12
My mother, Edna, often cooked for large crowds, including our family of eight. This was a favourite then and I've cooked it many times myself. 'Hamburger' is simply a reference to the mince being used. The original recipe served 24 and would have required a cauldron. I've halved it to serve 12. I usually prepare half the mix in a 30cm x 24cm baking dish and the remaining half freezes well, even with the sour cream.
1 kg beef mince
1 large onion, chopped
500g corn kernels
2 cans condensed cream of chicken soup
1 can condensed cream of mushroom soup
300g sour cream
1 red capsicum, chopped to size of corn
4 cups cooked risoni pasta
Salt and pepper to taste
2 cups soft breadcrumbs
1/3 cup melted butter
¾ tsp paprika
Parsley for garnish
Brown the mince in a large saucepan. Add the onion and cook until tender.
Add remaining ingredients except pasta. Mix well then add the pasta.
Divide mix into two baking dishes (or freeze half the mix and use one baking dish).
Crumb topping: combine soft breadcrumbs, melted butter and paprika. Sprinkle across casserole in diagonal rows.
Bake at 180C for about 45 mins. Garnish with chopped parsley between the breadcrumb rows.
Pumpkin Kasundi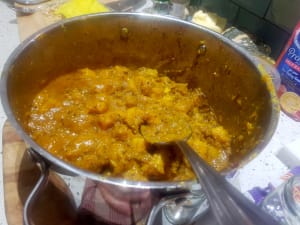 If you love spicy sauces and chutneys, you'll enjoy this kasundi. We've adapted Rohan Anderson's (Whole Larder Love) end-of-summer tomato kasundi recipe to suit our autumn pumpkin harvest. 
3kg pumpkin
Curry powder (to sprinkle before baking)
Lots of garlic – 10-20 cloves
Lots of chillies (8 if they're hot ones) diced with seeds in
3 cups malt vinegar
2½ cups brown sugar
300 g grated ginger
6 tbsp mixed mustard seeds
6 tbsp ground cumin
1 – 2 tbsp dried chilli
Sunflower oil (to fry off the spices)
Cut the pumpkin into small cubes, place on baking trays, sprinkle generously with curry powder. Bake until just cooked – not too soft, not too firm!
In a large pot add a dash of sunflower oil, add the spices and fry off for a few minutes.
Add the ginger, garlic and chilli and stir in well.
Add the sugar and vinegar, stir in and simmer for a few minutes.
Add the pumpkin (if the pumpkin you are using is dry you may need to add more liquid. Use 1 cup of apple cider vinegar or water instead of more malt vinegar).
Simmer for around 15-20 mins. Store in sterilised jars.
Eat straight away or leave for a few weeks to allow the flavours to infuse.
One-bowl Pumpkin Cake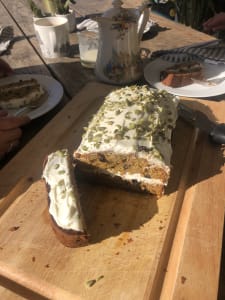 This is like a carrot cake but made with grated pumpkin instead.
½ cup brown sugar
¾ cup olive oil (if you find olive too strong a flavour, try a combination of olive oil and grape seed oil)
½ cup honey or golden syrup
3 eggs
Vanilla (extract or bean paste)
1½ cup SR flour
½ tsp ground cinnamon
300 g grated pumpkin
Handful (more or less) sultanas or currants and some nuts (walnuts or pecans)
In one medium size bowl, mix by hand the sugar, oil, honey, eggs, vanilla (using a balloon whisk is good, but a spoon is fine). Stir in the dry ingredients followed by the pumpkin. Bake in a loaf tin (or your preferred tin), 170-175C for about 40-50 mins.
This cake is lovely eaten on its own, sliced and spread with butter, or iced with cream cheese icing (1 pkt cream cheese, ½ cup icing sugar, a squeeze of lemon and lemon peel zest, sprinkled with pepitas). 
Rich Pumpkin Cheesecake for a special treat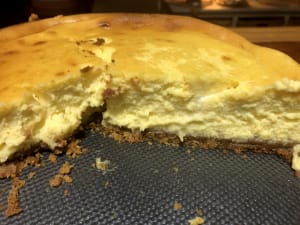 Base:
1 pkt gingersnap biscuits (or use ½ gingersnap and ½ digestive for a crumblier base) and ⅓ cup pecans, whizzed together—or swap for whatever GF base you prefer.
Mix in ¼ cup melted butter (or a bit more—enough to bind the crumb together).
Press crumb into base of spring-form tin.
Blind bake for 5 – 10 mins. Cool.
Filling:
Mix together:
3 pkts cream cheese (750 g)
1½ cups sugar
2 tsp vanilla
4 eggs
Stir into the above filling mix:
1.5 cups pumpkin (diced, steamed til tender, mashed and cooled)
2 tsp cinnamon
½ tsp nutmeg
Spread filling onto base and bake at 170  for about 40 mins. Don't overcook—remove from oven while there's still a bit of a wobble in the centre. It'll keep cooking in the tin while it cools down.  
Kate and Sally, Dignams Creek
We've always appreciated the pumpkin. It's resilient and easy to grow, a comfort food, nutrient-dense and it can be enjoyed well beyond its season … it's one of those foods that just keeps giving. But until we were blessed by our abundant harvest this autumn we were ignorant as to just how versatile the pumpkin is. In the past we've eaten pumpkin as a soup, baked, mashed, steamed, in a pie, casserole or curry, the odd batch of pumpkin scones, stuffed flowers and munched on the dried roasted seeds. But with so many pumpkins to cook and share, we've been enlightened by how multi-talented the pumpkin truly is. We've made pumpkin cake, jam and chutney, sweet pumpkin pie, cheesecake, bread, pumpkin salads and on and on. Here are a few of our new favourite recipes. Enjoy!  
I gave a series of simple cooking lessons for the Women's Resource Centre in Bega many years ago. They were grouped in different cuisines like Asian, Italian or Middle Eastern. Here are a few examples from those different menus. They are good to share now that the social restrictions are slowly being lifted.                                       Linda Sang
Spicy Lentil and Carrot Soup (Vegan)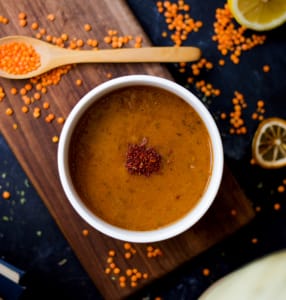 Serves 4-6
3 carrots, sliced
1 large onion, diced
2 tsp ground cumin
4 cloves garlic, crushed
4 chopped tomatoes
¾ cup red lentils washed, soaked and drained
4 cups vegetable stock
1 cup tomato juice
2 tbsp tomato paste
1 tbsp tamari or soy sauce
chopped herbs for garnish, eg coriander or parsley
Using some of the vegetable stock, sauté carrots, onions, cumin, garlic and tomatoes. Cook, stirring occasionally until onion is soft.
Stir in lentils, stock and tomato juice. Bring to boil and simmer for about 1 hour.
When lentils are soft, stir in tomato paste and tamari.
Remove half the mixture and blend until smooth. Return to the same pan, reheat and serve garnished with herbs.
Roast Pumpkin, Spinach and Feta Frittata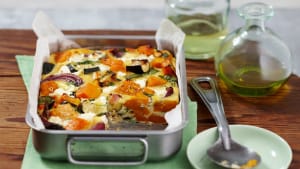 Serves 6 – 8
600g Kent pumpkin, peeled and chopped
2 cups chopped washed spinach
1 large onion, diced
100g feta
¼ cup grated parmesan
2 tbsp olive oil
6 large eggs
300 ml thickened cream
½ cup shredded parmesan
Salt and pepper
1/3 cup pepitas (pumpkin seeds)
Preheat oven to 200C
Toss pumpkin pieces in 1 tbsp olive oil and salt and pepper, place evenly on the baking paper-lined tray you will cook your frittata in (approx. 25cm x 30 cm). Roast till tender, about 20 mins.
In a large frypan, heat oil and sauté onion till translucent, then toss in the spinach till wilted.
Arrange the onion and spinach around the pumpkin and crumble the feta on top.
Mix eggs, cream, grated parmesan, salt and pepper, and pour on top. Sprinkle shredded parmesan on top. Strew pepitas on top.
Cook for about 40 minutes at 180C till cooked and golden.
Simple Pistachio Ice-cream


Serves 5
3 egg yolks
85g caster sugar
300ml single cream
75g ground pistachios
Chopped pistachios for sprinkling
Cream the egg yolks and sugar together in a mixer until smooth thick and pale. Transfer to a large stainless steel bowl. Pour the cream into a small saucepan and bring to the boil over medium heat.
Gradually pour the hot cream over the egg mixture, beating continually. Place the bowl over a pot of simmering water (making sure the base of the bowl does not touch the water). And stir with a wooden spoon until the mixture thickens like a custard. Allow the mixture to cool, strew over chopped nuts and pour it into a serving bowl, cover with cling film and freeze overnight.
Comfort Food                     Maddison Barry
I've always found comfort in food, and the process of creating that food. There's definitely something cathartic in creating something from scratch, and it's very rewarding. Food provides a sense of comfort and familiarity—much needed in this time of so many unknowns. It's grounding. This love of creativity and baking is what eventually led me to Cream Patisserie, and it's a great sense of achievement to be able to create and experiment with baking as a career.
Buba's Chicken Soup
This recipe has been handed down from my Jewish great-grandmother, and has been a family staple in helping fix all sorts of winter colds and flus. My mum is the champion of making this, and it's one of those recipes that always taste a bit better when Mum or Nana makes it!
1 whole chicken + 3 frames (or 1kg of wings)

½ bunch celery
500g carrots
300g parsnips
1 large brown onion
4-6 cloves garlic
1L chicken stock
Salt and pepper to taste
Roughly chop onion, garlic, carrot, celery (keep heads unchopped) and parsnip
Add all ingredients in a large, heavy-bottomed pot and cover with the stock, top up with water if needed.
Bring to the boil then simmer for 45 minutes to 1 hour.
Take celery stalks out and pull out chicken and frames. Cool chicken then pull apart and add meat back to soup.
Season to taste
All Seasons Dry Rub to use on pork, chicken or beef
This base dry rub has become a pantry staple in our house. It's so simple, and adds so much flavour to your protein of choice. It's a crowd pleaser and makes a great gift as well if you jar it up for your foodie friends!
110g brown sugar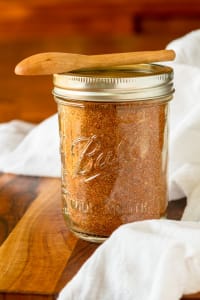 30g sweet or smoked paprika
2 tbsp flaked salt (or 1 tbsp table salt)
1 tbsp chilli powder
1 tbsp onion powder
1 tbsp garlic powder
1 tbsp black pepper
1 tbsp mustard powder
2 tsp ground cumin
1 tsp cayenne pepper
Combine all ingredients, store in an airtight container for up to six months.
Rub on pork or chicken and cook on the BBQ (steaks or wings) or in the slow cooker (rump, ribs or pork butt), or if you're lucky enough to own a smoker, chuck it in the smoker!
If using with beef, halve the sugar. 
Classic Chocolate Brownies
Sometime, simple is best. For me, nothing beats a nice, rich, gooey chocolate brownie, and there are so many variations! Keep it simple, or add some chopped nuts, white chocolate chips or even dried fruit. This is a great base recipe to experiment with. 
185g unsalted butter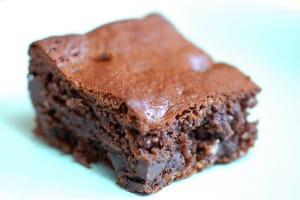 185g dark chocolate, chopped
3 eggs
270g brown sugar
40g cocoa powder
85g plain flour
Preheat oven to 180C, grease and line a 20cm slice tin.
Melt butter and sugar together in a saucepan over low heat, let cool slightly.
Whisk sugar and eggs together at high speed until doubled in size and light in colour.
Pour the chocolate mixture into the egg mixture and fold through, then sift in cocoa and flour and mix with a spatula until just combined. Be careful not to overmix.
Pour into lined dish and bake for 25-35 minutes depending on how gooey you like them!
Volunteering to feed our volunteers                                    Janine Halasz
The Central Tilba School of Arts Trust were asked if they could cook one Sunday a month for Cobargo BlazeAid. Our committee is small but there were lots of offers of person-power and financial donations locally, and from my relatives in Sydney, who saw this contribution going directly to those in most need.
My job now was to plan a menu, work out quantities for 100 people, plan the cooking process using all my eager-to-be-involved volunteers, make a roster, borrow slow cookers, shop and cook.
We started on the Saturday afternoon at my home then started again early Sunday morning through till 5 pm, packed two cars to the roof and drove all the food to Cobargo, ready to serve at 6.30 pm. We had five slow cookers filled with Chicken Cacciatore, 10 trays of baked polenta, mixed lettuce leaves with dressing to add, three large Rum Apple Cakes and whipped cream. We were welcomed with open arms (touching was okay at the time) and given lots of help unpacking the cars. The food was appreciated and there was plenty more for other meals at BlazeAid and meal packages to give to those in the community in need. We will repeat this in April, May and … who knows?
I have included two of the recipes for you to try.
Chicken Cacciatore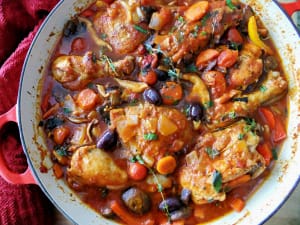 (for up to 10 people with leftovers for another meal 
or for your friends/neighbours)
1/4 cup olive oil or as needed
10 chicken thigh fillets (trimmed and halved/quartered depending on the size)
Plain flour, about 1/2 cup
2 capsicums cut into strips
4 onions sliced and diced
3 garlic cloves diced
800g tin of diced tomatoes with 2 teaspoons of sugar
Bay leaves, 2 teaspoons of mixed herbs or Italian herbs or any amount of fresh herbs from your garden (oregano, thyme, basil, parsley …)
3/4 cup of white wine or 1/2 cup of water, with a chicken stock cube added.
Handful of pitted Olives
Parsley chopped to sprinkle
Roll chicken pieces in plain flour seasoned with salt and pepper.
Heat olive oil in a pan and brown the fillets on both sides. Remove to a plate.
Add all ingredients except the chicken, wine/water and stock cube to a slow cooker or frypan. Simmer.
Return the chicken, add the wine/water and stock cube and simmer until cooked.
Add olives and parsley to chicken.
Serve with rice, pasta, polenta or potatoes and a fresh salad.
Enjoy with family and friends, share or freeze.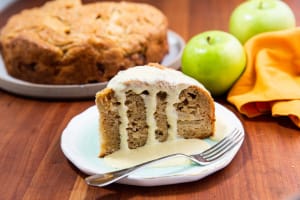 Apple Cake
So, so easy.
Peel and quarter two large apples or equivalent, and chop into small to medium-sized pieces.
Add 2 teaspoons of rum or similar tipple (this can be omitted if serving kids—or make two smaller cakes so adults can enjoy the rum flavour!) Set aside.
Cream 120g of softened butter with 2/3 cup of caster sugar.
Add 2 large eggs, one at a time and beat well.
Add 1 teaspoon of vanilla.
Sift 1 cup of plain flour with 1 teaspoon of baking powder and 1/4 teaspoon of salt (use self-raising flour if preferred).
Pre-heat oven to 165 degrees (fan-forced) .
Fold everything together until just combined.
Pour or spoon into a square (20 cm) or round tin, lined with baking paper and greased.
Cook for 35 minutes, check and cover with baking paper at any stage to prevent too much browning.
Serve warm or cool with cream or custard.
Take comfort …
There's nothing like food that takes us back to warm, happy times with family and friends. No wonder there's a whole realm of recipes collectively called 'Comfort Food'. We hope these tasty dishes might soothe our souls and bring forth a deeply felt 'Yum!' 
Perfect Rice Pudding 
Serves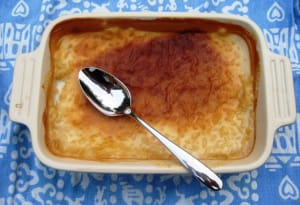 50g butter
50g soft light brown sugar
100g short grain rice
1 litre full-cream milk
Zest of ½ a lemon
1 bay leaf
¼ tsp freshly grated nutmeg
¼ tsp cinnamon
½ vanilla pod, cut open lengthways
150ml double cream
2 tbsp sweet sherry, preferably Pedro Ximinez (optional) 
1. Pre-heat the oven to 140C. 
2. Melt the butter in a saucepan over a gentle heat. Add the sugar. Stir and cook for a few minutes, then tip in the rice, and stir to coat. Cook until the rice has swelled slightly, stirring continuously. 
4. Add the milk and stir well. 
5. Add the lemon zest, bay leaf, spices and a pinch of salt, then pour in the cream and sherry (if using) and bring to a simmer. 
6. Transfer to a buttered oven dish and bake the pudding for about 2 hours, until it has set, but is still slightly wobbly. Allow it to cool a bit and serve warm. 
Macaroni and Cheese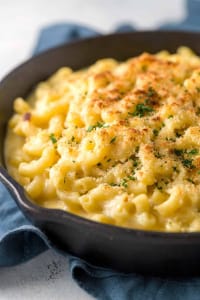 This is a tried and true recipe so be exact with quantities and timing (that one minute is one minute!) and you'll get a perfect result. 
Serves 4
300 g macaroni, casarecce, penne or whatever shape you choose
2 tsp salt, for the pasta cooking water
105 ml cream
1¾ packed cups (220 g) grated sharp cheddar cheese
½ tsp mustard powder
⅛ tsp garlic powder
⅛ tsp onion powder
Tiny pinch of cayenne pepper, or a dash of your favourite hot sauce 
1. Bring a medium pot of water to the boil. Add the pasta and salt. Cook until al dente, according to package directions. Meanwhile, make sure all of your ingredients are measured and ready (combine the dry spices in a small bowl). 
2. Drain the pasta and leave it in the colander for now. Return the empty pot to medium heat. Immediately add the cream and let the mixture come to a boil. Once boiling, set a timer for 1 minute. 
3. Once the minute is up, add all of the cheese and spices. Stir until the cheese has fully melted to produce a creamy sauce. Add the pasta, stir until the pasta is evenly coated in cheese sauce, and remove the pot from the heat. 
4. Taste and season with salt, if necessary. Serve immediately. 
Congee
Serves 4 
Comfort to me is a bowl of steaming congee – rice porridge. You can eat it very simply with a few fresh julienned ginger slices, sliced spring onions, coriander, light soy sauce and a few drops of sesame oil. Maybe some fresh chillies. Make it more substantial by adding some sliced, poached chicken breast. 
2 litres boiling water
½ cup basmati or jasmine rice
1 tsp sea salt
1 tsp vegetable oil 
1. Pour water into a 5 litre heavy based pot. 
2. Add all ingredients and simmer for approximately 1½ hours or until volume is reduced by half. During cooking time, adjust the heat to prevent burning and stir regularly to prevent sticking. Use a heat diffuser if you have one. 
3. It's ready when the congee is off-white with a slightly transparent appearance. It should be thick, yet runny. Serve hot with your choice of accompaniments. 
Cooking in a crisis                       Glenda Morgan
After the fires ravaged our native flora and fauna, the precious water and air of our landscapes and our biodiversity, may we all move towards a shared loving regard and consideration for the planet and each of the lives that depend on its health.
Whether you are vegetarian, vegan, piscatarian, a meat eater, gluten-free, sugar-free, etc—we stand in solidarity when a plate of food is offered to us, arranged with love and nourishment. So here are some recipes that use limited ingredients, tined food or frozen foods (possibly donated) and don't require too much energy consumption. These recipe suggestions can be adapted to your cupboard supplies.
Bean and Cucumber Salad
1 can cannellini beans (or borlotti beans, or chickpeas) rinsed
1 cucumber thickly sliced
1 onion (red or any type) finely diced
1 capsicum (any type) diced
green herbs (parsley, basil, mint, even kale, finely shredded)
2 tomatoes diced
olives
bread (preferably stale) sliced thinly and pan-fried in oil and garlic.
You could top with locally grown snowpea sprouts from Salad Direct to support our friends.
Assemble salad in a bowl and toss in a dressing of your choice: an Asian or Mediterranean taste
Asian dressing:
¼ cup oil (olive oil and sesame oil)
4 tablespoons lemon, lime or grapefruit juice
1 teaspoon grated ginger
pinch salt and sugar
dash of chilli (optional)
You could add crushed salted peanuts, tamari almonds or sunflower seeds. You may wish to add noodles, finely julienned carrot and cabbage to this and leave the olives out.
Lentil and Spinach Salad (served warm or cold)
1 can of brown lentils (rinsed)
1 onion chopped (sautéed in oil)
1 clove garlic
1 bunch or packet English spinach
2 tbsp walnuts (or roasted seeds)
1 tbsp lemon zest
Dressing: 1/3 cup olive oil, ¼ cup lemon juice or vinegar, 2 tsp honey, 1 tsp Dijon mustard, salt and pepper to taste.
Serve these recipes with rice, potatoes or bread.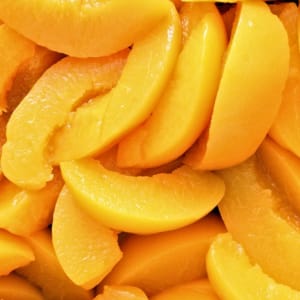 And don't forget a dessert! Let's look at canned fruit.
Suggestion 1:
Can of pineapple pieces—drain and pan fry with butter or Nuttelex, add brown sugar till caramelised, add a dash of rum and cinnamon. Serve with creamed rice or yoghurt.
Suggestion 2:
Can of peaches, half drained and heated. Add a splash of whiskey and serve with whipped cream and toasted pecan nuts
Suggestion 3:
Packet of frozen berries simmered till syrupy. Add lemon or orange zest, serve with creamed rice or whipped cream and your favourite biscuits crumbled.
Be safe and enjoy!
Persian Food in Summer 
I have just finished producing my latest book 'Pardiz,a Persian food journey'. I spent the first 9 years of my life living in a house set in a paradise garden in Tehran, surrounded by high walls and filled with flowering plants, fruit trees, brimming water tanks and a collection of pet animals. This garden was my paradise, my dream world. Persian food has been famous for centuries. With its shared plates, subtle flavours and emphasis on fresh, healthy ingredients, it is extremely well suited to the way we live today.
Yogurt and Broad beans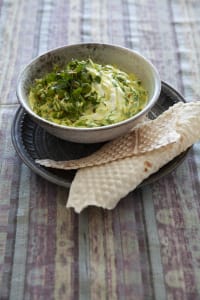 I am a tremendous fan of broad beans, so this is one of my very favourite dips. Fresh beans are best, but frozen ones are fine – and you do not have to peel them twice!

• 4 cloves of garlic, crushed
• 400 gm peeled broad beans (tough outer skin as well)
• 1 teaspoon turmeric
• 2 teaspoons dried fenugreek
• 2 tablespoons fresh lime juice
• ½ a bunch of fresh dill, chopped
• ½ bunch Italian parsley, chopped
• 1/3 bunch fresh mint, chopped
• 700 gm mast-e chekideh
Gently fry the garlic (do not let it burn) and turmeric.
Add the broad beans.
Add 1/3 cup water.
Salt and pepper
gently for 5 minutes, with the lid on.
Let it cool.
Add the lime juice.
Mix the mast and dill through the beans.
Refrigerate before serving
Rice with Lentils and Onions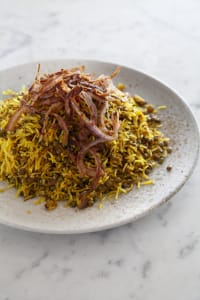 What I love about this polow is the combination of rice and lentils and the crunchiness of the fried onions.
Serves 6 people
200 gm Iranian or basmati rice
• 250 gm green lentils
• 3 large Spanish onions, sliced
• 1/3 cup plain flour
• 200 ml sunflower oil
• 1 1/2 teaspoons ground turmeric
• 1 1/2 teaspoons ground cinnamon
• 2 teaspoons sumac
• 1 teaspoon ground coriander
• 2 teaspoons ground cumin
• 1 teaspoon black mustard seeds
In plenty of salted water boil the lentils until just tender, drain and set aside.
Wash the rice 3-4 times until water runs clear.
Then boil the rice in plenty of salt water.
Add 1 tablespoon olive oil.
When rice is still a little 'al dente' drain and set aside.
With your hands, mix the sliced onions and flour.
In a fry pan heat the sunflower oil.
Fry the onions in batches until golden, do not burn them.
Drain the onions on some kitchen paper.
Discard the oil and wipe the fry pan.
Pour 3 tablespoons of olive oil into the pan.
Add all the spices, except the sumac and gently heat them.
Mix the rice through the spices until all is well amalgamated.
Now add the drained lentils and half the fried onions.
Sprinkle the sumac over the rice and lentils and mix well, using a fork.
Gently re-heat it on the stove.
Pile the rice on a plate and add the rest of the onions on top.
Buttermilk and Cardamon Ice cream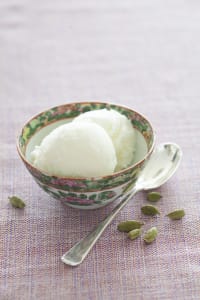 This is a beautiful delicate flavoured ice cream. I love the tanginess of the buttermilk and lemon mixed with cardamom and bay leaf. It gives it an unusual, magical taste.
• 250 ml water
• 190 gm caster sugar
• seeds of 6 cardamom pods, crushed
• peel of 1 organic lemon
• 2 fresh bay leaves
• 500 ml buttermilk
• 200 gm unsweetened Greek yoghurt
• juice of 2 lemons
Combine first five ingredients and gently boil for about 10 minutes
Then mix the buttermilk and yoghurt together.
Pour the lemon juice into the cold sugar syrup.
Now strain it and add the liquid to the buttermilk mixture.
If you have an ice cream maker, churn the mixture until set. Otherwise put the bowl into the freezer. With a fork whisk the mixture from time to time until set.
Set aside to cool
Soft Footprint                                                 Thea Constantarids

For all you sourdough bakers out there, or wannabe sourdough bakers, these two recipes are a great way of using up sourdough starter that you would otherwise discard in the 'feeding' process that keeps your sourdough culture happy and full of life.
Like all recipes, these crackers taste best if you use fresh ingredients. If you have old seeds/flours/oils etc in your cupboard now is the time to 'spring clean' your pantry, throw old or rancid food into your compost. If you don't have a compost, ask your neighbour if you can use theirs. Then go to your local bulk foods store with your jars and reusable bags and buy fresh ingredients. Shopping at a bulk foods stores means you can buy as little or as much as you need and it also helps reduce plastic waste packaging in your life and in our community landfill.
The following two recipes are both adaptations of great recipes I have found on the internet, and if you're keen there's heaps more out there. Just google 'what to do with excess sourdough starter' or something like that.
Seedy sourdough crackers
Note—the mix is made the day before, left to rest overnight at room temperature and baked the following day.
1 cup sunflower seeds
½ cup linseeds, also known as flax seeds
⅓ cup pumpkin seeds, also known as pepitas
½ cup white or black sesame seeds or a mix of bo
1.5 cups rolled oats
2 tablespoons chia seeds
3 tablespoons psyllium husk powder
1.5 teaspoons fine sea salt
3 tablespoons oil (melted coconut oil, or avocado oil, or extra virgin olive oil, or ghee, or any oil you like the flavour of)
¼ cup sourdough starter, measured after stirring and at room temperature
1.5 cups water
In a medium bowl, stir all ingredients together until evenly distributed and the water is absorbed and dough is thick, about 5 minutes.
Divide the dough in half.
Place half of the dough on a sheet of baking paper and shape it into a rectangle. Place another sheet of baking paper over the top and, using a rolling pin, roll out into a large rectangle about the size of your baking sheet, and very thin. Carefully peel off the top layer of baking paper and score your crackers into desirable sizes and shapes. Repeat with the other half of the dough.
Let rest at room temperature for 8-12 hours, or overnight.
Preheat the oven to 180°C with the oven racks in the upper and lower middle positions. Place baking sheets in the oven and bake for 30 minutes. Pull them out of the oven and carefully flip the crackers over and peel off the baking paper. Bake the upside-down crackers, rotating the pans and switching top and bottom positions, for another 20-25 minutes until lightly browned and crisp all the way through.
Let cool completely on a wire rack and break along the scored lines. Store in an airtight container for up to 3 weeks.
(Recipe adapted from www.scratch-eats.com)
Sourdough crackers with parmesan and rosemary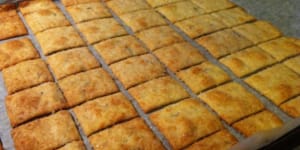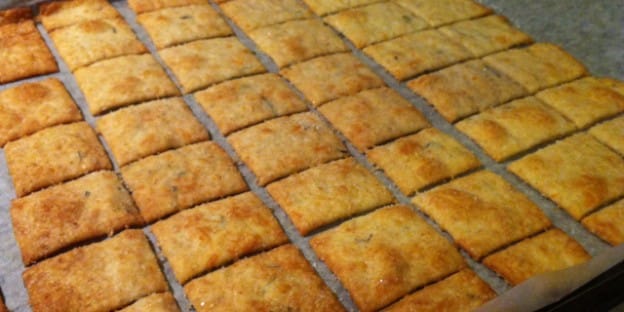 1 cup sourdough starter, measured after stirring and at room temperature
1/4 cup of oil (olive oil, macadamia oil, melted ghee, coconut oil or any oil you like)
½ teaspoon salt
1 tbsp finely grated parmesan
1 tbsp finely chopped rosemary or thyme or other herbs from the garden
¾ – 1 cup of wholemeal flour
oil for brushing the tops
plus extra salt
Preheat oven to 180°C.
You can mix in a mixing bowl by hand or use an electric mixer with a dough hook if you have one.
Combine the sourdough starter with the oil and salt and stir well to combine. Add the parmesan and rosemary. Begin to add the wholemeal flour—add half a cup first, then wait to see if you need any more to form a soft dough. Turn the dough out onto a floured piece of baking paper and knead lightly until your dough is smooth.
Divide the dough in half. Roll the first piece between two pieces of baking paper—dust with flour as you go to prevent it sticking. Roll the dough as thin as you can, 2-3mm is good. It should almost fill a standard biscuit tray. Use a sharp knife to slice the dough into squares or rectangles and place the baking paper sheet on a flat tray for the oven. Brush the top of the crackers with oil and sprinkle with salt.
Bake for 15-20 minutes or until they are golden. Keep an eye on them and rotate the trays half way through the cooking time if you feel the need. Cooking time will vary depending on how thick the crackers are.
The crackers will store in an airtight container for around three weeks.
(Recipe adapted from www.myhomeharvest.com.au)
October 2019
In solidarity with the Climate Strikers, knowing that we all need to reduce the amount of animal products we consume, this month's Soft Footprints recipes are all vegan. You might be surprised by how delicious and economical vegan dishes
are while you're doing your bit for the planet.
French Lentil Soup
Hearty, savoury and yummy, this economical recipe won an award at the Quaama Fair's 'Feed 5 for $5' competition. 
3 cups dried green/brown lentils, rinsed, soaked overnight, rinsed and drained
1 cup extra-virgin olive oil
4 cups chopped onions
2 cups chopped celery stalks (save chopped celery leaves for garnish)
2 cups chopped carrots
6 garlic cloves, chopped
8 cups (or more) vegetable broth (water plus stock cubes is fine)
3 x 400g cans diced tomatoes
Heat oil in heavy large soup pot over medium-high heat. Add onions, celery, carrots, and garlic; sauté until vegetables begin to brown, about 15 minutes. 
Add lentils, tomatoes and broth. Bring to a boil. Reduce heat to medium-low, cover, and simmer until lentils are tender.
Transfer half the soup to blender and puree until smooth. Return puree to pan. 
Taste and season with salt, pepper, and a splash of balsamic if desired. Ladle soup into bowls. Garnish with celery leaves. 
Coconut Black Rice Pudding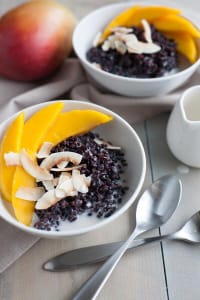 Ingredients:
1 cup (200g) Chinese black rice ('forbidden rice'), soaked for 4-8 hours**
2 cups water
pinch of salt
1 400ml can coconut milk
coconut sugar to taste
fresh mango slices for serving
Rinse and drain the soaked rice thoroughly and place in a large pot with the water and salt. Bring to the boil over high heat then reduce to a simmer and cook, covered, for 20 minutes.
After 20 minutes, remove the lid and add the coconut milk, reserving about a third of the can for serving. Turn up the heat to medium and simmer a further 10 minutes or so, until the rice is cooked through but still 'al dente' and retaining its shape.
Sweeten to taste with coconut sugar and serve, warm, topped with mango slices and an extra splash of the reserved coconut milk. Leftovers can be kept in the fridge up to three days and reheated or eaten cold.
Notes:
*The only other rice variety that can be used in this recipe is Thai Black Rice (also known as black sticky rice or black glutinous rice), which is quite similar but results in a stickier pudding. The grains are a little longer than the forbidden black rice, and are of varying colour tones, not totally black.
**Soaking the raw rice before cooking it shortens the cooking time dramatically and helps the grains cook more evenly so they're easier to digest. It's worth nothing though that black rice may be sold 'pre-soaked' or 'pre-steamed' and dried
Cauliflower and chickpea tagine with preserved lemon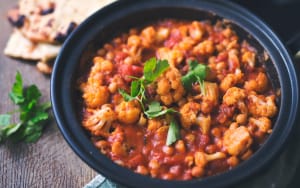 This hearty tagine is typical of the type of dish cooked in the wooded Middle Atlas region and the lush valleys leading up to the High Atlas. It's a tasty way of preparing cauliflower, broccoli or cabbage, and is often simply served with bread to mop up the sauce.
Serves 4-6
2 tbsp olive oil
1 onion, coarsely chopped
2 garlic cloves, coarsely chopped
2 tsp coriander seeds
1-2 tsp sugar
1 x 400g tin chickpeas, rinsed and drained
1 cauliflower, trimmed into small florets
1 x 400g tin chopped tomatoes
2-3 tsp harissa
A bunch of fresh coriander, roughly chopped
1 preserved lemon, finely chopped
Salt and black pepper
Heat the oil in the base of a tagine or in a heavy-based saucepan, add the onion and cook for 2–3 minutes to soften. Add the garlic, coriander seeds and sugar, then cook for a further 2–3 minutes, until the onion and garlic begin to colour, then toss in the chickpeas and cauliflower florets.
Add the chopped tomatoes, stir in the harissa and pour in just enough water to cover the cauliflower. Bring the liquid to the boil, reduce the heat, put on the lid, and cook the tagine gently for about 20 minutes, until the cauliflower has become tender.
Season the tagine well with salt and pepper, toss in half the coriander and half the preserved lemon, then cook for a further 5–10 minutes. Garnish with the remaining coriander and preserved lemon.
From 'Vegetarian Tagines and Couscous' by Ghillie Basan (Ryland, Peters and Small)
September 2019
This month is all about citrus. Here are some recipes to help you use and enjoy this delicious winter bounty.
Limoncello is an Italian lemon liqueur. If you're a limoncello fan, you might have made it in the past by peeling too many lemons and dropping them into vodka. This recipe has a different and easier technique, suspending the lemons over the vodka and letting the vapours extract the essence from the peels. Give it a try!
Chicken Yassa, a tasty dish from Senegal, pairs tart lemons and sweet caramelised onions with just a hint of chilli. Warning, be sure to use a non-reactive pan to cook up this sauce as the lemon juice might pit your pot!
And to finish it off, an Orange Polenta Cake that's gluten free and low fat yet totally moist and delicious.
We have added other wonderful citrus recipes here for your enjoyment that couldn't fit in the print Triangle.
Bon appétit!
Limoncello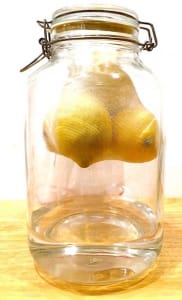 An air-tight, clip-top, wide-mouthed jar (see photo)
Cheesecloth
Twine
750ml vodka
2 lemons, rinsed (ideally organic Meyer lemons)
1.5 cups simple syrup (heat 250g sugar and 1 cup water in a saucepan and stir until the sugar is dissolved. Cool before using)
Zest of two fresh lemons
Pour the vodka into the glass jar.
Wrap lemons in cheesecloth and suspend over the vodka using the twine to secure them.
Seal tightly, and let sit undisturbed in a cool, dark place for one month.
After one month, discard lemons, then add syrup and the fresh zest of two new lemons.
Let sit for 15 minutes then strain through a fine mesh sieve (or more cheesecloth).
Decant into bottles or jars and chill before serving.
This recipe gives the pure lemony essence that you get from the suspension technique, topped with a whiff of the delicious fragrant oils from last minute exposure to fresh lemon zest. Limoncellos that use the standard technique of soaking lemon peels for a month in the alcohol tend to have a heavier flavour and aroma and often some bitterness from the pith. The suspension technique produces a light and vibrant drink. This recipe has the best of both worlds.
Lime Cordial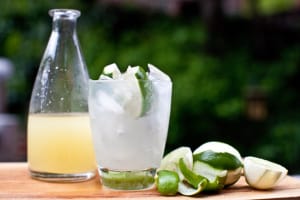 This cordial is excellent served with one part of the lime syrup mixed with four parts (or to taste) of chilled water, lemonade or soda water.
6 large limes (or 8 small)
1 kg sugar
4 cups water
1 tablespoon citric or tartaric acid
Finely grate the lime rind, taking care not to include any of the pith. Squeeze the juice from the limes and set aside.
Combine the lime rind, citric or tartaric acid, sugar and water and heat until the sugar is dissolved. Add the reserved lime juice and mix through. Leave to stand until the mixture is cool (or overnight). Strain the mixture through a fine sieve.
Pour into sterilised bottles and seal.
Lemon Tart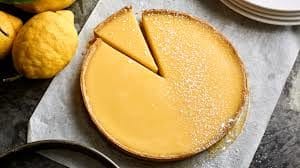 1 cup (250ml) freshly-squeezed lemon juice
Grated zest of two lemons, preferably unsprayed
3/4 cup (150g) sugar
12 tablespoons (170g) butter, cut into cubes
4 large eggs
4 large egg yolks
One pre-baked 23cm tart shell (any good shortcrust pastry will do but Maggie Beer's sour cream pastry never fails)
Preheat the oven to 180ºC.
In a medium-sized non-reactive saucepan, heat the lemon juice, zest, sugar, butter, eggs and egg yolks. Have a mesh strainer nearby.
Stir until the butter is melted, then whisk the mixture continuously until it thickens and holds its shape. When you lift some of it up with the whisk it should visibly mound up when dropped back down over the rest of the mixture in the saucepan. It should only take a few minutes.
Pour the warm lemon curd though a strainer into a bowl (or directly into the tart shell), scraping with a rubber spatula to press it through.
Smooth the lemon filling into the pre-baked tart shell and pop it in the oven until the curd is just set—about 5 to 6 minutes.
Remove from the oven and let cool before slicing and serving.
(You can taste the filling after it's made and if it's too tangy, add up to 1/4 cup (50g) more sugar. If you find that you have a bit too much filling for your tart shell (they seem to vary), any remaining lemon filling that you don't use can be spread on toast, fresh biscuits, or scones. You could substitute fresh lime juice for the lemon, and if you have Meyer lemons, reduce the sugar to 100g or 1/2 cup.)
Lemon Delicious Pudding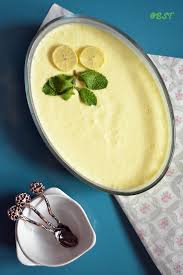 4 whole eggs
4 egg yolks
1/3 cup lemon juice
1/3 cup mandarin (tangerine) juice
Grated zest of one lemon
3/4 cup caster sugar
1 cup heavy cream
Lightly beat the eggs and add the sugar, juices, zest and cream. Taste and correct. It should still be quite tart.
Pour the mix into a buttered baking dish. Place the dish in a larger pan in a slow oven (160C) and add boiling water to the pan.
Bake until done, probably twenty minutes or so. It only needs to be set.
Serve with cream, maybe some raspberry coulis? A chocolate truffle perhaps? Or just as it is.
Tanmaya's Lemon or Lime Indian Oil Pickle
(madly authentic)
12 – 15 lemons or limes that have been quartered, salted, sprinkled with chillies and dried in the sun (heat) for 3 days
50 red or green chillies
Cooking salt
2½ cups malt vinegar
2 tablespoons fenugreek seeds
½ cup chopped fresh ginger
½ cup peeled garlic cloves
½ cup ground cumin
½ cup ground coriander
5 cups mustard oil
2 tablespoons black mustard seeds
2 tablespoons curry leaves
1½ tablespoons fennel seeds
1 tablespoon black cumin seeds
1 tablespoon ground turmeric
1 tablespoon chilli powder (or to taste)
2½ tablespoons salt (or to taste)
Soak the fenugreek seeds in a small amount of the vinegar overnight. Next day, put the soaked seeds, garlic, ginger, cumin and coriander in an electric blender. Add enough vinegar to facilitate blending and do so on high speed until a smooth puree results.
In an enamel or stainless steel pan, heat the oil. Remove from heat and add mustard seeds, curry leaves, fennel and black cumin seeds, turmeric and chilli powders then the blended mixture. Return to heat and fry, stirring constantly with a wooden spoon.
Add the limes and remaining vinegar, bring to the boil, then simmer, covered, for 1 hour. The spices should sink after a time. Add salt to taste and bottle in sterilised jars. Oil should cover the pickle.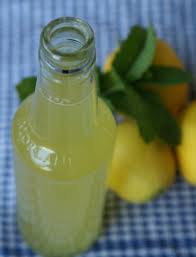 Homemade Lemon Cordial
750ml fresh lemon juice
550g sugar
3/4 tablespoon citric acid
1½ tablespoons tartaric acid
1 tablespoon boiling water
Mix the citric acid and tartaric acid with the boiling water and stir until dissolved.
Put a large saucepan on a low heat and add the lemon juice and sugar. Stir until the sugar is completely dissolved.
Add the citric acid/tartaric acid mix and stir in well.
Strain through a couple of layers of clean muslin cloth into sterilised bottles. Cap with lids or corks and seal.
When opened, store in the fridge.
Chicken Yassa from Senegal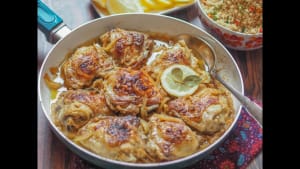 6 chicken thighs on the bone
5 onions peeled, halved, and thinly sliced
1 or 2 super-hot chilies
Marinade:
1/2 cup fresh lemon juice
1/4 cup olive oil
2 tablespoons Dijon mustard
4 medium garlic cloves, crushed
1/2 teaspoon salt
For browning and braising the chicken:
Sea salt
Freshly ground black pepper
1 tablespoon frying oil (peanut is good)
1 cup chicken stock
2 bay leaves
Garnish:
1 cup pitted green olives, sliced
Place the chicken and onions into a large glass (non-reactive) bowl. Cut a few slits in the peppers and add them to the bowl. Whisk marinade ingredients together and pour on top. Toss to coat. Cover with plastic wrap and marinate in the fridge for at least 3 hours or, preferably, overnight.
Preheat the oven to 175C.
Heat 1 tablespoon oil over medium-high heat in a large heavy pot or Dutch oven. Remove the chicken from the marinade and sprinkle pieces with a few pinches of salt and a few grinds of pepper, to taste. Brown chicken on both sides in batches, about 5 minutes per batch. Transfer to a plate and set aside. Spoon out some of the chicken fat from the pot, leaving about one tablespoon.
Set the hot pepper aside and scrape the onions and all the marinade into the pot over medium-high heat. Cook, stirring, for about 5 minutes to get the onions hot and cooking. Add the bay leaves. Cover the pot and turn the heat to medium-low.
Let the onions cook, stirring occasionally, for about 10 minutes more, until they are soft and starting to caramelise. Regulate the heat so they don't burn.
Using a spatula or wooden spoon, move the onions aside and put the chicken pieces in the bottom of the pot. Mound the onions on top. Place the hot pepper in the middle. Pour in the chicken stock. Turn the heat to medium high and bring to a simmer. Cover and put in the oven for about 1 hour and 20 minutes or until tender.
Garnish with sliced green olives and serve with fluffy white rice and dark green veg.
Orange Polenta Cake
3 medium oranges (unwaxed or at least well washed)
2 tablespoons of robust-flavoured marmalade
200g almond meal
140g polenta meal
1 flat tablespoon of baking powder
8 large free-range eggs
350g raw sugar
Boil the whole oranges for about an hour in water, making sure to watch and top up the water so it doesn't run dry. Oranges should be very soft and squidgy.
Cool the oranges enough that you can cut them in halves or quarters and remove the seeds.
Whiz the orange parts, with skin, in a food processor or with a blender stick. Add the marmalade and leave the orange mixture to cool down further.
Heat oven to 160 degrees.
In a separate bowl, mix the almond meal, polenta and baking powder. Set aside.
Put the eggs and sugar into the food processor and whip for about five minutes till light in colour and the consistency of a frothy milkshake. Now beat in the almond meal mixture and then the orange mixture.
Pour into a prepared 24-25cm springform cake tin (buttered sides and bottom with a sprinkling of polenta grains tapped all around to cover the base and sides of the cake tin). Leave a fingertip border from top of the cake tin to allow for the cake to rise without running over the edges of the tin.
Bake for 15 mins at 160C, then turn down to 120C and cook for another 60-70 mins. Don't worry if the cake still appears damp—as long as it has coloured to a golden colour and is just firm to a gentle touch, it is ready. Leave the cake in the tin to cool completely. It may sink a little in the middle.
It will be quite a fragile cake, so just pop off the springform cake collar after loosening up the edges with a flat knife all around the sides. Leave it on the base and serve slices from there.
This cake is wonderful with whipped cream, sour cream or ice cream and another dollop of marmalade on the side. Better eaten at room temperature but can be kept in the fridge for at least a week.
Soft Footprints                                             Mountain Valley Farm

According to Erica Dibden of the Mountain Valley Farm in Central Tilba, everything she and husband Nic do, simply comes back to food. The couple have owned the 200 hectare farm for 20 years, and each day is about tending to the 400 Jersey cows that supply an estimated 25,000 litres of milk per week, not to mention planting seeds, harvesting crops and making the most of all of it.
Erica and Nic own Tilba Real Dairy, and specifically chose Jersey cows for a number of reasons. 'They produce milk high in butter-fat and protein, have a lower environmental impact on the farm, are such beautiful creatures and are delightful to see grazing in the fields,' Erica says.
'I just love that whole process of nurturing something and turning it into food,' Erica says. 'I've always believed you are what you eat, and we want the milk that we produce to be the very best it can be for the good health of everyone who buys it.'
Erica chose recipes for Spinach and Fetta Pie and Baked Ricotta Cheesecake to share with Triangle readers this month.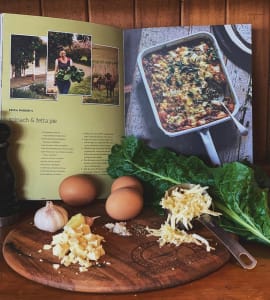 Spinach and Fetta Pie
Serves 4
¼ cup (60ml) olive oil, plus extra for greasing
2 bunches English spinach, roughly chopped
2 red onions, finely chopped
10 button mushrooms, thinly sliced
1 cup fresh flat-leaf parsley leaves, finely chopped
6 garlic cloves, crushed
10 eggs, lightly beaten
400g fetta cheese, crumbled
½ cup (125ml) pouring cream
½ cup (50g) grated cheddar cheese
Salad greens, to serve.
Preheat the oven to 180C. Lightly brush a large baking dish with olive oil.
Steam the spinach until just wilted. Drain well and place in a large bowl. Mix in the onion, mushrooms, parsley and garlic.
Whisk the eggs, fetta, cream and olive oil in a separate bowl. Season with salt and pepper. Add to the spinach and mushroom mixture and quickly mix together.
Pour the mixture into the baking dish and sprinkle with the grated cheddar. Cover with a sheet of baking paper.
Bake the pie for 30 minutes, then remove the baking paper. Bake for a further 20 minutes, until golden brown. Serve with some simple salad greens.
Baked Ricotta Cheesecake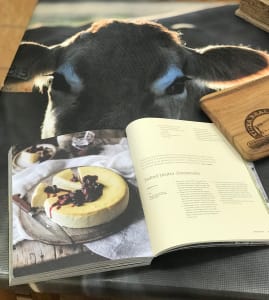 This cheesecake will keep in an airtight container in the fridge for up to four days.
Serves 10-12
125g butter, melted and cooled, plus extra for greasing
400g cream cheese, softened
450g ricotta cheese
1½ cups (330g) caster sugar
4 large eggs
¼ cup (35g) plain flour
¼ cup (30g) cornflour
1 tablespoon lemon juice
1 tablespoon vanilla bean paste
2 cups (490g) sour cream
Berry compote, to serve (optional)
Double cream, to serve.
Preheat the oven to 160C. Grease a 22cm springform cake tin with melted butter and line with baking paper. You're going to sit the tin in a pan of water in the oven, so wrap the base and side of the pan tightly with foil to prevent any water seeping in during baking.
Using an electric mixer, beat the softened cream cheese until smooth. Gradually beat in the ricotta until smooth. Gradually beat in the sugar over 1 minute, scraping down the side of the bowl when required. Once all the sugar is incorporated, beat for a further 30 seconds.
Add the eggs one at a time, beating well after each addition. Beat in the sifted flour and cornflour, and the lemon juice and vanilla. Add the cooled melted butter and sour cream. Beat for 30 seconds, until well combined and smooth.
Pour the mixture into the tin. Place tin in a roasting pan and pour in enough boiling water to reach halfway up the side of the cake tin. Bake the cheesecake for 60-70 minutes, until the centre is slightly soft and wobbles slightly when the tin is shaken. Remove the tin from the water bath and set aside on a wire rack to cool completely. Cover and place in the fridge overnight.
Serve the cheesecake with the berry compote, if using, and double cream.
Soft Footprints                                             Curry Bunga
Curry Bunga is a little Indian restaurant on Bunga St, Bermagui that offers quality, authentic Indian cuisine. Owner and chef, Nandini, has a pride and a passion for creating meals that burst with flavour and Curry Bunga has a loyal group of regular customers.
The menu changes constantly according to the availability of local produce and Nandini's own creative whims, but you can bank on a range of meat, vegetarian and vegan options.
Everything Nandini makes, even her spice mixes, is created in house with love, often from family recipes taught to her by her mum. So we're delighted that she agreed to share a couple of her favourites with us this month—some spicy treats to warm us up in the chill of mid-winter.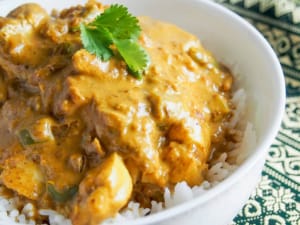 Goan Fish Curry
1 kg flathead or any firm fish
2 cans coconut milk
1 large onion sliced
2-3 green chillies cut lengthwise
A few curry leaves
½ tsp black mustard seeds
1/2 tsp turmeric powder
1 tsp ginger (grated)
1-2 tbsp oil
Salt to taste
A handful of fresh coriander
Heat oil in in a heavy-based pan, add the mustard seeds and heat till they splutter.
Add the sliced onion, curry leaves and salt. Once the onion is translucent, add the ginger and turmeric, stir well and add the green chillies. Stir, making sure the onions don't stick to the bottom.
Add the coconut milk, stirring well so it doesn't curdle. Bring to a boil.
Add the fish pieces. Cook for about 5 minutes if flathead or slightly more if it's a firmer fish.
Remove from heat, add the coriander, serve hot with basmati rice.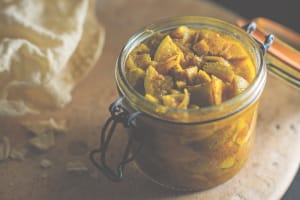 Lemon Pickle
6 lemons (use yellow lemons with thin skin, never use lemons with thick skin)
2 tbsp red chili powder
1 tbsp black salt
½ cup sugar
¾ cup water
Wash lemons really well. Cut each into 8 wedges and try to remove as many seeds as possible.
Put the lemon pieces in a heavy-based pot. Add red chili powder, black salt and sugar. Mix well, add water and cover the pot with a lid.
Simmer on medium heat till lemons are soft (use cake prick or fork to check).
Take the pot off the heat and drain all the syrup liquid into another saucepan. Leave the lemon pieces.
Taste the syrup and add red chili powder, black salt and sugar according to your taste. A bit of extra chilli powder gives it an extra zing.
Mix well and put back on the heat. Cook on medium heat for about 6-7 minutes until it thickens up really well.
Add the syrup back into lemon pieces and mix well.
Let the pickle cool down completely. Instant lemon pickle is ready.
Pour it into a clean glass jar. You can store it in the freezer for about 3-4 months.
Soft Footprint Recipes       The Cobargo General Store

The Cobargo General Store has been blessed by the support of our community, not only through regular local custom, but also the huge response of local growers, who enthusiastically supply their produce to our shop. There has been an enormous variety of wonderful produce made available to our store in the past few months. As the weather turns colder, the local produce will obviously change and we look forward to seeing what the winter's harvest will offer; it also means that Cobargo General Store's hours will change with the season (10 am to 4.30 pm Tuesday to Friday/ 9 am to 1 pm Saturday/closed Sunday and Monday)
It's hard to believe our little shop has been open for six months; the time has just flown! Thanks to all for your support. Cobargo (and the Triangle's surrounds) are made up of a wonderful group of folks.
We chose the following recipes based on some of the local produce we recently received. The Dulce De Batata is a recipe from Alfred's mother and the Shallot Tarte Tatin is a vegetarian, savoury take on the famous 'Tarte Tatin', usually a dessert using apples or pears.
 Dulce De Batata
(Sweet Potato 'jam')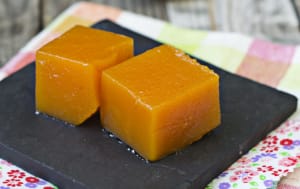 Popular in South American countries, Dulce De Batata is usually served as an accompaniment to cheeses: a twist on quince paste, if you like…
2kg sweet potato
1.6kg sugar
30ml vanilla essence
40g gelatin powde
¼ cup warm water
Boil potatoes in their skins until very soft. Peel and mash well (or pass through a sieve/potato ricer/mouli)
In a large pot, add sugar, mashed sweet potato and just enough water to cover contents. Cook gently for around an hour, stirring occasionally to prevent sticking. If the mixture seems to be drying out, add a little water.
Once smooth, add the vanilla essence, dissolve gelatin in the warm water and stir thoroughly through the mixture.
Place the contents into a container, let cool, then refrigerate until set.
The Dulce De Batata should last for about two weeks in the fridge.
Shallot Tarte Tatin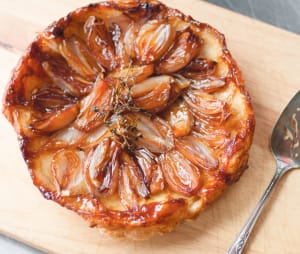 The French shallot comes from the same family as onions, but has a milder, sweeter flavour. They are popular in French and Asian cuisine, contain a good amount of vitamin C and are a source of dietary fibre.
600g shallots
2 tbsp olive oil
25g butter
4 tbsp balsamic vinegar
2 tbsp brown sugar
4 sprigs thyme
375g sheet puff pastry
Heat oven to 200C.
In a heatproof bowl, pour boiling water over shallots, leave for 10 mins, then drain and peel.
In a frying pan, melt oil and butter, add shallots and gently fry for 10-15 mins, until soft and lightly browned.
Add vinegar, sugar and leaves from 2 thyme sprigs and stir through until caramelised. Turn off heat, add a little salt and pepper.
Tear the remaining thyme sprigs and scatter over the base of a 22cm ovenproof shallow pan, cake or tart tin (without a loose base).
Pour in the shallots and their sticky juices.
Roll out the pastry until it's big enough to cut a 26cm-diameter circle.
Lift the pastry circle onto the shallots and tuck the edges of the pastry down the inside of the pan.
Bake for 25-30 mins until pastry is golden.
Serve with a green side salad and/or goats cheese.
Soft Footprint Recipes       The Triangle Team
I love autumn: it's my favourite season of the year. Time to take a ramble through a pine forest. Go early in the morning after rain at this time of year and hunt for pine mushrooms, also known as Saffron Milk Caps. Go with an experienced hunter. Now pumpkins of all shapes and sizes are appearing on roadside stalls. Inspiration to make pumpkin gnocchi with the classic pairing of sage butter sauce. And ending this autumnal feast, one can't go wrong with a hot fruit desert. If you are like me I have jars of fruits from season's excess – plums, berries, apples, rhubarb and quinces. Break out a bottle or stew some apples and mix it up with one of those other jars and make a crumble—or try a fruit sponge.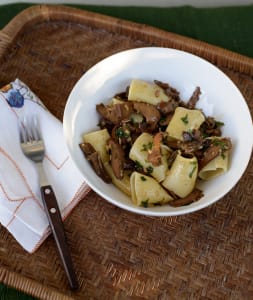 Pine Mushroom Ragu

(Recipe adapted from Kylie Kwong's 'Mushroom Ragu' in Heart and Soul)
8 garlic cloves, chopped finely
2 salad onions, trimmed and finely sliced
1 tbsp sea salt
750g pine mushrooms
, roughly chopped
125g butter
1/2 cup extra virgin olive oil
black pepper, cracked
1/2 cup dry white wine
½ bunch flat-leaf parsley, roughly chopped
Place garlic, onions and salt in a heavy-based pan. Cover with the mushrooms. Top with butter, olive oil and pepper and place, covered over high heat for 5 minutes, without stirring, to allow the flavours of the onions and garlic to penetrate the mushrooms.
Uncover. Add wine, stirring to combine. Reduce heat and simmer, uncovered, for about 5 minutes, or until mushrooms are just tender. Stir in parsley.
Serve with giant pasta, or a spoonful of polenta.
(Serves 4)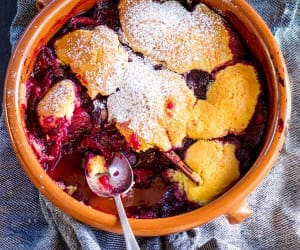 Fruit Sponge
Served warm, this light fruit sponge is pure comfort. Extra good with custard or whipped cream.
About 2-3 cups of cooked sweetened fruit of your choice
2 eggs
2 heaped tbsp of sugar
2 tbsp of flour
1 tsp baking powder
Preheat oven to 190C. Place fruit in a shallow baking dish and put into oven to heat while preparing sponge. Beat the eggs and sugar until very thick and creamy. Add sifted flour and baking powder and fold in lightly. Pour over hot fruit. Bake for 30 minutes until golden.
Serves 4-6
800g pumpkin
140 g all-purpose flour
1 egg
salt and pepper to taste
nutmeg to taste
60g butter
8 leaves of sage
60g grated Parmigiano Reggiano cheese
Begin by preparing the pumpkin. Cut it in half, without removing the peel, rub with olive oil and place in a baking dish. Roast in a175°C oven for about 45 minutes or until starting to colour.
Once the pumpkin is tender, remove it from the oven and let cool: then peel and pass through a potato masher.
To make the dough for the pumpkin gnocchi, place the mashed pumpkin on a flat work surface. Add the salt, pepper and nutmeg. Mix together with the egg and flour.
The dough should be soft and light and not stick to your fingertips. 

Make the gnocchi by first dusting the work surface with a little flour and cutting off a small amount of the gnocchi dough at a time. Roll this into a log and cut into small cylindrical pieces. 

Cook the gnocchi in a large pot of boiling salted water. 

While the gnocchi are cooking, prepare the sauce: in a skillet, melt the butter with a couple of fresh sage leaves.
Add a tablespoon of cooking water to the butter and stir to make a sauce. 

Once the gnocchi rise to the top of the pot, remove them using a slotted spoon. 

Carefully toss them in the melted butter. Finish with grated Parmigiano Reggiano.
Buon appetito!

Soft Footprint Recipes         Linda Sang
During the Cobargo Folk Festival I billeted 4 performers. They were all lovely people and it was a pleasure to host them. I asked them if there were any food preferences and intolerances or allergies. Luckily no allergies but there were a number of preferences. High on the list was gluten-free. I cook occasionally for groups of people and I find gluten-free dishes are the safest bet with most people, no matter what cuisine. With The Western Flyers, my billets, they were treated to freshly baked loaves from my friend Bhagya, who provided 'The life-changing bread'. This recipe has been adapted through the many times she has made it. My across the road neighbour, Wendy Jackson, is one half of the duo the Passionate Fools who also performed at the Folk Festival. She has given me one of her favourite breakfast collations. And Jen Severn who is not a performer, but is somebody who can't eat gluten, shared her famous Raw cacoa slice. A delicious, rich, chocolaty slice of heaven which satisfies any sweet craving without guilt!
T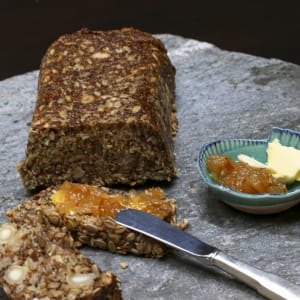 he Life-Changing Loaf of Bread

Makes 1 loaf
1 cup sunflower seeds
½ cup flax seeds
½ cup nuts
1½ cups gluten-free rolled oats
2 tbsp chia seeds
4 tbsp psyllium seed husks (3 tbsp if using psyllium husk powder)
1 tsp fine grain sea salt (add ½ tsp if using coarse salt)
1 tbsp maple syrup or honey
3 tbsp melted coconut oil or ghee
1½ cups water
Line a loaf pan with baking paper.
Grind half the sunflower seeds and all the flax seeds. Put them in a bowl and add the rest of the dry ingredients, stirring well.
Whisk syrup/honey, oil and water together.
Add this to the dry ingredients and mix very well until everything is completely wetted.
Spoon into pan and smooth out the top with the back of a spoon. Let it sit on the counter for at least 2 hours, or all day or overnight.
Preheat oven to 175°C.
Place loaf pan in the oven on the middle rack, and bake for 20 minutes. Remove bread from loaf pan, place it upside down directly on the rack and bake for another 30-40 minutes.
Cool completely on a wire rack before slicing (difficult, but important).
Store bread in a tightly sealed container for up to five days. Freezes well too—slice before freezing for quick and easy toast!
SOME NOTES: Be flexible with the additions; substitute sesame, cashew, etc, put in rice, quinoa or spelt flakes in part for oats. You can also add some polenta. Do not substitute the psyllium. If you have a nut allergy, replace nuts with seeds.
If you grind the flax seeds you will need more water. You will also need more water if you use quinoa instead of oats.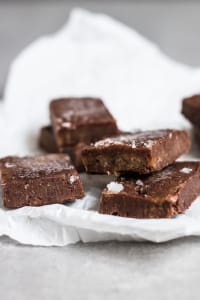 Raw Cacao Slice
1 cup raw almonds
1 cup raw macadamias
1 cup of medjool dates, pitted
3/4 cup cacao powder
2/3 cup melted coconut oil
1 heaped tablespoon of almond spread
Rock salt to taste
Sesame seeds or desiccated coconut to sprinkle on top
In a food processor, blend the almonds and macadamias together to create a fine meal. Add the dates, cacao, coconut oil, almond spread and rock salt and blend until a fudgy consistency.
Press into a lined slice tin and scatter with sesame seeds/coconut as desired. Refrigerate for at least 45 minutes. Remove, cut into squares and keep in an airtight container in the fridge.
Overnight Oats
3 cups of rolled oats
½ cup of white chia seeds
3 and ½ cups milk
¾ cup of natural Greek style yoghurt
2 tblsp of maple syrup
1 tsp of vanilla extract
Combine everything in a bowl. Cover and place in the fridge overnight to soak and expand. In the morning, with your serving, add more yoghurt, fresh berries or banana, coconut flakes and more maple syrup and milk if required.
Absolutely delicious and filling breakfast for a great start to the day!

Soft Footprint Recipes           Recipes from Central Tilba and Cobargo Public Schools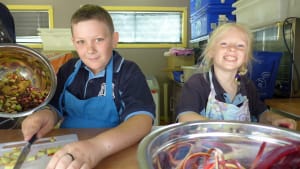 Rhubarb Ginger Chutney from Cobargo School
This week in Stephanie Alexander Kitchen Garden program, the students celebrated their amazing achievement of winning the Cobargo Show's Junior Champion and First Place for the Jams and Preserves Section (under 12 years) for their delicious rhubarb and ginger chutney.
What a wonderful way to start off a brand new year of learning in the Stephanie Alexander Kitchen Garden program! All students had a picnic with some crackers with cheese and their homemade chutney as a celebration of their achievements. We will certainly be growing some more rhubarb to keep up with the demand for this tasty treat!
Sarah Harding, Years 3/4 Classroom Teacher
10 stems rhubarb
1 medium onion
1 green apple
handful pitted dates
½ cup sultanas
100ml malt vinegar
1cm fresh ginger
150g raw sugar
1 tsp white mustard seeds
pinch salt
Trim and wash the rhubarb, then slice it into fairly fine chunks.
Peel and finely chop the onion.
Chop the dates into small pieces.
Grate the apple with skin on.
Grate the ginger.
Heat the onion, mustard seeds, vinegar, ginger, sugar and salt in a wide-based non-aluminium pan.
Bring to a rolling boil for about 2 minutes or until the sugar is dissolved, then add the rhubarb, apple, sultanas and dates.
Reduce the heat and simmer for 15 minutes, until slightly thickened.
Spoon it into serving bowl and allow it to cool.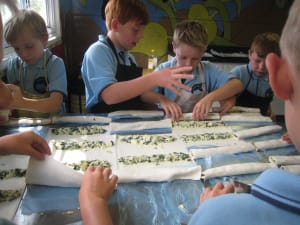 Vegetarian Rolls from Central Tilba School Kitchen Garden
1 kg ricotta cheese
500g grated cheese
Bunch spring onions (chopped)
Bunch parsley (chopped)
3 bunches spinach or silverbeet (chopped fine)
Salt and pepper
18 sheets puff pastry (cut in half)
Sauté spring onions and spinach/silverbeet in oil.
Mix remaining ingredients together in a large bowl then add sautéd onions and spinach.
Lay ingredients in strips on pastry sheets.
Roll tightly and cut into 5 cm segments.
Glaze with oil (or milk).
Bake in a moderate oven (180C) until golden brown.
Serves 40 students, five teachers and parents!
Soft Footprint Recipes                                                 The Triangle Team
Cucumber Soup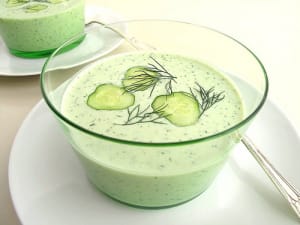 This refreshing, cooling soup is salad in a mug.
4 large cucumbers or more if smaller
1 small red onion chopped or a handful of spring onions, chopped
2 cloves garlic, chopped
¼ cup olive oil
2 cups packed with salad herbs (use what you have!—parsley, tarragon, basil, dill, mint, chives, sorrel, rocket leaves)
1½ cups greek yoghurt
Salt to taste
Peel cucumbers if they're large and cut into chunks.
Pick the herbs off their stalks, wash and dry.
Place everything into a food processor and blend well. Adjust for salt.
Refrigerate and serve cold.
Tomato Chutney
5kg ripe tomatoes, peeled (remove top core, cut a small cross on the bottom of tomato then drop tomatoes in batches in boiling water for 30 seconds. When cool the tomato skins peel off easily). Then deseed the tomatoes by cutting them in half and squeezing the seeds out. Chop tomatoes roughly then put all the prepared tomatoes in a colander to drain the night before.
7 onions diced finely
4 cups of sugar (could use less)
4 fresh bay leaves
1 large-thumb-sized piece of fresh, peeled ginger, finely chopped
4 cups of white wine vinegar
4 garlic cloves, finely diced
2 star anise
1 tbsp mustard seeds
5 birds-eye chillies finely diced (careful when handling – don't rub your eyes!)
In a large heavy pot, cook all ingredients down for about an hour or so, stirring to make sure the chutney doesn't burn on the bottom. If you have a diffuser that would be another safeguard against 'catching'.
You can bottle the boiling chutney into clean jars with metal lids. The boiling chutney sterilises the jar. Then you can store jars out of the fridge and they will be a happy accompaniment to all things savoury in the months ahead.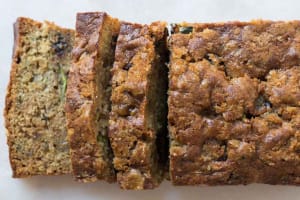 Zucchini Bread
It's called bread but it's a terrific tea cake and a great way to use up those zucchinis that got away.
500g flour
1 tablespoon baking powder
1 teaspoon baking soda
1 teaspoon salt
4 teaspoons cinnamon
6 large eggs
1 cup oil (sunflower, safflower, grapeseed)
2 cups (400g) sugar (half white, half brown)
680g grated zucchini
2 cups lightly toasted and roughly chopped walnuts
Preheat the oven to 160C. Grease two loaf pans.
Mix together the flour, baking powder, baking soda, salt and cinnamon.
In a big bowl, whisk together the eggs, sugar and oil.
Sift the dry ingredients into the wet and stir until just mixed in.
Stir in the grated zucchini, then the toasted nuts.
Put into the pans and bake for 1 hour.
Cool in the pans for ten minutes.
Slip a knife around the edges and remove from the pans.
Cool completely on a wire rack.
Wrap the loaves in film and leave for 12 hours before cutting.
Slice and serve. Freezes well.
Soft Footprint Recipes                           Stuart Absalom

Christmas at Green Gables B&B was always a little bit special. We often had guests who simply wanted to be away from home, or overseas travellers, so it was important to make it special and homely. Preparing and serving a well-planned Christmas dinner was the focus. These two recipes are from our time at Green Gables—the first, as seafood is so fabulous in this area; the second I still make as it's great for gifts, can be made as a log cake or as small, round, individual cakes and is delicious.
Ceviche

750 g fillets of very fresh white fish such as flathead
Lemon juice
1 tsp salt
For the dressing:
1 small cucumber
¼ cup finely chopped spring onion
1 large tomato cut into small pieces
½ cup finely sliced celery
finely chopped fresh chili to taste
1/3 cup good quality mayonnaise
3 tsp coconut milk
1 tsp finely grated fresh ginger
½ cup finely chopped fresh coriander
Cut the fish into small cubes, making sure to remove any skin or bones, and place in a basin. Add lemon juice and salt and stir well. The lemon should almost cover the fish. Cover and refrigerate for 24 to 36 hours, stirring a few times. As the fish marinates it will change texture and look 'cooked'.
Within two hours of serving, peel the cucumber, remove the seeds and dice into small pieces. Drain the fish well and discard the lemon juice. Mix the mayonnaise, coconut and ginger and add to the fish. Lastly add all the vegetables and coriander and mix well.
Serve individually or pile onto a serving plate. Garnish with extra coriander and spring onions.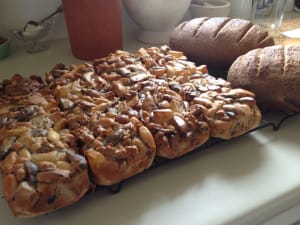 Glace fruit and nut cake

125g glace pineapple chopped in large pieces
250g glace cherries
250g dates cut in half
250g glace apricots halved
250g pecans whole
125g walnuts whole
250g brazil nuts whole
125g blanched almonds whole
4 egg yolks
1 cup sugar
1/3 cup brandy or rum
1 cup plain flour
1 tsp baking powder
pinch salt
4 egg whites
Mix all the fruits and nuts together in a large bowl. In another bowl beat the egg yolks and sugar together until light and fluffy. Add brandy or rum. Sift the flour and baking powder into the egg mixture with the pinch of salt and mix well. Beat the egg whites until stiff peaks form and fold into the batter. Add this to the fruit and nuts, mixing well to get even distribution. Place into lined tins and bake in a slow oven until light golden brown on top. I find that this mixture will make four log cakes.
Refrigerate to store and slice thinly with a very sharp knife. Enjoy and Happy Christmas!
Soft Footprint Recipes                           Quaama Quiisine
Come to the Quaama Hall Supper Room at the Christmas Fair, Saturday 24 November, to try these delicacies made by the QPA's Quaama Quiisine volunteers. Or prepare them yourself now!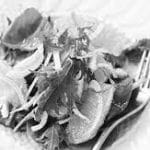 Orange Fennel Salad
1 whole fennel bulb
4 oranges
1 punnet cherry tomatoes
100 g baby spinach leaves
1/4 cup maple syrup
1 tbsp dijon mustard
Trim the fennel and slice thinly. Peel and separate the oranges into segments. Halve the cherry tomatoes. Wash and dry the spinach leaves. Put those ingredients into a bowl or arrange on a platter.  Whisk syrup and mustard together and pour over the salad.
This is a low sodium and fat-free dish that is particularly delicious with fish or chicken.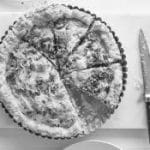 Salmon Quiche
For the crust:
170g self-raising flour
90g butter or margarine
pinch of salt
Rub ingredients together, adding 1 to 2 tablespoons water until combined. Roll the pastry and place in a greased flan tin.
Preheat the oven to 170 degrees.
For the filling:
210g tin pink salmon
1 large tomato, sliced thinly
3 eggs
240ml milk
pinch salt
black pepper, optional
Drain the salmon well and spread it evenly across the pastry. Cover with tomato slices.
Whisk the eggs with the milk and add the seasoning. Pour into the pastry case.
Bake until the pastry is golden brown and the filling is set and a golden colour, 30 to 40 minutes approximately.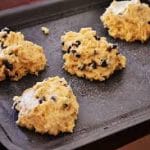 Rock Cakes
2 cups self-raising flour
1 teaspoon baking powder
1/3 cup caster sugar
90g butter or margarine
1 cup mixed dried fruit
1 egg
1/2 cup milk
1 teaspoon cinnamon
Pinch of salt
Sugar for dusting (optional)
Heat the oven to 180 – 200 degrees.
Combine all dry ingredients in a mixing bowl. Rub in the butter. Add in the mixed fruit.
Whisk the egg and milk together in a small bowl. Make a well in the middle of the dry ingredients and add the liquids. Incorporate together until just combined. Do not overmix.
Prepare a baking tray with greaseproof paper. Use a dessertspoon and your finger to push lumps of the mixture onto the tray. Sprinkle with sugar if using. Bake for 10 to 15 minutes or until golden brown underneath. Cool on a wire rack.
Soft Footprint Recipes        Virginia White
We at the Triangle love sharing food and recipes with our family and friends. Food is what connects us to each other and the world we live in. Seasonal usually means inexpensive for us as there is a glut somewhere we can share in. This salad was inspired by seeing whole heads of cauliflower for $2 (admittedly at Woolies). The Walnut slice is a great one for the repertoire to share with a crowd or the have on hand to defrost – maybe freezing half if you don't eat it all at once. Great with a cuppa when those unexpected guests pop in.
Cauliflower salad with Lemon Dressing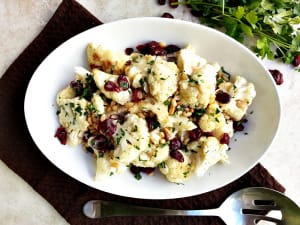 1 head of cauliflower
2 tbsp olive oil
1/4 cup of dried cranberries
2 tbsp slivered almonds, toasted
1/4 cup grated parmesan
Dressing
2 teaspoons chopped spring onions
1tbsp Dijon mustard
3 tbsp lemon juice
1/2 teaspoon  lemon zest
2 teaspoons honey
3 tbsp olive oil
Method
Bake cauliflower florets after drizzling with olive oil and seasoning with salt and pepper in 200c oven, for about 45 minutes until golden brown.
For the dressing, combine all the ingredients and whisk. Season with salt and pepper.
Remove cooked cauliflower from the oven and transfer to a large bowl. Fold in cranberries, toasted almonds and parmesan. Drizzle with dressing and toss to combine.
Easy Walnut Slice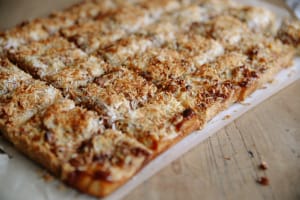 BASE
1/2 cup self raising flour
1/4 cup sugar
1/2 cup coconut
60gms butter
TOPPING
2 eggs
1/2 teaspoon vanilla
1 cup coconut
90gms walnut pieces
1/2 cup brown sugar
1/2 teaspoon baking powder
Base: Sift flour into bowl, add sugar and coconut, mix well. Melt butter, add to dry ingredients, mix well. Press mixture into greased 28cm x 18cm tin, bake in 190 degree oven for 15 minutes.
Topping: Lightly beat eggs and vanilla with fork, add coconut, chopped walnuts, brown sugar, baking powder, mix well. Spread mixture over partly cooked base, return to oven and bake a further 25 to 30 minutes or until topping is cooked. Cool in tin; cut into squares or slices.
Soft Footprint Recipes        Linda Sang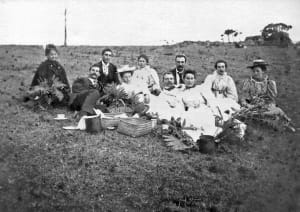 Picnic time!
The Triangle area has a strong heritage of picnics, as can be seen in these gorgeous old photos from the 1800s from the Bermagui Historical Society's collection. Pack your picnic and head for your favourite spot to enjoy the perfect weather of September—not too hot, not too cold … and the flies are still asleep! The Triangle would love to see some photos of your family picnics.
Jody Vassallo, who has provided some of her delicious recipes, is an awarding-winning cookbook author, publisher, Ayurvedic health coach and yoga teacher. She has recently moved to Tilba and now teaches regular yoga classes in the Tilba Little Hall and runs women's wellness retreats both in Australia and overseas.
Last month Jody photographed images for her new cookbook here in Tilba. This book will be on sale March 2019. Jody is currently working on a fundraising cookbook called Farmer with all proceeds going to farmers in need.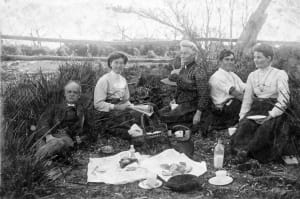 Super seed crackers
75 g (½ cup) linseeds (flaxseeds)
½75 g (½ cup) mixed pepitas and sunflower seeds
75 g (1/2 cup) sesame seeds
50 (½ cup) chia seeds
50 g (½ cup) almond meal
sea salt, to sprinkle
Preheat the oven to 160°C. Line a baking tray with baking paper.
Put the linseeds, mixed seeds, sesame seeds, chia seeds and almond meal into a bowl and mix to combine. Add 250 ml (1 cup) of water and stir until the mixture comes together.
Spread the mixture on the prepared tray (as thickly or thinly as you wish) and bake for 40 minutes, or until crisp. Cut the large seed cracker in half and turn to cook on the other side. Bake for 15 minutes or until crisp and dry. Remove from the oven and allow to cool on the tray. Break into bite-sized crackers.
Serves 4–6
Labneh
520 g (2 cups) Greek-style yoghurt
1 bay leaf
250ml olive oil
6 black peppercorns
Fresh thyme sprigs
1 teaspoon fennel seeds
1 teaspoon cumin seeds
Suspend a fine sieve over a bowl. Line the sieve with a double layer of muslin or chux, spoon in the yoghurt and twist to enclose, tying the top with kitchen string or an elastic band. Refrigerate overnight.
Roll the strained yoghurt into walnut size balls and place into a jar of olive oil with a bay leaf, black peppercorns, thyme leaves and roasted fennel and cumin. Seal and serve with crackers and olives.
'A cup of this and a cup of that' cake
1 cup desiccated coconut
1 cup (150 g) gluten-free plain flour
2 teaspoons gluten-free baking powder
1 cup chocolate chips
1 cup coconut sugar (I use half this but it makes the recipe easier to remember)
1 cup mashed banana (about 3 large ripe bananas)
1 cup milk of your choice
Preheat the oven to 180°C. Grease and line a loaf tin with baking paper.
Put the coconut, flour, baking powder, chocolate chips and sugar into a bowl. Stir in the mashed banana and milk and mix to combine.
Pour into the prepared tin and bake for 40 minutes, or until a skewer inserted in the centre comes out clean.
Makes 1 loaf.
(Recipes from Jody Vassallo Beautiful Food, available at Gulaga Gallery. Jody's next book The Yogic Kitchen goes on sale March 2019.)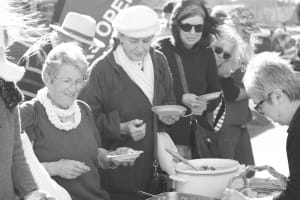 Cobargo Cooks for Syria
At Well Thumbed Books last month we celebrated Syrian food with a view to helping the displaced children of war-torn Syria. We raised over $1200 in not much more than an hour, feeding a pop-up crowd of very generous donors.
We were inspired by the fund-raising concept of CookForSYRIA. Their story first started as a simple supper club, where a group of foodie friends came together to enjoy Syrian cuisine and to raise money to help UNICEF protect Syrian children. Now it's a global movement.
After seven years of war, children and families in Syria still face violence, displacement, disease and starvation, with nearly two million children living in besieged or hard-to-reach areas. Another 2.6 million children are now living in precarious conditions as refugees in neighbouring Turkey, Lebanon, Jordan, Egypt and Iraq. There is no sign that war is ending.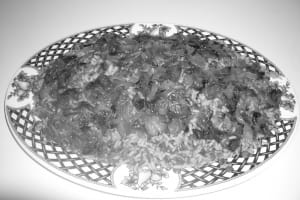 Mugadara
This recipe is a basic staple served regularly in the camps. Can be eaten hot, cold or room temperature, with salad accompaniments or as a side dish to other main dishes.
250g brown lentils
500g coarse bulgur wheat
Olive oil
2 brown onions, peeled and sliced into half moons
Rinse the lentils and place in a large saucepan with cold water. Over a medium heat, bring to a simmer then reduce the heat to low. Cook for 30 mins or until tender.
Add the bulgur wheat, stir and top up with cold water until a tablespoon stays up when inserted straight into the lentils and bulgur. Cover and leave to cook until all the water is evaporated. You can check this by inserting a knife, moving it to one side and looking at the bottom of the pan. Season with plenty of salt and freshly ground black pepper. Add a generous glug or two of olive oil and fry for a few minutes, stirring occasionally.
While the lentils are cooking, fry the onions in a large pan over a low heat with a generous glug of olive oil. Stir occasionally. Cook for at least 30 mins until caramelised. Put the Mugadara in a large dish and arrange the onions over the top.

Chickpea and Eggplant Stew
2 eggplants
1 tsp each cinnamon, paprika and cumin
2 tsp za'atar (or dukkah)
Salt & pepper
Glug of olive oil
1 red onion finely diced
4 chopped tomatoes
2 tbsp tomato puree
1 tin diced tomatoes
1 tin chickpeas, drained and rinsed
3 tsp apple cider vinegar
Chopped coriander
Preheat oven to 200C. Chop eggplant into medium chunks about 20mm square (3/4") into a large bowl. Sprinkle all the spices, salt and pepper over and drizzle a good glug of oil. Mix till everything is well coated and moist. Lay on tray lined with baking paper.
Roast eggplant for 25 minutes or till tender. Whilst cooking add the chopped red onion to frypan and cook for 10 mins on low heat with another good splash of olive oil, then add garlic, all the tomatoes, bring to boil then let simmer for 20 mins.
Finally add in the eggplant, chickpeas, apple cider vinegar and salt and pepper to taste, cooking for another few minutes until everything is heated through. Serve with chopped coriander on top.
Soft Footprints goes to the dogs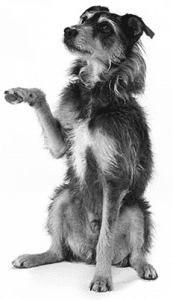 Recipes by Ann Maree Menager & Bhagya
If you're like the dog loving members of The Triangle committee, you want the best for your furry friends and might be sceptical about the quality of some of the treats on offer in the stores as well as baulking at their prices.
The answer is to make your own!
This way, you know that what you're giving your dog is top quality and especially when you buy the livers when on sale, you're getting a lot of treats for a very small price.
Chicken liver crackers
Ingredients: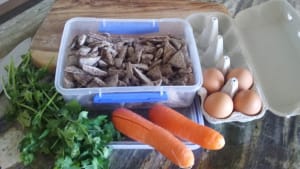 4 cups plain wholemeal flour
1 1/2 cups milk powder (full fat or skim)
1 cup wheatgerm
3 crumbled beef stock cubes
500 gms chicken livers
3 eggs
1 cup chopped parsley
Method:
Preheat the oven to 130 degrees or 110 in a fan forced oven.
Prepare baking trays with some baking paper
Mix in a food processer:
Pop in the flour, milk powder, wheat germ stock cubes and chicken livers and pulse to a crumble consistency. Add in the eggs until the mix is into a rough ball of dough consistency. Add extra eggs if too dry.
Lastly pulse in the parsley briefly to just mix it through the mixture.
Tip onto a floured surface and knead lightly till you have a dough ball you can roll out to 6mm thickness at a minimum or make them thicker if you want a bit of a chewier texture for finished biscuits.
Cut into 4 cm squares or use cookie cutters. Bake for 1 hour to 1 1/2 hours. Cool
completely before placing in air tight container. Store in a cool dry place.
Makes a kilo.
Variations:
Add grated carrot, or broccoli stems instead of parsley or as well as parsley.
For a richer mix, add grated cheese and a substitute an egg with a couple of
tablespoons of peanut butter.
Paws Liver Cake
Ingredients:
500 grams lambs fry
3/4 cup polenta
1/4 cup water or milk
1 egg
1 carrot, finely grated
1 apple, grated
splash olive oil
Method:
Cut the lambs fry into chunks.
Put all the ingredients into a food processor and blend until smooth.
Line a lasagna dish with greaseproof paper and pour in the batter.
Bake for 35 – 45 minutes or until you start to smell it (it smells pretty good!).
Cool for ten minutes or so in the pan.
Invert the 'cake' onto a wire rack and lose the greaseproof.
When cool, cut into treat sized pieces to suit your pup and freeze on a baking tray.
When firm put into a sealed container and store in the freezer.
This recipe is easy to make and freezes really well, allowing you to decant a few into the fridge as you need them, which will be often unless you apply a bit of discipline as your pet is going to beg you for them.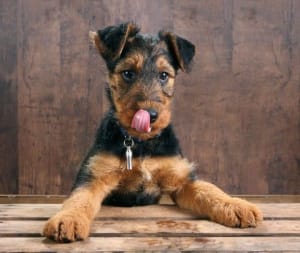 Recipes by Cam Starr (Kitchenboys)
My philosophy is a simple one—only the finest ingredients, don't accept second best, keep the food simple, and cook with uncompromising techniques and consistency.
Over the years I have worked for some of the best chefs and 5-star hotels (top 100) in the world, while travelling and working in 6-7 countries (some third world). I have gathered a huge repertoire of recipes, cuisines and cooking techniques which always taught me to keep the punters interested. Light and healthy or rich and robust, but if you yourself wouldn't eat it then don't serve it.
I've seen many types of cuisines come and go, eg classical, nouvelle, global, pacific rim, bush tucker and east meets west, just to name a few. I've made countless friendships which I value dearly along the way. I feel I've achieved a huge amount in my career.
Now pretty well established here on the southern coast of NSW, I believe Kitchenboys is leading the way with other food establishments in providing locally produced foods to the local and visiting customer base that frequents our venues. Kitchenboys has some really exciting times ahead and we're looking forward to revealing all in the new future.
4 large quinces, peeled, cored and each cut into 8 wedges
250 ml white wine vinegar
500 ml water
6 tbsp mild honey
In a spice bag:
1 tsp black peppercorns
1 tsp coriander seeds
1 tsp cardamom pods crushed
½ tsp allspice berries
½ tsp cloves
1 cinnamon stick
2 bay leaves
1 red chilli split
2 inch piece ginger peeled and sliced
Place the quinces in acidulated water until you are ready to cook, to avoid discolouration.
Place all liquids and spice bag tied to the handle in a large pan and bring to the boil, lower heat and add quinces, then simmer for 25-45 minutes until soft and tender. Be careful not to overcook them or they will start to disintegrate.
Using a slotted spoon, carefully place into warm sterilised jars and pour the poaching liquor over them so the fruit is completely covered.
Seal and store in a cool dark place for at least 4 weeks before using.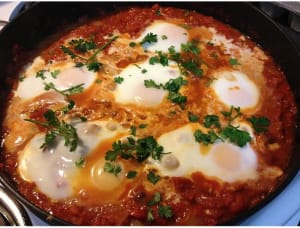 Kale Shakshuka
20 ml olive oil
1 onion, finely diced
2 garlic cloves, crushed
1 red capsicum, finely diced
2 long red chillies, finely diced
2 tbsp tomato paste
1 tsp each sweet paprika, smoky paprika, ground cumin
500 g crushed or diced tomatoes
½ tsp brown sugar
500 g kale, stalks removed and finely sliced
6 eggs
1 bunch flat leaf parsley, washed, roughly chopped
Fresh crusty bread to serve
Heat oil in a cast iron pan. Add onion, garlic, capsicum and chilli. Cook for 3-5 minutes or until tender and slightly caramelised. Add tomato paste and spices then cook for 1 minute or until fragrant. Add tomatoes and sugar, stir to combine. Reduce heat to medium low and cook for 15 -20 minutes.
Add kale and stir through the sauce. Crack eggs into mixture in the pan. Reduce the heat to low and cook for 5 minutes or until the eggs are cooked the way you like. Scatter the parsley over, season with salt and pepper and serve with fresh crusty bread.
Soft Footprint Recipes by Bhagya
A couple of recipes for autumn
This pumpkin cheesecake won first prize at the Quaama Fair's pumpkin competition a few years back which was made famous by appearing on River Cottage Australia. Be sure to make it a day ahead as it needs to chill overnight in the fridge
And it's feijoa time! Good for more than just the best jelly you've ever tasted, try this simple to make feijoa walnut cake to have with a cuppa.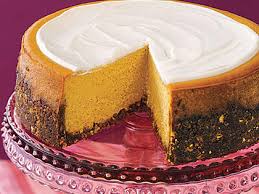 Pumpkin Cheesecake
(have all ingredients at room temperature)
Crust:
1 cup (100 grams) Digestive Biscuits
1/2 cup (50 grams) ginger cookies, homemade or store bought
1 tablespoon (15 grams) white sugar
4 – 5 tablespoons (57-70 grams) unsalted butter, melted
Preheat oven to 180 C and place the oven rack in the centre of the oven. Butter a 20 cm spring form pan.
In a food processor, pulse the biscuits and blend them to crumbs.
Combine them with sugar then melted butter. Press the mixture evenly onto the bottom of the prepared spring form pan. Bake 8-10 minutes or until set. Let cool while you make the cheesecake.
Filling:
2/3 cup (145 grams) light brown sugar
1/2 teaspoon ground cinnamon
1/4 teaspoon ground ginger
1/8 teaspoon ground cloves
1/8 teaspoon ground nutmeg
1/4 teaspoon salt
2-8 ounce packages (450 grams) full fat cream cheese, room temperature
3 large eggs, room temperature
1 teaspoon pure vanilla extract
1 cup (240 ml) pure pumpkin puree (canned or homemade)
Combine the brown sugar, cinnamon, ginger, cloves, nutmeg, and salt.
In the bowl of your electric mixer (or with a hand mixer), on low speed, beat the cream cheese until smooth (about 2 minutes). Gradually add the sugar mixture and beat until creamy and smooth (1 to 2 minutes). Add the eggs, one at a time, beating well (about 30 seconds) after each addition. Scrape down the sides of the bowl and beat in the vanilla extract and pumpkin puree.
Pour the filling over the crust and place the spring form pan on a baking sheet to catch any drips. Place a cake pan, filled halfway with hot water, on the bottom shelf of your oven to moisten the air. Bake the cheesecake for 30 minutes then reduce the oven temperature to 160C for another 10 – 20 minutes, or until the edges of the cheesecake are puffed but the centre is still a little wet and jiggles when you gently shake the pan. Total baking time 40 – 60 minutes.
Sour Cream Topping:
1 cup (240 ml) sour cream at room temp
1 teaspoon pure vanilla extract
1/4 cup (50 grams) white sugar
Whisk together the sour cream, vanilla extract and sugar. Spread the topping over the warm cheesecake and return the cheesecake to the oven and bake about 8 minutes to set the topping.
Remove from oven and place on a wire rack to cool. Loosen the cake from the pan by running a sharp knife around the inside edge (this will help prevent the cake from cracking). Then place a piece of aluminium foil over the top of the pan so the cheesecake will cool slowly.
When completely cooled, cover and refrigerate at least eight hours, preferably overnight, before serving. Cut with a hot knife.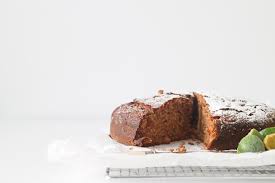 Feijoa Walnut Cake
Ingredients:
2 cups feijoas, peeled and roughly chopped (important to measure correctly – 2 cups when peeled and chopped)
1 cup walnut pieces
1 cup sultanas
1 cup sugar
100 grams melted butter
1 egg
1 cup flour
2 teaspoons mixed spice
2 teaspoons baking soda
Method:
Mix feijoas, walnuts, sultanas and sugar together in a large bowl.
Beat egg and butter together and mix into feijoa mixture.
Sift flour, mixed spice and baking soda and add to feijoa mixture. Stir lightly.
Turn into well greased 25cm cake tin or deep ring tin.
Bake 180ºC for 40-45 minutes or until skewer comes out clean.
Cool in tin before turning out.
Soft Footprint Recipes by Diana Holmes
April 2018
Diana Holmes of Quaama has had a long history in the hospitality industry in England and Australia, running restaurants and cafés. She still loves to cook for the CWA and Quaama Quiisine and these two recipes are favourites of hers—and crowd-pleasers! They are very easy and her family loved making them with her, with great success. She hopes you will enjoy making these simple recipes for yourself and your family and friends.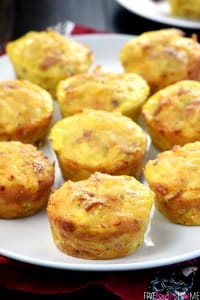 Corn, cheese and bacon muffins
2 rashers bacon, rind removed
2 cups plain flour
5 tsp baking powder
310g can creamed corn
2 eggs
1 cup milk
2 cups grated tasty cheese
Chop bacon into small pieces.
Sift flour and baking powder into a bowl. Make a well in the centre.
In a different bowl, mix corn, eggs, bacon and milk together.
Pour corn mixture into dry ingredients and add half the cheese. Mix quickly until just combined.
Three-quarters fill greased muffin tins with the mixture. Sprinkle with remaining cheese.
Bake at 190C for 20 minutes or until muffins spring back when pressed lightly. Makes 12.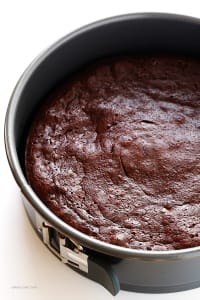 Donna Latters Chocolate Cake
125g butter
1¾ cup SR flour
1¼ cup caster sugar
¼ tsp bicarb soda
2 eggs
1 cup milk
1 tbsp cocoa
Place all ingredients in bowl and beat well until the mix changes colour and all ingredients are combined.
Pour into a greased and lined 20cm tin. Cook in a moderate oven about one hour, until cooked (if when pressed lightly in the middle the sides come away from the tin, the cake is ready).
Soft Footprint Recipes by Janine Halasz
March 2018
I eat to live and live to eat.
There is nothing better than to plant and grow your own fruit and vegetables at home then cook, eat and share your food with others. Whether the recipe is simple or complex it's the challenge of preparing something delicious for your mind, body and soul.
Easy Beetroot Dip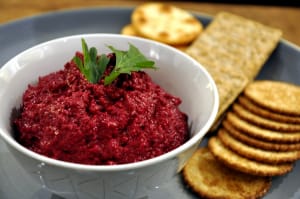 2 to 3 fresh beetroots, cooked in boiling water, cooled, peeled and coarsely grated.
Add crushed garlic (to your taste), chopped onions or shallots, and salt (to your taste).
Add 2 tbsp tahini, 2 tbsp lemon juice, heaps of chopped mint and 1/2 cup of either Greek yogurt or sour cream.
Easy Carrot Dip
500g fresh carrots, peeled and chopped then cooked in boiling water till tender.
Drain and cool.
Process then add ½ cup of Greek yogurt, 2 teaspoons of orange juice, 1 teaspoon of Moroccan spices and 1 teaspoon of raw sugar.
Serve dips with fresh bread, pita bread, rice crackers or as sides with your meal.
Roasted Stone Fruit (peaches, plums, nectarines) and Figs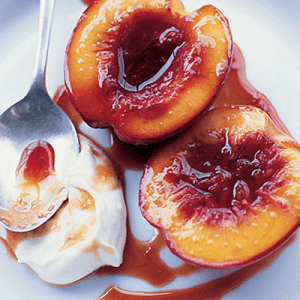 Unsalted butter, 8 pieces of selected fruit, 4 tablespoons of brown sugar and 8 star anise.
Arranged cut fruit halves on a lightly buttered baking tray.
Sprinkle with brown sugar and add star anise to top of each half (if preferred use cinnamon)
Roast in 200C oven until sugar has melted and fruit warmed (15 to 20 mins).
Cool and serve with ice cream, cream, creme fraiche, ricotta or yoghurt.
Soft Footprint Recipes   Margaret Goddard  February 2018

Smells of river mud and ripening fruit, sounds of summer bordered by cicada drumming. This is the setting of two continents close to my heart; Australia and India – a brother-in-law's eggplant curry and my long dead mother's special biscuit recipe.
Eggplant Curry
2 tbsp oil/ghee
½ tsp black mustard and cumin seeds
½ tsp cumin seeds
1 tbsp grated ginger root
1 diced onion (optional)
1 tsp salt
½ tsp ground cumin
½ tsp turmeric
1
tsp sugar
1 kg diced eggplant
1 tomato, chopped
1 green chilli, seeded and chopped
Fry the seeds and ginger root (and onion if using) in the ghee or oil.
Add salt, cumin and turmeric and stir.
Add sugar, eggplant, tomato and chilli, and a little water.
Cook, covered, for 45 minutes.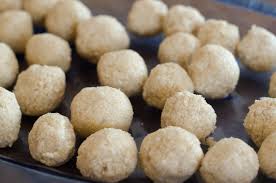 Murray River Brétles
½ cup butter
¼ cup sugar
1 egg
grated rind of one lemon and one orange
vanilla extract
1 cup 'dry' stewed plums/rhubarb (very lightly cooked without much liquid)
1-1 ½ cups of sifted plain flour
1 tbsp lemon juice
½-1 cup finely chopped almonds (enough to coat the biscuits)
Separate egg and keep both yolk and white.
Cream butter and sugar.
Stir in the egg yolk, grated rind, a few drops of vanilla and stewed plums/rhubarb.
Beat well.
Add sifted plain flour (dough should be dry and firm) and lemon juice.
Cover and stand in cold place till firm.
Roll into balls, dip into beaten egg white and toss in chopped almonds.
Bake in moderate (180C) oven for 30 minutes.
Soft Footprint Recipes for Christmas
Three delicious, easy recipes—and they can all be made the day before, or even earlier. That's what you need for Christmas. Have a great one, everyone!
Prawns with Mango Salsa
Something easy, no fuss, no cooking for the season's gathering of friends and family? Or just a celebration of summer? How about prawns with mango salsa? Choose Australian cooked king prawns or, if you're lucky, buy local school prawns from a roadside van. They're a bit fiddly to prepare but well worth the effort with the reward of sweet little morsels.
Even better still, try catching them yourself with friends, flashlights, nets and buckets on a moonless night in summer. Ask a local for the best spots on the lake. It's an absolute hoot. Last year was my first time and we caught next to nothing but had a hilarious time. Maybe better hunting this year.
To make the Mango Salsa, mix together the diced (small) flesh of two mangoes, 2 tbsp of sweet chilli sauce, 2 tbsp of fresh lime juice and 2 tbsp of fresh chopped coriander. It will keep for a day in the fridge. Also good with fish, poultry or just a yummy salad partner.
Allow as many prawns as your budget dictates.
Linda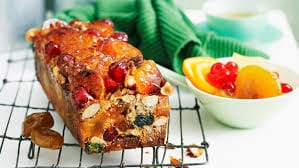 Stained Glass Window Cake
I used to call this 'Jewel Fruit Cake'. But we were discussing Christmas recipes at a Triangle meeting and Niki Hutteman said, 'Oh, that was a favourite with our family. We called it "Stained Glass Window Cake".' I was quite taken with the name. It's because of the glacé cherries.
It's mostly nuts and fruit and has very little flour, so it's very easy to substitute gluten-free flour in this recipe. No-one will know the difference. Jen
250g whole brazil nuts
250g walnut halves
250g pitted dates
125g mixed peel
100g seeded raisins
100g red glacé cherries
100g green glacé cherries (it's easier to find mixed red, green and yellow cherries these days)
¾ cup plain flour
Pinch of salt 
½ tsp baking powder
¾ cup sugar
3 eggs
1 tsp vanilla
Place all nuts and fruit in a large bowl and mix. Add sifted flour, salt and baking powder and stir to coat nuts and fruit. Add sugar and mix.
Beat eggs and vanilla and add, stirring thoroughly to form a stiff mixture.
Spoon into a well-greased loaf tin lined with baking paper, pressing down as you go.
Cook at 150C for 2½ hours. You might need to place a piece of aluminium foil over the top after a while if it starts to turn too dark.
Remove from oven and leave in tin 10 minutes, then turn onto a rack and remove paper (important as it will be harder to remove later).
When cool, wrap in a clean towel. Apparently it could last for weeks in an airtight container, but we've never put it to the test.
Jen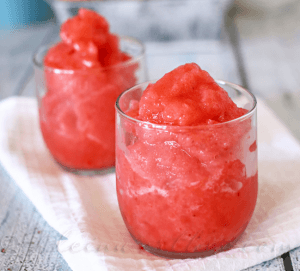 Cranberry Slush
1.5 litre Cranberry Classic
400 ml vodka
150 ml sugar syrup *
75 ml fresh lemon juice
100 ml cranberry concentrate (optional)
This awesome Christmas drink is delicious and very festive. Being a granita, it is cold and icy and holiday red in colour. Use a wide mouthed container as you'll need to be able to scoop it out with a spoon once frozen.
Place all the ingredients in a container and stir. Put in the freezer and leave at least overnight.
Scoop out the slush into glasses and serve with a small spoon.
The cranberry concentrate is expensive and hard to get down here but if you're able, the addition will make this drink even better! It can also be made with unsweetened juice but that will mean the addition of more sugar syrup. You can play with the amounts of each ingredient to taste.
* To make the sugar syrup put equal parts white sugar and water in a saucepan and simmer until dissolved.
bhagya
Soft Footprint Recipes by Carolyn Bate

November 2017
'Betty Bate? She's the best cook in Wollongong!'
'Yes, but don't eat on the day you go for dinner. The serving are huge and you must leave room for dessert!'
'How does your mother do it? She's whipped up a dinner for ten with a day's notice!'
These were the sort of comments I'd hear about Mum's cooking. I didn't realise how good she was until I left home and had to fend for myself. I managed to melt the kettle and a saucepan in the first week. Raw food and a packet of crisps was the order of most days.
No-one was ever allowed in Mum's kitchen, but as she mellowed she'd come rushing in all excited to tell me the secret to somebody's mushroom dish was nutmeg! Or say 'those potatoes are floury, put in some cream and horseradish'.
Her cookbooks were exercise books filled with pages from the Women's Weekly Home Maker section, circa 1939, with dishes like Bloater Paste or Breadcrumb Tart… which, thankfully, she never made. She had a huge collection of recipes in her head, cakes from the time she had a shop in the Strand … then desserts (oh, how I miss her Lemon Delicious and Butterscotch Pudding … aah …) from her time as cook for the Fairfaxes. Hildar Lunch was the Fairfax's nanny and a good friend. Whenever she came to visit, mum would make her this dessert.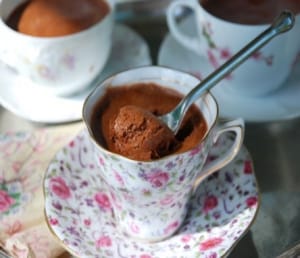 Hildar's favourite
225 grams dark chocolate
5 large eggs
1-2 tablespoon brandy, grand mariner, cointreau
Melt the chocolate with a knob of butter in a heatproof bowl over a saucepan of gently simmering water. Don't let the bowl touch the water. Stir in brandy or whatever and set aside to cool.
Separate the eggs. Mix the yolks with the chocolate away from the heat. Whip the egg whites until fluffy. Spoon some whites into the chocolate mixture to loosen it up then fold the chocolate mixture into the egg whites.
Pour into tea cups or glasses and place in the refrigerator. Leave to set for at least six hours.
Serve with vanilla cream and grated chocolate. Garnish with candied orange pieces.
This was Mum's take on chocolate mousse, which we thought was pretty exotic back in the 50s and much simpler than today's recipes.
But while Betty is the mistress of sweet, I'm a devotee of piquant. And with a brother in Africa and a daughter in Spain it wasn't long before I discovered the delights of Moroccan fare …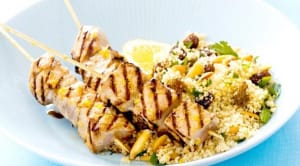 Tuna in chermoula
1kg tuna, cut into 25mm cubes
A bunch of parsley and coriander
4 cloves garlic and 4 dried chillies
1 tbsp paprika (Spanish smoked is fine)
1 tbsp cumin, ground
1 tsp turmeric (fresh or ground)
100ml lemon juice
300ml extra virgin olive oil (EVOO).
Put herbs and spices and half the juice and EVOO into a blender and pulse to combine. Add the rest of the juice and oil until you have a pourable consistency. Add salt and pepper to taste.
This Chermoula can be stored in a sterilised jar (always cover with EVOO so that no air comes in contact) for many months.
Thread the tuna onto skewers. Set the brochettes on a platter and spread a small amount of Chermoula over them.
Grill the tuna brochettes over a medium hot fire for 5-8 minutes, turning every few minutes and brushing with the Chermoula.
Soft Footprint Recipes by Evelyne A
October 2017
My lovely friend Janet, who we all lost a little time ago, cooked these two things with me often. We met on the street at the Cobargo Market and ended up cooking together, making jams and pickles, sharing our love of food and good times.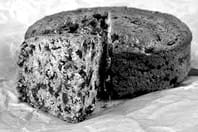 Ginger Ale Fruit Cake
Aahh, the fruit cake! How many people say, "NO, I don't eat fruit cake"? Well, that's because they have never eaten a good one. And lots of recipes make it sound difficult and expensive.
Trust me, this one will change many minds, give it a chance. I actually like to cook this in a small baking dish which invites small thin slices alongside a sliver of blue cheese and a couple of chocolates, making a delightful dessert.
1kg mixed fruit
600ml dry ginger ale
2 cups SR Flour
1/4 cup fortified wine (port, sherry, etc)
Place fruit in a large bowl, stir in dry ginger ale and the port. Cover and leave overnight.
Line base and sides of pan with baking paper, extending 2cm above edges
Add the flour, mixing well, spoon into prepared pan and smooth over.
Cook in slow oven (150C) for about 1 hour 40 minutes or until skewer inserted comes out clean.
Cover hot cake with a sheet of baking paper. Wrap pan and cake in a tea towel and leave overnight in the pan.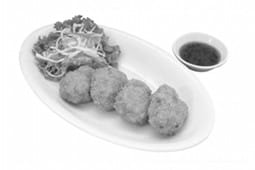 Prawn Cakes
2 cups fresh bread crumbs, white is best (1 bread roll)
3 tablespoons sweet chilli sauce
3 tablespoons rice flour
1 egg white, beaten
500g green prawn meat
8 finely shredded kaffir lime leaves (take out hard middle stem)
Process all, not too smooth
I make the 'cakes' soup spoon size, and, very importantly, keep your hands wet—have a bowl of cold water beside you.
Cook in hot oil for a minute or two.
Serve with a dipping sauce and salad. They are also perfect to freeze.
Rhubarb and Ginger Chutney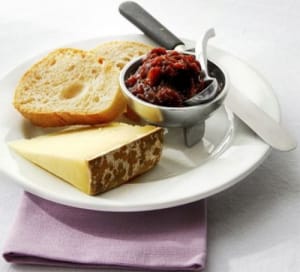 1 kilo rhubarb [washed and cut into 2-3 centimetre pieces]
350ml red wine vinegar
650ml malt vinegar
4 cloves garlic, peeled and finely chopped
545 grams raisins
455 grams chopped dates
470 grams sugar
2 tablespoons salt
1.5 tablespoons Cayenne pepper [yes, tablespoons]
115 grams stem ginger in syrup finely chopped.  Janet and I used our own ginger marmalade. A good quality commercial one does the job but use double the amount!
1. Put all of the ingredients into a very large saucepan. leaving at least 15cm between the vinegar and top
2. Boil gently with the lid off until the rhubarb is soft.
3. The chutney is ready when you can drag a spoon through , parting it
4. Cool slightly before bottling, try to be strong and leave it for a week or two before using, it is divine.
Janet and I cooked this often. One of the amazing things is, you can use
frozen Rhubarb.   Mmmmm, sharp cheese, biscuits, or just slap it on a
ham sandwich! We always laughed at that little phrase.
Recipes by Lynne Ford, September 2017
Goats Cheese Tart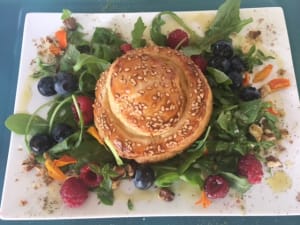 Preparation time 15 mins Cooking time 15 minutes
Ingredients (serves four)
4x100g crottins de cabercou or a similar goats cheese. (You can use a goats cheese that is not too soft or even a camembertReady-made puff pastry
1 desert spoon of poppy seeds or sesame seeds
200g of berries (raspberries, blueberries, red fruits, cherries)
Salad
2 teaspoons of roughly broken shelled walnuts 50g mixed salad leaves
6tbs of Olive Oil
1tbs Walnut oil
2 tbs Sherry or white balsamic vinegar
2 tbs Cherry Jam or honey
1 whole peeled clove of garlic
1 pinch of rock salt
Preheat the oven to 200c/400f/gas6.
Brush the four bases with water and place the four outer circles on top of them, forming a vol au vent shape. Leaving the inner circles for the "hats" for your cheeses.
Place the cheese in the middle of the bases, brush the top with water and place the inner circles on top. Egg wash and sprinkle with the poppy seeds.
Bake in the oven for 10 to 15 mins or until just brown, remove and cool slightly on a rack.
Place the cheese in the middle of a cold plate, decorate with your mixed salad leaves, walnuts, berries and sprinkle with rock salt. Add dressing and serve immediately.
Dressing
In a plastic chef's bottle, add the whole peeled garlic clove, 10. Add the honey or jam, then add the vinegar and the oils 11. Shake vigorously and drizzle over the salad.
This is indeed an extremely easy and economical dessert and a great way to use your very ripe bananas.
4 Bananas sliced and frozen on a tray 2 tablespoons of icing Sugar
1 vanilla pod
1 teaspoon of vanilla extract
4 tablespoons of crème fraise
To make the ice cream, simply place the frozen bananas in a food processor with the seeds from the vanilla pod, vanilla extract, sugar and crème fraise. Turn up high and blend until smooth. Serve immediately, or place in the freezer for up to 2 hours.
August 2017
Recipes Chris Haynes
One pot wonder: baked mushroom and rosemary risotto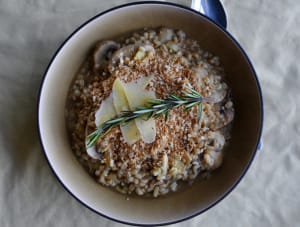 What could be any more comforting than a steaming bowl of risotto in winter. The great thing about this recipe you don't have to stand over a pan for 25 minutes ladling in your stock. You get to enjoy  another glass of wine while waiting for this one pot beauty to cook unaided.
¼ cup olive oil
1 onion chopped
2 cloves garlic chopped
200g Swiss brown mushrooms sliced
200g button mushrooms sliced (or mushrooms of choice)
1½ cups Arborio rice
1 litre good quality vegetable or chicken stock
3 sprigs rosemary
½ cup white wine
Chopped parsley to serve
Pre-heat oven to 180 deg C (350 deg F)
Heat oil in an ovenproof heavy-based pan over medium heat and cook onions and garlic, stirring until soft.
Add mushrooms and cook stirring for 5 minutes until softened.
Add rice and toss to coat with oil, then add stock and rosemary. Cover and bake for 25 minutes or until most of the liquid has evaporated.
Add wine and allow to stand for 10 minutes.
Sprinkle with parsley and serve.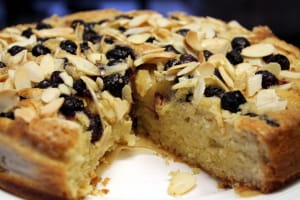 Apple, blueberry and almond cake
Try this delicious dessert cake, luscious and moist with fruits and almonds. Frozen blueberries can be used as well. Serve with cream – another luxury for winter that can be walked off the next day or hidden under layers of clothing!
125g butter softened
125g (½ cup) caster sugar
1 tsp vanilla extract
2 eggs beaten
100g (¾ cup) self-raising flour
50ml milk
125g ground almonds
1 apple, peeled, cored and sliced
100g blueberries (frozen ones are fine)
Topping:
125g butter melted
2 eggs
125g (½ cup) caster sugar
1 tsp ground cinnamon
50g flaked almonds
Pre-heat oven to 180 degrees C. Grease the base of a 20 cm spring-form cake tin.
Beat butter, sugar and vanilla extract until fluffy then gradually beat in eggs, one at a time. Add a little sifted flour if mixture looks as if it might separate.
Lightly fold in remaining flour, milk and half the almonds until combined.
Spread into base of cake tin. Sprinkle with remaining ground almonds and then top with apple and blueberries.
To make topping, put melted butter in a bowl and whisk in eggs, sugar and cinnamon. Pour over cake. Sprinkle with flaked almonds.
Bake for about 60 minutes; when ready, it should be firm to the touch and a skewer inserted in the centre should come out clean.
Cool completely in the tin before turning out. Dust with a little icing sugar to serve if desired.
July 2017 Recipes from Alfred Solti
Creamy Roast Chicken 'Stroganoff'
Alfred's recipes reflect his heritage, which includes German and Hungarian. He says, 'We often cook this, especially in winter, using left over roast chicken and gherkins we've made from excess cucumbers from summer. For a 'saucier' pasta version, I add a little of the hot pasta water, as well the cooked pasta to the pan, and stir through.'
olive oil
25g unsalted butter
200g leftover roast chicken
½ onion finely diced
1 garlic clove finely diced
100g button mushrooms (any mushroom will do), thickly sliced
75ml brandy
1 gherkin finely chopped
pinch smoked paprika
100ml sour cream
spiralli pasta cooked, or steamed rice to serve
finely chopped parsley for topping
Heat olive oil and butter in wide frypan. Over medium heat, cook onions and garlic until soft.
Add mushrooms, cook 1 minute, then add brandy, cook to burn off excess alcohol (30–40 secs.)
Add gherkin, paprika and sour cream, reduce sauce a little for about 5 minutes, stirring over gentle heat.
Add chicken, stir through to warm, season, serve with pasta or rice and sprinkle parsley over.
Serves 2
Note: you can use chicken breast strips instead of left over chicken, sauté in heated oil/butter until browned, set aside/cover and continue from step 1, adding the chicken as per step 4.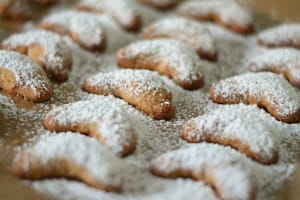 Vanilla Kipferl 'Vanilla Crescents'
Alfred: 'This is my mother's Christmas Biscuit recipe. Biscuit baking started 6-8 weeks prior to Christmas Eve or 'Heiligen Abend' according to my mother. She would bake about a dozen different types of biscuits in amounts that could have rivalled Arnott's output, and these were given away as presents during the festive season. Given the butter needed, these are best made when it isn't too hot in your kitchen – perfect for Christmas in July!
200 g butter (room temp)
125 g caster sugar
½ tsp vanilla sugar
100 g almond meal
250 g plain flour
Coating: 3 tbs caster sugar: 2 tsp vanilla sugar
Pre-heat oven to 180C. Beat butter until creamy, whilst slowly adding all other combined dry ingredients to form a soft dough. Let the dough rest for one hour. Break off pieces roughly weighing 30 g each and roll into crescents. Place onto greased or baking paper-lined baking tray and bake for about 12–15 minutes or until golden. Roll Kipferl biscuits in sugar mixture.
Soft Footprint Recipes, June 2017, from Virginia White

Choko Pickle
I read with interest Keith's article about chokos in last month's Triangle. However, I think he forgot the best use for them, ie pickles. Try this and judge for yourself.
1.5kgs chokos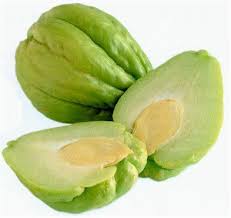 1kg onions
1/2 cup salt
1 litre brown vinegar
1 cup plain flour
2 cups sugar
1 dessertspoon tumeric
1 dessertspoon mustard powder
1 dessertspoon curry powder
1/2 tsp ground ginger
Peel and slice chokos and onions and sprinkle with salt. Leave to stand overnight, then strain and rinse the next morning. Place in a saucepan with the vinegar and simmer until tender.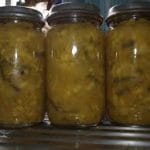 Mix the dry ingredients to a paste with a small amount of vinegar, then add to the choko mixture, bringing it back to the boil for about 5 minutes. Cool a little, then bottle into clean glass jars.
Melting Apple Custard
Now that apples are at their best it's a good time to use them for cooking as well as eating fresh.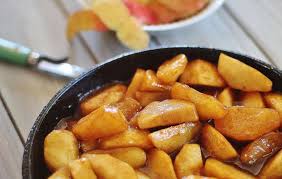 1.5kg tart cooking apples, peeled and cored
100g unsalted butter
1 cup sugar
90ml Calvados (optional)
1 vanilla bean, split
3 large eggs
2 large egg yolks
300ml double cream
Preheat oven to 220C
Cut the apples in quarters. Heat the butter in a pan over medium high heat. When butter is hot and foamy add the apples and sauté them until golden, about 10 minutes. Add half the sugar and cook until it has caramelised, shaking the pan so that the sugar doesn't burn. If using Calvados, pour into the pan and swirl it around then flame, gently shaking it until the flames die down.
Transfer the apples to a 1.5 litre casserole.
Scrape the seeds from the vanilla bean. Whisk together the eggs and egg yolks in a medium bowl, then whisk in the vanilla seeds. Whisk in the remaining sugar and cream until combined. Pour the mixture over the apples and bake in the centre of the oven until the top is golden and puffed, about 35 minutes. Let cool for about 20 minutes before serving. Enjoy.
Soft Footprint Recipes, May 2017                                             Linda Sang
At the end of March my remarkable grandmother of 111 years died peacefully in her sleep after not eating for one day. We Chinese take our food seriously! We called her Pau Pau and when I was small our family would go to her semi-detached house in Bondi Beach for Sunday lunch. There would be a large array of dishes, all tasting different from my other grandmother's fare, who was an equally wonderful cook. After our mother died my sister and I had the great fortune of being brought up by our grandparents, particularly our grandmothers.
These recipes are simple, everyday fare that give comfort. I had to work them out by tasting and talking as one nana was illiterate and the other could only read and write Chinese. Nothing was measured. Like playing the piano without sheet music.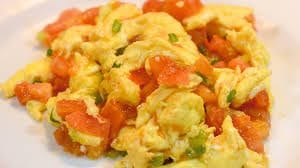 Tomato Eggs
1-2 tbsp peanut oil or any light cooking oil
1 onion chopped
1-2 cloves of garlic, crushed
4 ripe tomatoes chopped
Salt and freshly ground pepper
1-2 small red chillies finely chopped (optional)
6 eggs, well beaten
Heat oil in pan. Add onion and garlic, stirring till translucent. Add tomatoes (and chillies if using), fry slowly till well cooked. Season to taste. Pour eggs into the tomato mixture and cover the pan, stirring a couple of times more to break the eggs up a little, cooking until set like scrambled eggs. Serve with rice with coriander or chives on top. Serves 4.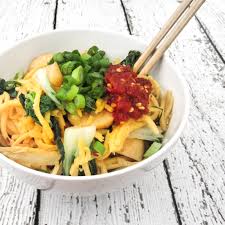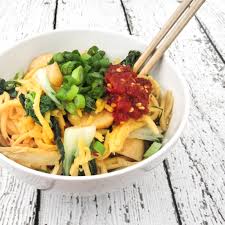 Fish Chow Mein
250g dried fine egg noodles
3 cm knob of fresh ginger peeled and grated
1 tbsp soy sauce
1 tbsp light oil
500g firm white fish fillets (ling is good) cut in 2 cm squares
2 eggs
Oil to fry
½ small cauliflower thinly sliced,
1 medium carrot cut into matchsticks
6 dried shitake mushrooms, soaked for an hour or so in one and a half cups of water, drained (keep liquid!), stems discarded, thinly sliced.
Reserved soaking liquid from mushrooms (about 1¼ cups)
Salt and ground pepper to taste
1 tbsp cornflour
2 tsp soy sauce
½ tsp sesame oil
¼ tsp sugar (optional)
Place noodles in boiling salted water till just cooked. Drain and rinse under cold water. Set aside. Mix ginger, soy and oil and marinate the fish in this for 15 minutes. Beat eggs and cook in a non-stick frypan till set. Remove from pan and cut into strips. Heat more oil in the pan and add the noodles. Do not stir—allow the noodles to form a 'cake'.
Cook for three minutes each side making some of the noodles crispy. Slide noodles onto serving platter. Heat a tbsp oil in the pan to sauté the vegetables and mushroom for two minutes, then add two tbsp of the reserved mushroom liquid and cook for one minute. Pour over noodles. Mix together cornflour, soy sauce, the rest of the mushroom water, sesame oil, sugar, salt and pepper and set aside. In a hot, clean pan heat a little oil and sauté the fish until tender. Add the cornflour mixture and cook till thickened. Pour over the vegetables and noodles and garnish with egg strips. Serves 4.
April 2017 Recipes
Lynne Ford
Braised chicken with cider, fennel & garlic
1.5 kilo free range chicken
Sea salt & black pepper
4 sprigs lemon thyme (leaves)
1 tablespoon of ghee or virgin olive oil
8 small bulbs of spring onions or use halves of a spring onion which would include some green
4 cloves of garlic
3 small fennel bulbs
375 ml apple cider
375 ml vegetable or chicken stock
Tamari
3 peeled and sliced green apples
Gluten free cornflour
Using kitchen shears, cut the chicken into eight portions. Set carcass and neck aside for stock (if you make your own stock).
Combine salt, pepper and thyme leaves and press the skin side down into this, making sure you use all the mixture.
Heat the ghee or oil in a heavy casserole (enamel cast iron is my choice) over medium heat, brown the chicken pieces for ten minutes.
Chop the spring onions, keeping the bulb and half of the green top, dice the garlic.
Slice the fennel bulb, keeping the green fronds aside.
Preheat the oven to 160C.As the chicken pieces turn golden, set aside on a plate. Add the onion and garlic to the pan and reduce the heat to caramelise them. Add the sliced apple, apple cider and stock. Don't forget to lift the juicy brown bits on the bottom of the casserole, once you have added the liquids.
Add the chicken pieces and chopped fennel fronds.
Cover and bake for 30-40 minutes. Mix the cornflour with some water or extra stock and stir through. Taste for flavour, and if it is too sweet, add some tamari. This is all a matter of taste at this point. Make certain you take the time to brown the chicken well. The browning of the chicken will determine the outcome of flavour. Great to serve with a cabbage and fennel salad.
Plum cobbler
1 kg ripe plums, halved, stones removed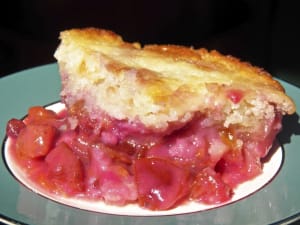 40 g brown sugar plus 1 teaspoon extra for sprinkling later
Vanilla extract
1 teaspoon cinnamon
1 teaspoon gluten free cornflour
Topping:
130 g spelt flour
1 teaspoon baking powder
3 teaspoons brown sugar
1/4 teaspoon bicarbonate of soda
1 egg
55 g unsalted butter (melted and cooled)
Vanilla extract
90 ml buttermilk
Place plums, sugar, vanilla and cinnamon in a bowl, toss to combine and stand for 30 minutes.
Preheat oven 180C. Place plums in ovenproof dish, leaving the juices in the bowl. Mix the cornflour with the plum juice and add to the plums, then bake for 20 minutes until the plums look just about cooked and have released all their juices.
Meanwhile make the cobbler topping. Place the flour, baking powder and sugar in a mixing bowl. Sift in the bicarb soda and whisk to distribute. In another bowl, mix the remaining ingredients, ensuring the egg is well beaten. Mix wet and dry ingredients together. Do not over mix.
Dollop spoonfuls (size of a walnut) onto the plums. Sprinkle with sugar and bake for 20 minutes. So nice with Tilba cream. This can be made with other fruits, especially moist and juicy fruits.
March 2017 Recipes
Georgina Adamson
Simple Sponge
Nothing nicer than a slice of fluffy sponge cake with cream and fresh summer
fruits. Replace flour with Gluten Free alternative. Quick and easy to 'whip up'.
4 eggs separated (fresh from local chooks, so much nicer). Take out of the fridge
earlier to reach room temperature.
¾ cup caster sugar
1/3 cup each plain, SR and cornflour.
½ tsp baking powder (or use GF alternative)
½ tsp vanilla paste
Beat egg white till soft peaks and slowly fold in caster sugar. When well incorporated add egg yolks one at a time, then vanilla.
Remove beaters, sift in the flours then fold gently together.
Lastly add a tablespoon of hot water to the mix and fold in.
Prepare your preferred tin with cooking spray and baking paper and spoon in the mixture. Tap the tin slightly to evenly distribute the mixture.
Bake in a pre-heated oven, medium-hot, for approximately 20-25 minutes. The cake should have risen and be a pale golden colour and come away slightly from the side of the tin.
Do the skewer test to see if cooked though.
Leave to cool in the tin then turn onto a rack.
Fill/top with cream and fresh summer fruit. Passionfruit is my favourite at the moment.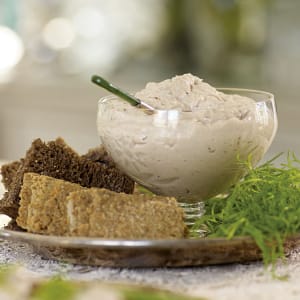 Smoked Fish Pate
Made with delicious smoked fish from Zac at Bermagui Meat supply.
250g smoked fish
1 cup each sour cream, cream cheese (I love Tilba), mayonnaise
Place the above in a food processor and blend with juice of one lemon.
When smooth add a few drops of Tabasco, freshly ground salt and pepper.
Finely chop dill and/or chives and fold in.
Serve as a dip with vegetable sticks, crackers, pumpernickel or cucumber
rounds.
Keeps well refrigerated in the fridge for a week.
Happy cooking!
Georgina
February 2017 Recipes
Jenny Halliday
Spicy pickled cucumbers
2 medium sized cucumbers
1 onion
1 tablespoon salt
1 cup white wine vinegar
1 small fresh Red chilli, finely chopped
1 teaspoon turmeric
3 cloves garlic, crushed
1 teaspoon fennel seeds
85 grams sugar
Thinly slice the unpeeled cucumbers. Put these in a bowl with sliced onion. Sprinkle with salt, cover with water and leave to stand overnight.
Drain well the following day.
Combine the rest of the ingredients in a pan and bring to the boil.
Remove from the heat, stand for 5 minutes, then bring to the boil again. Now add the cucumbers and onion, turning gently to coat, cover, and cook gently for 5 minutes.
Let stand to cool, then bottle and seal.
This is a CWA recipe which I have made a few times when cucumbers are plentiful. It is delicious with cold meats, hamburgers, sandwiches and lots of other food. Hopefully you will enjoy it as much as I do.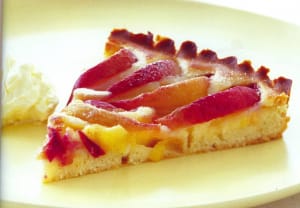 Peach flan
160g butter
160g caster sugar3 eggs
1 tsp vanilla essence
220g plain flour
3 or 4 firm ripe peaches
Extra caster sugar for sprinkling
Combine butter with caster sugar in a food processor until creamy.
Add eggs separately until well blended.
Add vanilla essence and plain flour. Process until just combined.
Spoon the mixture into a lightly greased 23 cm. tart tin with a removable base, spreading it over the base and up the sides.
Quarter peaches, cut them lengthwise into thin slices and then arrange them in overlapping concentric circles on the batter.
Heat the oven to 190C and bake for 30 minutes till puffed and golden brown.
Sprinkle with caster sugar and place under a pre-heated grill till the sugar is caramelised.
Delicious served warm with thick cream or ice-cream.
December 2016 Recipes          Diana Holmes and Glennda Heino
Quaama Quiisine – some recipes from the offerings at Quaama's Fairs, from Glennda and Diana.
Our food is always popular at the fairs and other community events held during the year at the Quaama Hall. We're glad to be able to share some of the recipes with you here. Enjoy!
Finnish Cabbage Rolls with tomato and onion gravy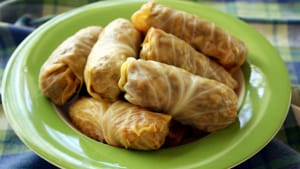 This recipe is quite flexible and forgiving—you can use less meat and more rice, or replace the meat with grated carrot, zucchini and ricotta. If the mixture seems too wet just add some more bread crumbs or oat bran. The wonderful flavour comes from the butter. A large cabbage should yield about 18-20 rolls.
Rolls:
1 large cabbage and a pot of boiling water that the cabbage will fit into with the lid on
1 large onion, chopped
20 g butter
500 g minced beef
1½ cups cooked rice
½ cup breadcrumbs
Salt and pepper to taste
½ teaspoon dried sage
60 g melted butter, additional
Good squirt tomato sauce
An egg or two, depending on the size
Gravy:
1 large onion, thinly sliced
3 medium tomatoes, sliced
40 g butter
200 ml tomato juice
Salt and pepper to taste
Arrowroot or cornflour to thicken
Method:
Cut the core from the cabbage and discard the outer leaves.
Place the cabbage in the boiling water, put the lid on and simmer for 10 minutes. Turn the heat off and leave to sit with the lid off for 5 minutes before draining. When cool enough to handle, peel off the leaves and lay on a dish drainer.
While the cabbage is cooking and cooling, make the filling.
Soften the chopped onion in 20 g butter over medium heat.
Put the mince and remaining ingredients, along with the softened onions, into a large bowl and mix well.
Lay the cabbage leaves out and divide the mixture evenly between them—place the mixture at the base of the leaf. Roll up, folding the edges in as you go, and place into a buttered rectangular casserole dish or deep baking tray.
Cover the dish with a layer of baking paper and then cover with foil. Bake at 180 degrees for up to 1 hour, removing the cover for the last 10 minutes.
While the rolls are cooking, make the gravy.
Soften the onions in the butter, add the tomatoes and when they start to disintegrate add the tomato juice and seasoning. When cooked to your liking, thicken with cornflour or arrowroot mixed with a little water. Serve the gravy in a jug or just ladle over the rolls as they are plated up.
It's better to over- rather than undercook the cabbage rolls. Leftovers are traditionally reheated by frying in more butter over medium to high heat in a cast iron pan.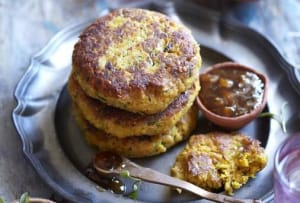 Chickpea and lentil patties
2 tablespoons olive oil
2 large onions, thinly sliced
3 garlic cloves, crushed
1 tablespoon ground turmeric
1 tablespoon ground cumin
2 cups cooked chickpeas
2 cups cooked lentils
½ cup sunflower seeds
½ cup chopped parsley or coriander
2 eggs, lightly beaten
1 cup plain flour
Salt and pepper to taste
Oil for frying
Method:
Soften the onions and garlic in oil over medium heat. Add turmeric and cumin and stir to combine. Cook for a couple of minutes and set aside to cool.
Process chickpeas, lentils, sunflower seeds, parsley or coriander, egg and onion mixture in a food processor until almost smooth. Transfer to a large bowl. Add 2/3 cup flour. Stir until well combined. If the mixture seems too wet, add some breadcrumbs or oat bran.
Place remaining flour on a plate. Form mixture into patties. Coat in flour.
Heat oil in frying pan. Fry patties in batches over medium heat for 3 minutes each side, or until golden.
Serve as is with caramelised onions and salad or make into burgers. Depending on the size, you should get 10 -12 patties from this mix.
November 2016 Recipes         Mark Jenkinson
Mark is an enthusiastic baker and is sharing some of his favourite recipes that he cooked at his cafe. Some of his inspiration came from his mother's own recipe book. Linda Sang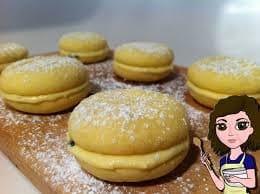 Mum's melting moments
250g butter
1 ½ cups of plain flour or equal SR and plain flour
4 tbsp custard powder
4 tbsp icing sugar
dash of vanilla
Preheat oven 150C. Prepare tray and line with baking paper.
Beat butter and sugar until very fluffy, then fold in the rest.
Roll mixture into small balls, place on prepared tray and press down with back of fork leaving space between biscuits.
Cook for 15-20 minutes. When biscuits are cool join together with icing.
Icing
1½ cups icing sugar
1 tbsp vanilla
2 tbsp butter
2 tbsp hot water
These are melt-in-your-mouth stuff. Haven't tasted better.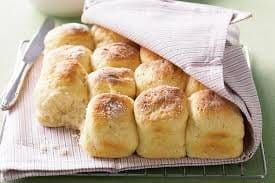 Lemonade scones
4½ cups SR flour
1½ tsp baking powder
1½ cups of cream
1 can of lemonade (any soft drink will do, I tried Passiona, lemonade and Coca Cola, all different).
Cook on 250C for 15 min (or until cooked). If you have a micro/convection oven microwave, cook the scones for an extra 2 minutes and watch them rise further. These scones were very popular at my café.
Recipes October 2016
Kelly Eastwood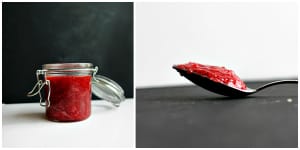 Rhubarb and Ginger Jam (makes 1.3kg)
1kg Rhubarb
25g fresh ginger, finely diced
800g sugar
Zest and juice of 1 orange
Place a small plate in the freezer to use for testing the jam.
Cut the rhubarb into 2cm batons. In a large bowl, place the chopped rhubarb, ginger, sugar, juice and zest. Mix well and leave to marinate overnight to release the juices from the rhubarb.
Place everything in a large, heavy based saucepan on a low heat, stirring until the sugar has dissolved. Once the sugar has dissolved, turn up the heat and bring to a boil. Boil for 10 minutes, or until the setting point has been reached and skim the jam of any scum that rises to the surface. Once the jam has reached 104C it should be ready.
Remove the jam from heat and set aside. Take the plate out of the freezer and add a teaspoon of jam to the plate. Let it sit for one minute, and gently push the jam with your finger. If it wrinkles, the jam is ready. If it doesn't, place the jam back onto the stove to boil for 5 more minutes and repeat the process until it is ready.
Transfer to sterilised jars, pop the lids on and allow to cool completely before storing.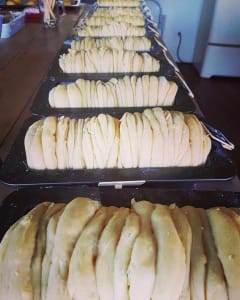 Garlic and Cheese 'Pull Apart' Bread (Makes 1 loaf)
Ingredients
For the dough:
170mls milk, room temperature
10g sugar
7g yeast
1 organic free range egg, lightly beaten
300g plain flour
5g salt
50g butter, softened
For the butter:
80g softened butter
2 sprigs rosemary, oregano, parsley or your favourite herb, leaves finely chopped
2 cloves garlic, finely chopped
For the top of the bread:
20g parmesan cheese, grated
20g melted butter, extra to brush over the top
For the dough, mix together the milk and yeast and let it 'sponge' for approximately 15 minutes, or until it has started to bubble and froth on the top.
In a separate bowl, mix the flour and salt together.
Add the eggs to the yeast mixture, then add the wet ingredients to the dry ingredients. Bring the dough together, and either knead by hand, or use a stand up mixer for 10 minutes, or until the dough is smooth and elastic. The dough should come away from the sides of the bowl if you are using a stand up mixer.
With a mixer on a slow speed, gradually add the butter to the dough bit by bit, making sure each addition has disappeared into the dough before you add the next bit. If you are kneading by hand, dollop the butter onto the dough bit by bit, and knead until the butter has disappeared. The dough should be shiny and glossy by the time all the butter has been incorporated.
Cover the bowl with a tea towel and leave in a warm place to rise for 1 hour, or until it has doubled in size.
Meanwhile, make your flavoured butter. Combine all the butter ingredients and set aside.
Preheat the oven to 180C.
When the dough has risen to twice its size, knock back the dough and knead it until it returns to its original size.
Grease and flour a 21cm x 11cm (base measurement) x 6cm deep bread tin.
Using a rolling pin, roll out the dough so that it is ½ cm in thickness. Use a 12cm round cutter to cut out round shapes from the dough. Spread the flavoured butter over the rounds, and sprinkle parmesan over the top. Gently fold the rounds in half to sandwich the butter and cheese, and transfer to the bread tin, so that the fold is on the bottom of the tin, and it is seam side up. Line the semi-circles up together so that they fit snugly into the tin.
Set aside in a warm, draught free place to rise again until it has doubled in size, and risen to the top of the bread tin.
Gently brush the bread with melted butter and transfer to the oven. Bake for 20 to 25 minutes, or until golden brown all over and cooked through.
Greek Lentil Soup (August 2016) Thea Constantarids

This is a classic Greek soup eaten in winter all over Greece. My mother says that even though mine is not as thick as hers, it's tastier!!!
Ingredients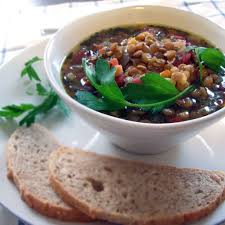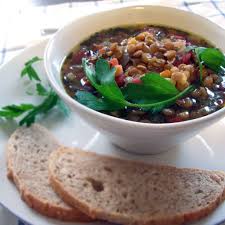 2 cups dried lentils, whole brown or whole red, my favourite for this soup is whole red
1 onion, brown or red
4-6 cloves of garlic
1 leek
3 carrots
1 small bunch silverbeet (optional, you can still make this soup if you don't have any silverbeet)
1 small bunch parsley
olive oil or lard (you will need some oil or lard for the frying at the start and then you will need more olive oil to put in soup at the end)
2 bay leaves
3-5 springs of rosemary, fresh is best but dried is fine
1 small bottle of homemade passata or 1 can of diced tomatoes
water or homemade veggie stock or homemade beef or chicken stock
balsamic vinegar (you can use apple cider instead)
salt and pepper to taste
Method
Soak the lentils overnight. The next day, drain the lentils and add fresh water and bring the lentils to the boil and simmer for 5-10 minutes, depending on how quickly they cook, you don't want to over boil them. Cook them until they are soft in the centre but not going too mushy, they will cook more in the soup.
In a large saucepan gently fry in olive oil or homemade lard the onion, garlic, leek and carrot. Turn heat down and put lid on and gently simmer until onion has started to soften.
Add cooked lentils, chopped silverbeet, bay leaves, rosemary, tomato, a little salt and pepper and then add enough water or stock to cover all ingredients and then some.
Bring back to the boil and then simmer for 30 min to 1 hour. Check liquid levels occasionally as you may need to add more liquid during cooking, you want it to be soupy at the end not too thick, have some wateriness about it.
When it's ready, take pot off the heat, add lots of chopped parsley, drizzle with more olive oil (be generous) and season with more salt and pepper to taste
Serve with drizzle of balsamic vinegar and delicious bread.
Roast Cauliflower Cous Cous & Almond Macaroons (July 2016)    Linda Sang

One of my favourite things to enjoy over winter is cauliflower. Such a sweet satisfying vegetable. Good for those of us looking at reducing carbohydrates. This recipe for cauliflower couscous can be eaten as a side dish with anything in place of regular wheat-based couscous or potatoes. You can extend the basic dish by adding chick peas or broad beans, chopped tomatoes, rocket and/or baby spinach and you have a gluten-free vegan dish you can eat at room temperature or hot.
Roast Cauliflower Couscous serves 4 – 6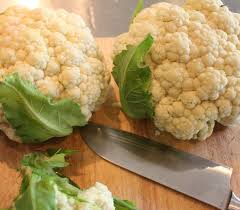 1 medium cauliflower
drizzle of olive oil
1 tsp ground cumin
1 tsp ground coriander
ground chilli to taste
⅓ cup chopped fresh coriander, leaves and stalks
½ cup toasted flaked almonds if you want some crunch
salt and pepper to taste
Preheat oven 200C. Remove outer leaves and cut cauliflower into small florets. The easiest way to get the couscous effect is to pulse the florets and chopped bits of stalk in a food processor for a couple of seconds at a time till the cauli looks crumb-like, being careful not to overdo it as you will end up with a paste. Alternatively you could grate the cauli with the largest grate side and finely dice the stalks.
Line two trays with baking paper. In a large bowl toss the processed cauli with a drizzle of olive oil to moisten. Also toss in the ground spices and salt and pepper. If you had some dukkah or zataar – Morrocan spice mixes, you could add some in as well, but it's not necessary as you can be as plain or fancy as you want depending on your pantry.
Spread the mixture onto the trays in a thin even layer, roasting the cauliflower for 12 minutes, moving it around the tray halfway through the cook. Roasting dries and intensifies the flavour. The couscous should be light and fluffy. Back in the bowl again you mix in the coriander and any other additions you may want. Sprinkle with the toasted almonds.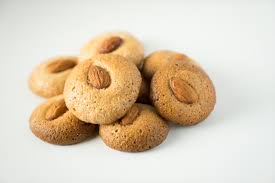 Almond Macaroons – makes around 20 biscuits
1 egg white
¼ cup agave syrup or use equal amount of caster sugar
2 cups of almond meal
pinch of salt
flavourings- add 1 tsp ground ginger and 1 tbsp or more diced crystallised ginger or if you like almond flavour add 1 tsp almond extract and some lemon zest
Preheat oven to 170 C. Line a large baking sheet with baking paper.
In a medium bowl whisk the egg white to stiff peaks with a handheld mixer (when I beat egg whites I always add a little caster sugar to help it get stiffer)
Beat in the agave syrup or sugar and flavourings. Fold in the almond flour and salt into the wet mixture. Line a tray with baking paper. Roll the dough into walnut sized balls, leaving space between each biscuit. Bake for 10 – 12 minutes until slightly golden. Let the biscuits cool on the tray. Biscuits should be slightly chewy and moist on the inside.
NB If you use the agave syrup they aren't as sweet as using sugar.
Kruidkoek and Mock Apple Choko Sauce (June 2016) Lena Kuppens
The Kruidkoek is a traditional Dutch recipe, with the mixed spices a nice warmer for the colder months. Traditionally it's baked in a bread pan and sliced, but I like to bake it in a square baking tray and cut up in squares.
The 'Mock Apple Choko sauce' I made with the kids at the Cobargo Public School in the Stephanie Alexander Kitchen Garden program and they loved it.
Kruidkoek (Spice cake)
300g plain flour
200g brown sugar
1 tsp baking powder
2 tsp ground cinnamon
1 tsp ground cloves
1 tsp ground ginger
1 pinch nutmeg
200ml milk
1 tbsp golden syrup
Preheat the oven to 175C. Line a square 18 x 18 cm baking tray
Mix all dry ingredients in a big bowl. Warm the milk a little and melt the syrup in it.
Make a well in the dry ingredients and pour the warmed milk mixture in. Mix till a smooth wet batter. Pour batter in the prepared baking tray. Bake 25-30 minutes
Mock Apple Choko Sauce
2 Choko's
2 tbsp lemon juice
1 tbsp raw sugar
1 cinnamon stick
Peel, core and grate the choko's. Put the grated choko into a small saucepan with the lemon juice, raw sugar and cinnamon. Place on a medium heat till it boils, turn down the heat to low and cook till soft while stirring once in a while. When soft, take from the heat, leave to cool. When cool take out the cinnamon, check the flavour and adjust if necessary with a little more lemon juice and/or sugar. Transfer to serving bowl
Crispy Kale Chips (June 2016) Lena Kuppens
Equipment
Salad Spinner
Mixing Bowl
Baking Tray
Baking Paper
Ingredients
Few drops of Olive Oil
Bunch of Kale Stalks
Pinch Chilli Flakes
Pinch Salt
Preheat oven to 160C. Line two large baking trays with baking paper.
Prepare the ingredients : Remove the stems very quickly by grabbing the base of the stem with one hand and pulling outwards along the stem to slide off the leaves. Tear the leaves into bite size pieces. Rinse the kale and dry the leaves very well in a salad spinner.
Massage : Mix the kale in a big bowl with a few drops of olive oil and a small sprinkle of chilli flakes. 'Massage' the oil into the leaves to ensure all the nooks and crannies are coated. Oil also helps the spices stick to the leaves. Spread kale out in a single layer on prepared trays.
Baking : Bake for 12-15 minutes, swapping trays half way through cooking time, or until leaves are crisp. Serve sprinkled with sea salt.
Keralan baked fish (serves 6) Nikki Hutteman (May2016)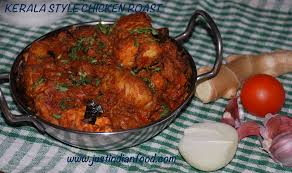 3 brown onions
4 cloves of garlic
30 cm piece of fresh ginger
2 fresh red chillies, deseeded
1 large bunch of fresh coriander leaves picked
1 red pepper, deseeded
1 yellow pepper, deseeded
oil /ghee or butter, large knob or good splash of either
2 teaspoons brown mustard seeds
2 teaspoons fenugreek seeds
2 teaspoons fennel seeds
1 handful of curry leaves
big chunk of fresh tuna from Bermagui, enough to feed 6, cut into large bite size pieces
sea salt
freshly ground black pepper
300 g ripe cherry tomatoes, quartered
1 tin light coconut milk
4 lemons
Method
Creamy, rich and packed with spices, this bake is fresh and flavoursome.
Preheat the oven to 160ºC/325ºF/gas 3. Peel and finely slice the onions, garlic and ginger. Finely slice the chillies and coriander stalks and roots, then slice the peppers. In a large frying pan add the oil or butter, the spices and curry leaves. Fry for 2 minutes, then add the chopped veg, garlic and coriander stalks and roots. Cook for about 15 minutes, or until soft and golden, stirring occasionally.
Put this mix into a large baking dish and scatter tuna pieces amongst veg/spice mix. Add the tomatoes and coconut milk. Season the sauce to taste with salt, pepper and juice of 1 lemon, bake approx. 20 mins, then sprinkle with the reserved coriander leaves and serve straight to the table with lots of lemon wedges on side for extra tang, for guests to help themselves. This is delicious served with spiced rice, some fresh green beans, poppadums and a cold beer. Prawns can be added to this dish for extra flavour
Baked apple tart with ginger cream and pistachios, (serves 12) Nikki Hutteman
Apple tart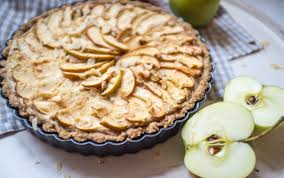 4 kg golden delicious apples (or similar)
2 kg granulated sugar (less if you prefer more tart)
Ginger Cream
600 ml Tilba Valley cream
3 tsp local pure honey
2 tsp finely grated ginger
Peel and core apples, using a mandolin, cut widthways into 2 mm thick slices. Place apple in overlapping concentric layers in a 28 cm ungreased springform tin, sprinkling liberally with sugar between layers and pressing down apples as you go. Apples will reach just above side of tin. Place cake tin in a roasting pan to catch juices, then bake at 180 C for 3 hours, basting with juices every 30 minutes after the 1st hour of cooking. Remove apple tart from oven, cool in tin for 10 min, reserving any juices from roasting pan, then release from spring form tin. Leave tart on base to cool to room temperature, then invert onto large serving platter. Place roasting pan over low-medium heat and stir cooking juices until well combined, then simmer for 5-6 minutes or until reduced and syrupy.
For Ginger Cream, beat cream and honey until soft peaks form, then stir in ginger, I have added ground cinnamon sometimes, cover and refrigerate until required.
Serve slices of tart with a little syrup poured over and a dollop of ginger cream on the side, scattered with pistachios, or for the big WOW factor serve whole tart at table with syrup and pistachios over tart.
Fruit or SavouryMuffins,  Dawn Hollins  (April 2016)
During the Cobargo Folk Festival we hosted the delightful guitar duo from Western Australia, Guy and Damian from Desert Child. I'd made pear muffins for the first time, simply because I had several ripe pears. They were out-of-this-world!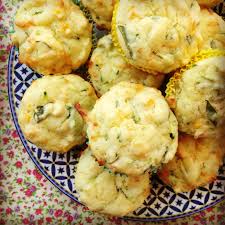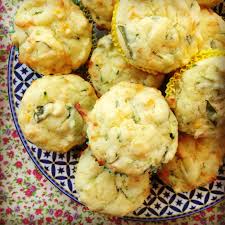 I've since made blood plum muffins, banana and pineapple muffins and the latest batch from rhubarb and frozen blackberries, another great combination.
So here's the recipe for Pear Muffins endorsed by Desert Child
Wet mix ingredients:
half a cup each of margarine (or butter)
sugar
golden syrup
2 eggs
1 cup milk
4 fresh pears, peeled and diced
Dry mix ingredients:
3 cups SR flour
2 teaspoons each of cinnamon and mixed spice
4 teaspoons ground ginger
Blend margarine, sugar and golden syrup. Beat in eggs, add milk and mix well. Stir in the pears. Fold in the dry ingredients. Place in prepared muffin pans and bake at 180 C for about 25-30 minutes.
For a change try your hand at a savoury version, wonderful with soups and salads or in a lunch box. Muffins can lift a simple meal into another realm.
Corn and Cheese Muffins
Wet mix ingredients:
1 large onion, diced
half a cup of milk
3 eggs
1 cup grated cheddar cheese
140 gm tin corn kernels including the liquid, or the equivalent of kernels scraped from fresh cobs
Dry mix ingredients:
2 and a half cups SR flour with a pinch of cayenne pepper
Place wet mix ingredients in a bowl and stir well. Add the dry mix and combine. Place in prepared muffin pans, top with extra grated cheese and bake at 200 C for 25 – 30 mins.
Muffins freeze well and are a great stand-by for family meals and unexpected guests. Imagine spinach and parmesan; mint and green pea; tomato and herb; mushroom and bacon; chutney and cheese; pesto or peaches and cream!
Happy Cooking!
Polenta Slice and Tomato Chutney, Linda Sang,  (March 2016)

Harvest days are here and I am busy chasing my garden's bounty and the generous overflow of friends' abundance.
I'm loving the satisfaction of bottling and preserving – seeing the wonderful array of reused jars cadged throughout the year filled with summer goodness. My corn, leeks and tomatoes are jumping out of the garden demanding to be used. The following recipe for a polenta slice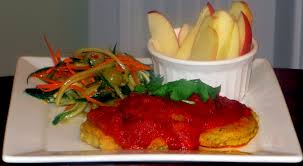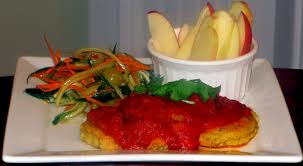 is really versatile – can be eaten hot or cold as a main meal, or as I did the other day, a bite-sized canapé with a spicy tomato kasundi salsa on top. It's also vegan and gluten and diary free if you don't want to add cheese in and on top.
Polenta Slice serves as a meal for 4 or heaps of small bites for many
1 medium carrot finely diced
1 medium leek finely diced- use mostly the white part but some green is good
Kernels from a cob of corn
2 crushed garlic cloves
Some chopped herbs, whatever you have- parsley, coriander or some chives
Olive oil for greasing pan and sautéing your vegetables
1 cup of polenta (which is finely ground maize corn)
3 cups of vegetable stock – use good vegetable stock cubes or Vegata powder
Salt and freshly ground pepper to taste
Optional parmesan cheese
Optional sprinkle of paprika for the top
In a pan heat a tablespoon or so of oil and sauté the vegetables till tender (not brown) adding the garlic near the end. Put aside.
In a medium saucepan bring 3 cups of vegetable stock to the boil. While the water is still simmering whisk the polenta into the stock. On a low heat continue to stir the polenta with a wooden spoon till it becomes thick and creamy – about 5 – 8 minutes. While it is still hot and creamy stir in the vegetable mixture. Add some parmesan now if you want. Season with salt and pepper to taste.
In a small baking dish which has been lightly oiled, pour and spread the mixture evenly in the dish. This will set pretty quickly and hold its' shape. Now one could eat it just like that cut into pieces cold, or you could bake it in an 180c oven till it gets lightly browned. Sprinkling cheese on top is good here but not necessary.
Serve with your choice of chutneys and sauces, with salad or vegetables on the side. Cold or hot.
Tomato Chutney
5 kgs ripe tomatoes peeled and seeded (drained the night before)
7 diced onions
4 cups sugar (maybe ½ -cup less)
4 bay leaves
4 cups white wine vinegar
1 large piece of peeled ginger finely chopped
4 garlic cloves finely diced
2 star anise
1 tbsp black mustard seeds
5 red bird's eye chillies, seeds removed and finely chopped
Put all ingredients in a large heavy saucepan and bring to the boil and simmer until the chutney is thick, stirring occasionally to prevent it sticking and burning on the bottom of the pan. Pour into clean jars whilst the mixture is still simmering then quickly screw on the lid. You know the chutney is properly sealed when you hear the lids 'popping'. These jars don't need to be refrigerated. 

Cool Jellies for Summer, Dawn Hollins (February 2016)
While the following recipes barely qualify as local and seasonal they are ideally suited for hot weather dining. The first is a delicious American-style jellied salad which my mother used to make; the second is a quick and unusual jellied sweet.
Sunlit salad
44 gm tin of pineapple – pieces or crushed
a third of a cup of chopped nuts – pecans, cashews or whatever you like
1 packet of lemon or lime jelly crystals
1 cup of grated carrot
1 tablespoon of cider vinegar
salt to taste (about a quarter of a teaspoon)
Drain pineapple. To the juice add enough water to make one and a half cups of liquid. Bring to the boil and pour over jelly crystals. Stir to dissolve. Add vinegar and salt then fold in other ingredients. Cool until set.
Easy-peasy jelly squares
3 packets of jelly crystals of the same flavour
1 tablespoon powdered gelatine
3 cups boiling water
1 cup Tilba or other cream
Whip ingredients together and pour into a small slice pan lined with baking paper. Place in the refrigerator to set. The mixture separates into a firm jelly layer topped with an attractive creamy jelly. Cut into squares and serve as a sweet or light dessert. Store in the 'frig covered with cling film.
This can also be made from 3 cups of orange or other juice, sugar to taste, boiled, with 3 tablespoons of gelatine and 1 cup of cream. Nuts can be added for crunch and interest.
Banana and green ginger muffins
For breakfast or morning tea how about using up the over-ripe bananas in the fruit bowl in some muffins with zing!
Wet mix: a quarter cup sugar, half a cup margarine, 4 ripe mashed bananas, 2 eggs, a quarter cup diced crushed green ginger
Cream margarine and sugar, add eggs and remaining wet ingredients or use a food processor.
Dry mix: 2 cups self-raising flour
Fold flour into wet mixture, place in prepared muffin pans and sprinkle over a mix of equal parts of garam masala and sugar. This adds an extra tang.
Bake at 180C for 20-25 minutes. Makes about 12 muffins
Enjoy!
Chicken and Ham Terrine, Jenny Halliday  (December 2015)
Now that we are coming up to the festive season and some warm weather, I thought it might be nice to have a cold dish that could be served on Christmas Day.
1 ham hock
2 sticks of celery, chopped roughly
1 carrot, chopped roughly
2 Onions, quartered
2 fresh bay leaves
1 chicken – 1.8kg, halved lengthways
2 cups parsley
3 titanium – strength gelatine leaves, softened in cold water for five minutes.
Place ham hock, celery, carrot, onion and bay leaves in a large saucepan. Cover with cold water, and simmer for one hour. Add the chicken and simmer for a further 40 minutes.
Remove from heat and set aside for 20 minutes for the chicken to finish cooking.   Remove and discard skin from the chicken and ham. Shred the meat into large pieces, place in a bowl and set aside. Strain and reserve 500ml of the poaching liquid. Puree the parsley in a blender with a little of the poaching liquid. Squeeze excess water from the gelatine, stir in the reserved poaching liquid, the parsley, and season to taste with salt and ground black pepper.
Line a 1.5 litre loaf tin or terrine mould with plastic wrap. Place chicken and ham evenly in the pan, pour in parsley and gelatine mixture. Cover and refrigerate overnight to set.
Turn out terrine onto a board and cut thick slices with a warmed knife. Serve with hard boiled eggs, pickled cucumber, tomato salad and a mixed green salad.
Broad Beans (Salad & Hummus),  Linda Sang (November 2015)
We all love spring. As a newbie gardener I am very excited to come back after a month      away to see the broad beans that were sown months ago laden with pods. If your broad beans are young enough they don't need to be double peeled, but in most cases after shelling your pods of beans, you blanch them in boiling salted water for a minute or so, refresh them in cold water and then peel the outer skin of the bean and you have a beautiful tender bean that can be used in lots of dishes.
Broad Bean Salad
100gms day old bread cubed, use gluten free if preferred
2 tbsp olive oil
½ red onion, very thinly sliced
2 tbsp red wine vinegar
250gms broad beans, podded
12 cherry tomatoes, halved
2 tbsp olives
1 cup leaves, rocket, small spinach or watercress – or a mixture
12 torn mint leaves
2 tbsp chopped flat leaf parsley
fresh ground black pepper
juice of 1 lemon
100gms feta style goat's cheese
Preheat oven to 160C. Brush all sides of cubed bread with olive oil and place on baking tray. Bake until golden and crisp.
Place onion in a small bowl and cover with the red wine vinegar, and set aside until needed.
Place remaining oil in a large mixing bowl. Double peel your blanched broad beans, dropping them into the bowl. Add the tomatoes, olives, salad leaves, bread cubes, mint and parsley, then grind pepper to taste. Drizzle over lemon juice and mix. Add salt if you wish.
Arrange salad in a shallow bowl or platter and add crumbled cheese and drained onion.
All quantities are approximate and it can be made with whatever is in season.
Broad Bean Hummus
2 cups double podded cooked broad beans
3 cloves garlic, finely chopped
2 tsp ground cumin
pinch of cayenne pepper
¼ cup extra virgin olive oil
2 tbsp lemon juice
salt and ground black pepper
1 – 2 tbsp tahini
Process all ingredients together until smooth. Season to taste.
Oh, and a yummy snack I had while I was away in Spain was Tomato on Bread. Basically it was fresh crusty bread with slices of fresh ripe tomatoes drizzled with extra virgin olive oil. Sprinkled with salt and a grind of pepper it was simplicity itself and totally delicious.