I really enjoyed two earlier novels by Carrie Tiffany, particularly Mateship with Birds,which won the Stella Prize. Exploded Viewis another thing altogether, and as one reviewer warned, not for the faint-hearted.The narrator is a young girl whose mother has a new partner, referred to as 'father man'. He sets up an illegal car repair workshop in the backyard. His abusive behaviour leads the girl to resist him through acts of sabotageagainst the cars he is repairing, andby creating a secret night life when she slips out from the locked house and drives away in repair cars. A family road trip across the country is both an escape from the confinement of home, but also an experience of closer confinement as the four family members virtually live in the car. Throughout the book we learn how the girl masters the mechanics of cars,educating herself byreading Holden manuals. This skill allows her to view life from the safe remove of the assembly of mechanical objects, ensuring her survival as a member of this dysfunctional family. A difficult book, but one which is being received as further evidence of the importance of this Australian author.
Gillian Triggs
Speaking up
$45.00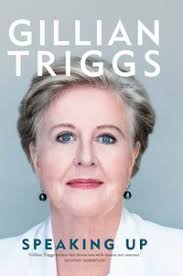 I chose this book for The Triangle because I thought that the work of the Human Rights Commission and of its President has seldom been out of the news for the last few years. Here is the chance to understand the importance of the Commission and to try to understand why Gillian Triggs has attracted so much criticism from the government and from conservative commentators. What the book does is outline the arguments and the ideological struggles over such issues as the rights of asylum seekers, children in detention, freedom of religion, same-sex marriage, and human rights issues of importance to Indigenous Australians and to women and girls. It also covers the important role Australia has played in the international struggle for universal human rights—a history of which all should be really proud.
Why then has this generation of politicians been so reluctant to fulfill our obligations under human rights conventions? This is a record of the daily struggle the Commission has had to advocate for the human rights of the most vulnerable in our society. It is a very readable textbook survey of the cases and the campaigns in which Gillian Triggs was involved. With her very experienced staff and international law often on her side, she withstood almost daily calls for her dismissal and some of the most vitriolic criticism from shock jocks.
I'm not sure I understood much more about her as a woman by the end of the book, but I certainly know how the book can act as an excellent reference for anyone trying to understand the arguments for and against adopting a Bill (or Charter) of Rights in Australia.
Steven Carroll
The Year of the Beast
$29.99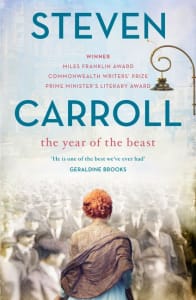 This is the sixth and final novel of Steven Carroll's Glenroy series, Glenroy being a suburb of Melbourne known to few, and which grew after the Second World War to accommodate the explosion of home ownership. The six novels can be read in any order, and this one actually goes right back to the beginning of the family saga in 1917. The main character is Maryanne, a 40 year old woman, unmarried and pregnant and caught up in the political struggles around conscription and the horrors of the Great War.
Archbishop Mannix makes a guest appearances as the main opponent of conscription, and as the representative of the Church whose judgments of 'fallen' women, such as Maryanne, marked so much of the lives of Catholics before the 1970s. Her confrontation with her parish priest who decides she must give the child up for adoption is to me the most compelling thread in the story. Her decision to defy the hierarchy makes you want to cheer!
The book is narrated by Maryanne's grandson, Michael, and throughout the book other characters from the family appear briefly: Vic the son and hero of The Art of the Train Driver, Maryanne's sister, Kathleen, an adventuress who sacrifices months of her life to support the new mother and baby, the father of the child—a German draper who disappears soon after the conception. There are also a few brief appearances of a radical pacifist, Vera, who influences Maryanne through her leadership of the Women's Peace Army.
I felt a bit frustrated that none of these characters (beside the parish priest) emerge as believable and multi-dimensional—my memory of his earlier books is that their strength was in the characters. I'll have to go back and have a second read of the other six.
Behrouz Boochani, No friend but the mountains: Writings from Manus prison. $32.99
It is hard to know where to start with this, except to say if there was ever a book that should be compulsory reading (especially for politicians) it is this one. It has just won the Victorian prizes for Literature and for Non-fiction, and it easy to see why.
The book was produced over five years from within the Manus detention centre, relayed to his translator in Melbourne by mobile phone texting. The author is a Kurd, for whom there is 'no friend but the mountain' in the struggle for recognition and control over home land. He is a poet, a journalist and social scientist, and is still languishing on Manus after five years' detention following his 'illegal' journey by boat from Indonesia.
The description of that journey is a stand-alone must-read. I thought I had a fair knowledge about refugees and asylum seekers, including those in detention, but there is information here that truly shocked me. Of greater importance was the stark realisation that the systematic dehumanising of the men on Manus is being done in our names and without any account of human rights conventions to which we are a signatory. Four hundred men, forced to stand in line to wait their turn for food, medical treatment, access to phones, in heat that defies description. Denied the right to play cards, to have access to writing materials, witnessing self-harm on an almost daily basis.
For such a tragic and horrific story to be told with such beautiful writing and poetry makes the reading of this book even more memorable.
This is more than a descriptive exercise (which would have been of tremendous value in its own right). This is a gift to literature, to the Kurdish tradition of poetry, to the academic pursuit of truth and understanding. It is an analysis of imprisonment and the sacrifice of a group of people in the name of 'border security' and national interest. If you only read one book this year, make this the one. Talk about it to your friends and neighbors—and of greater importance, to your local MP.
Joanna Nell, The Single Ladies of the Jacaranda Retirement Village, $29.99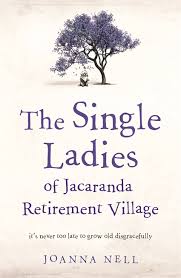 Well, here's something new for the New Year, a new literary 'genre (don't you hate that word!) It's called Uplifting Literature or Up Lit—as if Jane Austen isn't!  'Something to lift readers into a warm, fuzzy, happy place' is how it's described—an antidote to reading about disasters, violence, misery and Donald Trump. Apparently, Up Lit was the leading trend at recent international book fairs, so it's probably alright to review at least one for the year.
I got sucked into buying this because I thought there are many of us who spend a fair bit of time thinking about aged care in all its forms, and the blurb on the back promised a good dose of taking the mickey out of retirement/aged care facilities. The main character is a 79 year old widow, re-united with her childhood friend who has seen off four husbands and is determined to grow old disgracefully. All fine so far. However, our heroine falls in love with one of the only eligible, still mobile blokes in the facility, and that part of the story dominates all the other much funnier things about an ageing community.
If you want a pretty mindless read on the beach to finish off the holidays, this will do just fine. However, if you want something really thought-provoking and uplifting, I suggest two new biographies—one by Kerry O'Brien, the other by Anne Summers. Both are giants in their fields; both feel like the 'sound-tracks' of my life. Two books that are a fabulous addition to Australia's cultural history—and Uplifting as well!
Amy Bloom,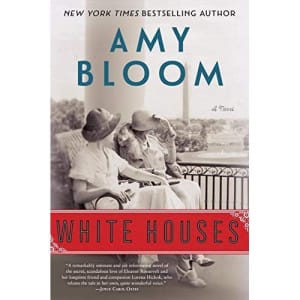 White Houses
$27.99
When I read an advance review of this book, I immediately got onto Candelo Books to order my copy. I have been a huge fan of Eleanor Roosevelt all my life so I was excited to see a new book on her. Eleanor and Franklin entered the White House in 1933, living through one of the most tumultuous times in American history – the Great Depression followed by World War II. As war-time President, Franklin didn't live to see peace in 1945, but Eleanor went on to play a critical role in the post-war struggle for international order and universal human rights.
White Houses, however, concentrates not so much on her role as a giant in public life, but on her relationship with her long-time lover, Lorena Hicks (Hicks to her friends). The story is told from the point of view of Hicks, and she certainly opens your eyes to the back-room politics of the era, and to its scandals. Both Eleanor and Franklin conducted extra-marital affairs, but throughout remained faithful and respectful to each other. It is hard to see how he would have achieved his remarkable presidency without her. She, on the other hand, after his death, grew into the most loved and respected First Lady in America's history, an advisor to future Presidents and world leaders, and an inspiration to human rights activists around the world.
I must admit, as an Eleanor groupie, I was disappointed there wasn't more of her public life in this new book, but, as one friend said, that wasn't the book Amy Bloom was writing. So I went back and re-read biographies I had of her that I hadn't opened for years—always a sign of a worthwhile read.
Happy reading over the Christmas break, and thanks again to the team at The Triangle for enabling the monthly review.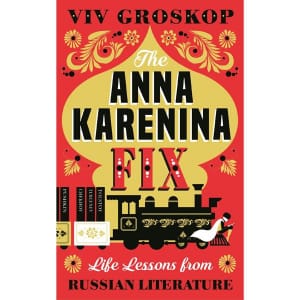 Viv Groskop
The Anna Karenina Fix: Life Lessons from Russian Literature
$29.99
Here we are approaching the end of another year, and yet again I am promising to (re)read the great Russian Classics—about the tenth year in a row I planned to do so! Imagine my joy when I came across this terrific book; it saves you reading thousands of pages and sorting out who is who. Each chapter summarises one of the greats, and points out lessons for life.
The author is something of a Russian classics scholar, so she handles with great ease the works of Tolstoy, Turgenev, Checkov, Pushkin, Dostoevsky and others. She believes that everything that has happened in life has already happened in these novels: not being sure what to do with your life (Anna Karenina/Tolstoy), being in love with someone who doesn't love you (A Month in the Country/ Turgenov), feeling you are never in the right place at the right time (all of Checkov's novels.)
Each chapter is headed with a 'how to live your life' inspirational quote: how not to be your own worst enemy (Eugene Onegin/Pushkin); how to overcome inner guilt (Crime and Punishment/Dostoevsky) and so on.
Far from being immersed in doom and gloom and total confusion over all the characters who seem to have the same names, The Anna Karenina Fix left me feeling really happy, and quite a bit more informed. And more determined to tackle Anna again, or perhaps watch the movie again—not to mention listen to the opera, Onegin, and rejoice in his downfall!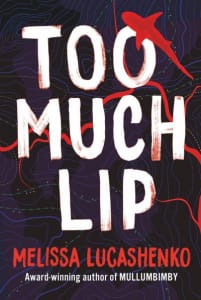 Melissa Lucashenko,
Too Much Lip, $29.95

We should all give thanks each day for Queensland University Press, which is up there with the ABC in my list of institutions for which we owe eternal gratitude. QUP is a strong supporter of emerging (and established) Indigenous writers, none of whom are more entertaining than Melissa Lucashenko. If you haven't already read her first novel, Mullumbimby, I highly recommend it. Too Much Lip is a terrific follow-up.
It tells the story of the 'lippy' Kerry Salter, arriving home in Northern NSW from Queensland on a stolen Harley, to say goodbye to a dying elder. Her intended stay of 24 hours extends as she gets caught up in the family struggle to stop development of their Bundjalong land (not to mention her starting an affair with a non-Indigenous man.)
The dysfunction and chaos surrounding her family should be tragic, but most of the time it's hilarious – I still can't work out how she does that! Each family member has a cocktail of misfortunes, foibles and challenges. Put the lot together, and it should be yet another tale of an Indigenous community falling apart. Yet she also vividly portrays the affection that underlies their fraught relationships, the strength of their connection to country and determination to save it from the hands of greedy developers. Their struggle to find forgiveness of each other in their fight against the world will resonate with anyone who is driven mad by family dynamics.
At the end of the book, you can't help but hope that the author brings back Kerry Salter; her life would be a great series. I presume she will remain determined to raise her voice in anger, most of the time, with obvious justification. At other times, her 'lippiness' is that which permeates most families – it's just that she is more honest than most of us!
Trent Dalton, Boy Swallows Universe, $32.99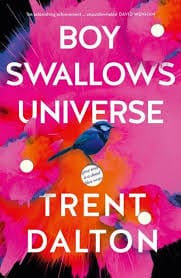 I admit to nearly abandoning this novel after the first 50 pages, but I persisted and am glad I did so (on the recommendation of the staff at Candelo Books – thanks again!) It is the first book of award-winning journalist Trent Dalton and has been received to wide acclaim.
Set in Brisbane in the 1980s, it is a stark reminder of the corruption, crime and racism that infected Queensland. The story is of two brothers, told through the eyes of the younger one who is in his last years of primary/early high school. The older brother refuses to talk as one reaction to the trauma the boys endured as young children. They continue to live in chaos in a highly dysfunctional family of drug users turned drug  dealers, ex-cons, neighbours who control criminal gangs, school mates who are already acting as stand-over merchants and 'respectable' philanthropists who turn out to be murders and torturers.
However black their lives are, there is still overwhelming love between the brothers, and between them and their mother (who spends a stint in jail for drug dealing.) There is also great loyalty to their ex-convict babysitter who teaches the boys about loyalty, friendship and brotherly love.
This is a book that requires quite a bit of work from the reader, but once you are into it, it is quite hard to put down.
 Konrad Marshall, Yellow and Black: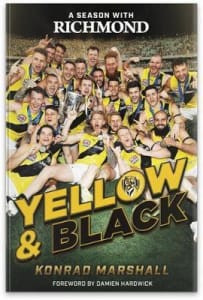 A Season with Richmond, $34.95
Normally, the monthly Triangle review involves a best-seller, hopefully with fairly wide appeal. But this one is unashamedly for the handful of AFL tragics, of whom I am proudly one. Detailed conversations, descriptions, explanations covering one season for the Tigers – the Premiership year of 2017. How could it warrant a book of 500 pages? Easily!
Sixty years of following Aussie Rules and I had no idea of the enormity of the enterprise which is the modern AFL club. In the case of Richmond – 140 staff, an annual turnover of $60 million, 70,000 members (more than the combined membership of the major political parties!), countless volunteers who fund-raise, construct banners, wash jumpers, house new recruits, and provide mentorship, financial advice, social media training and ethics, even table manners and other social skills. The Club runs dedicated education and leadership programs for Indigenous boys and girls, and encourages philanthropic and charity work amongst its players.
Read the book and you will be privy to detailed conversations before, during and after every match of the year; you will learn about game strategies and tactics and the planning thereof. Never heard of 'recovery nutrition'? Wondered what Dusty Martin prefers as his half-time snack? (eight rice crackers); contemplated how training schedules, individual fitness programs, leadership training, rotation guidelines are devised? This is the book for you!
One of the central questions the book tackles: how to develop the 'Richmond Man'. What are his qualities? How can he learn from past heroes and legends? What is the importance of peer leadership and inspiration? What does he add to the story of the Club and to each individual game? How is he shaped by the army of specialists to whom he has access – experts in medicine, nutrition, psychology, fitness, motivation, leadership training, researchers who study opposition teams, statisticians who explain their own game plans?
Reading this was pure indulgence. As one review pointed out, '… this is not just a book for the club faithful. This is a book for the game's enthusiastic multitude, and a piece of literature written with writerly grace to match the soaring moment of on-field elegance.' Read it and you can visualise the player who '…zipped across the grass like an out of control lawn mower.' Makes you proud to be part of the army.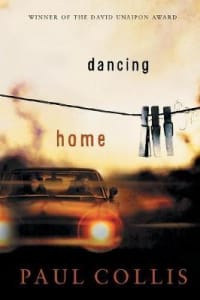 Paul Collis,
Dancing Home.
$29.95
Thanks to the Bermagui U3A, I was introduced by one of our fantastic teachers, Debra Cushion, to the David Unaipon Award. This annual award is to acknowledge previously unpublished Indigenous writers, and is supported by the national treasure which is the University of Queensland Press.
Winner of the 2016 Award, Dancing Home is the first novel of Paul Collis, a Barkindji man from Bourke. He has worked with young offenders and in other Indigenous community development programs; he now teaches at the University of Canberra. This varied career has obviously informed his writing, and the result is a book where the characters jump off the page at you.
The main character, Blackie, recently released from prison, is driving back to his home country near Bathurst to seek revenge on the policeman who sent him to jail, and to reconnect with his grandmother's country. With him are his companions, Rips and Carlos. Together, their road trip highlights many of the dilemmas facing young Indigenous males, including anger at injustice, the helplessness of those who are disposed, but also the friendship and resilience (and humour) of those who share common life experiences.
Many argue that literature is one way into history, and this novel demonstrates that in spades. We have all read the reports of incarceration of Indigenous youth, but to read a novel that tells the human story in raw language and at a cracking pace can only add to our understanding. This novel is described as 'part Koori-noir' – its flashes of terrific humour sit easily alongside the darkness of drug addiction, violence and the quest for revenge. A great first novel.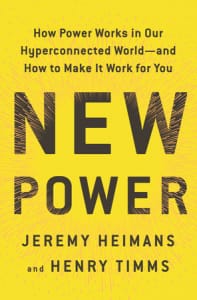 Jeremy Heimans and Henry Timms,
New Power: How power works in our hyperconnected world – and how to make it work for you.
$32.99
For someone totally uninterested in technology like me, this was a difficult book, but one that I acknowledge is important as I try to understand the changing world. There was a wealth of information about the new media, emerging industries, new ways of organising for social change; I learnt of organisations of which I have never heard, but which are changing the nature of power, and the nature of democracy as we have broadly understood it.
Jeremy Heimans is the co-founder of Get Up (about which I know a little) – so he is well placed to describe and analyse platforms such as Uber and Facebook, movements like #BlackLivesMatter and #MeToo, and the success of presidents Obama and Trump, of French President Macron, of Brexit, and movements for democracy in Spain.
The central argument of the book is that the 'old power', possessed by few and largely inaccessible to all but the political elite, is under siege from people largely disillusioned by governments, big business and centralised media. Now we are seeing the emergence of 'new power'—connecting people across class and race, encouraging participation and ownership of businesses and of social movements. The darker side of new power is briefly described in the book, particularly the way in which ISIS uses social media to recruit members.
There are really interesting examples of crowd-funding and other ways of engaging the interest and expertise of citizens to produce new products, new sources of information, and new ways of organising to bring about change at a local level. Whether this 'new power' will be strong enough to combat the influence of the gun lobby in the USA is a question still open. Also still to be resolved is the whole question of leadership and how leaders gain and maintain trust as they seek new ways of including citizens in decision making. As an activist born out of the 1970s, I still grapple with how this 'new power' will transform the ways in which governments and large business operate, but, having read this book, I feel a bit better able to understand the issues.
These ideas and other questions will be canvassed in Cobargo at the 2018 TEDx to be held on 9 June at Well Thumbed Books – see separate advertisement.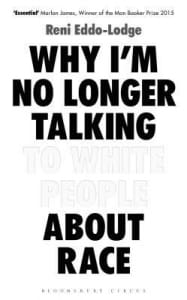 Reni Eddo-Lodge
,
Why I'm no longer talking to white people about race
$28.00
The genesis for this book lies in a blog written by the author, who is a journalist. She wrote of her frustration about the manner in which race and racism is being discussed in the UK. Her ideas went viral, and resulted in her decision to write this book.
This book is not for the faint-hearted white reader who refuses to acknowledge the structural nature of racism, falling back instead on the "I'm not racist – some of my best friends are black/brown/yellow/Jewish/Muslim" justification.
As she argues, white privilege does not imply that all white people are living in the lap of luxury, but it does mean that the fact of whiteness positively impacts on life trajectory – "and you probably won't even notice it." In the simplest terms, she describes how, from cradle to grave, race determines life chances; white people enjoy the freedom where their race is not deemed to be a "problem"; few white people can legitimately argue that they are less able to succeed because of their race.
She places these contemporary problems in the context of the history of race relations in the UK, at times drawing parallels with the civil rights movements in the USA. In a very short space, she gives a terrific overview of the history and the unique circumstances which have led modern, multi-cultural UK to the racial tensions within it.
I highly recommend this very important book; almost every issue she raises is just as pertinent to Australia. Be prepared to be confronted – it's a book that must be read with an open mind.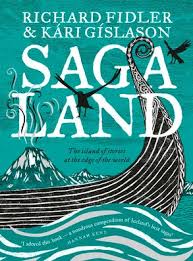 Richard Fidler and Kari Gislason, Saga Land: The island of stories at the edge of the world, $39.99

I chose this book for the Triangle review because I presume many readers are fans of Richard Fidler's interviews on ABC radio. I also recently read his book, Ghost Empire, relating the trip to Turkey he took with his son, and loved it. I was also interested in the book because I know virtually nothing about Iceland.
The structure of Saga Land is interesting: the two authors write alternate chapters, interspersed with the retelling of traditional sagas—the comings and goings of Nordic gods, heroes and villains, 'dangerous women' and long-standing blood feuds. Gislason was born in Iceland, so his take on the journey throughout the country brings a different perspective to that of Fidler. Together they succeed in painting a fascinating picture of this unique country as they travel to places where the sagas unfolded thousands of years ago.
This is one of those books you probably need to dip in and out of—there is, if anything, too much information to take in at a few sessions. It has inspired me to learn more about Iceland—I might start by re-reading Burial Rights by Hannah Kent!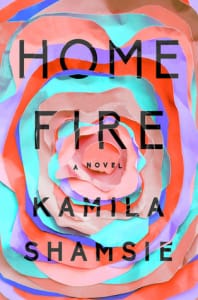 Kamila Shamsie,
Home Fire, $24.99
Reviewed by Heather O'Connor
March 2018
In his endorsement of this book, the Australian author, Peter Carey, recommended that it be read by every Prime Minister and President. I heartedly agree (bet they are really interested in my recommendations!)
Home Fire is a novel set in contemporary England, describing the lives of three young Muslim siblings: twin brother and sister, and an older sister who is left to raise the twins after the death of their parents. We find out that the father was a jihadist, and learn of the ongoing consequences of his activities abroad for his family living in London. Freed from some of the responsibilities as head of the family, the older sister heads for America to study, but the activities of the twins back home complicate her newfound freedom.
Adding to the complexity is the arrival in their lives of the son of the powerful UK Minister for Home Affairs, a Muslim of Pakistani descent, one determined to prove his loyalty to the state (and advance his political career) before all else.
In a relatively short novel, Kamila Shamsie manages to convey all the issues facing young, modern, educated Muslims living in the West, at the same time showing how a basically decent politician gets caught up in the tangle of world-wide politics and his own family's struggle to balance faith and modernity.
Even the politicians of whom we despair should be moved by this incredible story, and could be tempted to admit that the challenges facing multicultural countries go way beyond tweets and slogans. If you only read one book this year, make it this one.  

David Lagercrantz

The girl who takes an eye for an eye
$32.99
Reviewed by Heather O'Connor
February 2018
I'm sure many of you read the trilogy written by Steig Larson about the amazing Lisbeth Salander. Following Larson's death, some arrangement must have been made with the family to continue the series, which was a world-wide success. The result is this novel, but it's rather difficult to recognise the original Lisbeth. She seems to have morphed into a much more 'normal' woman, with the odd lapse into anti-social behavior. The upside of this is that we don't get nearly as much detailed description of her technological genius, and also that the level of violence has fallen about 100%. The downside is that she is rather colorless.
We first encounter her in a prison where she is targeted by a particularly nasty inmate, and where she takes it upon herself to defend a vulnerable young woman whose fate is tied up with family honour violence. She is still connected to Mikael Blomkvist, although even he has lost a fair bit of his charisma. The story is not nearly as complicated to follow as those of the Millennium series, and is still a good read. But as a stand-alone, I doubt it would have attracted as much attention as the original.
The stand-out book from my Christmas reading is by an emerging Indigenous writer, Claire Coleman, entitled Terra Nullius. It's in the Bermagui library. I can't get it out of my mind—always a good indication from someone who often forgets what I've read a week ago! Highly recommended.
John le Carre, A Legacy of Spies, $32.99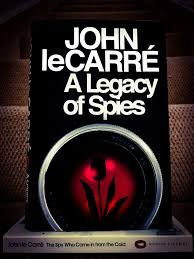 Reviewed by Heather O'Connor
December 2017
A close friend who is a Le Carre fan told me I should not read this unless I had read The Spy Who Came in from the Cold first. However, I did and really enjoyed it, although I can imagine it would have been easier if I had known the characters from the earlier books.
The central character is Peter Guillam, colleague of the famous George Smiley, co-worker and spy from the Cold War days. Guillam is happily living in retirement when he is summoned back to London by the current leadership of The Circus (as the British Secret Service was known.) He is called to account for secret service operations, almost unknown to the newest generation of spies. Threatened with possible lawsuits from the descendants of some of the characters involved, he must justify actions from a different time and space, remaining as always loyal to Smiley, who makes the briefest appearance in the book.
Le Carre was himself a spy in the Cold War period; his father also worked in security operations, so his details of the hows and whys of espionage are highly believable. I'm inspired to put the earlier books on my Xmas reading list.
What a great year of reading! Looking back over the Triangle reviews, I'm going to nominate Sebastian Barry as the most favorite author, followed closely by Julian Barnes, with a very special mention for our own Georgia Blain, RIP. Happy holiday reading!
Josephine Rowe, A loving, faithful animal, $23.95
Reviewed by Heather O'Connor
November 2017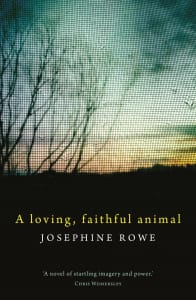 Rodney Hall, well-known author and friend to many in Bermagui, recommended this author as one of the most exciting he had read for years—a great boost for an emerging writer. She has previously published a book of short stories, which were strongly acclaimed. As a fellow at Stanford University in California, she completed this book which went on to be long-listed for the 2017 Miles Franklin Award.
Based on her father's life, the short novel tells the story of a young man, Jack, conscripted to fight in Vietnam. It vividly describes the emotional aftermath of the War, and the intergenerational effects his experiences have on his children. The story opens on New Year's Eve, 1990, when Jack (the father) disappears, leaving Ru, the daughter and narrator, to face the conflicting loyalties she feels for him and for her mother. Also struggling with conflicting loyalties is Les, Jack's brother who takes on some of the family responsibilities abandoned by Jack. The saddest character is Jack's wife, Evelyn, who for years believed that she could help her husband return to the man he was before being catapulted into a world of violence and horror.
This work is only a little more substantial than a novella, but the writing is so powerful that Josephine Rowe has captured a chapter in our history gradually fading from the collective memory, but one which continues to shape the lives of thousands of family members. A really exciting new author whose future books will be eagerly anticipated.
Robert Wainwright, Miss Muriel Matters, $32.99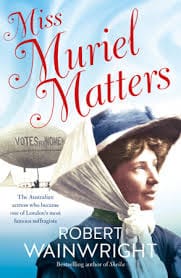 Reviewed by Heather O'Connor
October 2017

Here is yet another woman I had never heard of! Muriel Matters was born in Adelaide, spent time in Perth where she began her life as an actress before moving to London to further her career at the beginning of the 20th century. Before long, she was caught up in the struggles for women's right to vote. The book traces her commitment and her involvement up to and after the First World War.
She first gained notoriety by chaining herself to the grill that separated women from the MPs at Westminster, at which point she became the first woman in history to address the Parliament before she was hauled off, still attached to the hated grill, which had to be cut to enable her removal. She became a regular speaker at the huge crowds of people attracted to the meetings of the suffragettes. Physical and verbal abuse was the norm at these meetings, as they were when she took to travel in a caravan around Britain, recruiting women (and few men) to the cause. She was jailed along with over a thousand of her sisters, enduring appalling conditions and abuse.
Dubbed "that daring Australian girl", her next adventure was to take to the skies in an air balloon, distributing Votes for Women pamphlets; this was declared as the first aerial protest.
The book explains the tensions between the different factions of the suffrage movement. Most of us know something of the Pankhurst women; few of us understand the conflict between those who wanted votes for all women and those who wanted the vote confined to women of property and education. There was also fiery dispute over tactics – should the women resort to violence? Should they confine their struggle to winning the vote or broaden the debate about improving the status of women through education, better health and housing?
Any woman who could stand up and say "…we are done with charity, we want justice" is my sort of heroine. Thanks are due to the author for rescuing her story.
Sebastian Barry, Days Without End, $32.99

Reviewed by Heather O'Connor
September 2017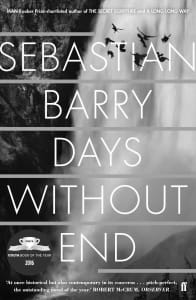 This is the second book of Sebastian Barry that I have reviewed this year, but it is so completely different from all his others that I gave myself permission to indulge in this most favorite of authors.
All the other books of his that I have read have been set in Ireland and, in combination, give a wonderful history of that country in the 20th century. Days Without End, however, is set in America, although the narrator is a poor Irish immigrant whose history follows him to the new land where he joins the army, alongside an equally poor young man who becomes his life companion. Together they fight in the Indian Wars, then re-enlist to fight in the American Civil War on the side of the North. The book tells of the horrors of war, of death, of starvation and endless marches in extremes of weather. But in equal measure, Barry writes of the strength of friendship, of decency and courage, and above all, the love and tenderness between the two men.
What stood out for me was his ability to insert no more than a line or at most a paragraph, to describe the life-long commitment of the two men, one of whom assumes the role of a woman and wife, the other of whom takes on the responsibility of a parent to a young Indian child. There is not one lengthy description of any aspect of the relationship between the two, yet it is possibly the most tender love story I've read for years.
On a "star" rating this is 4.5 out of 5 – and I can't even think of what the other .5 could possibly be! If you only read one book this year, read this.
Colm Toibin, House of Names, $29.99
Reviewed by Heather O'Connor
August 2017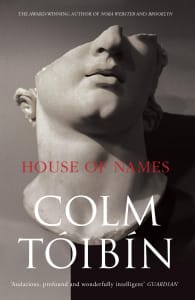 I must have been one of the first people in Australia to buy this recent release, such is my obsession with this terrific writer. I was a bit daunted by the reviews I had read, and it was much harder to get into than other books of his, mainly because my knowledge of Greek mythology is woeful. However, turns out that didn't really matter – I didn't need the background to understand this epic story of love, ambition, and struggle for power.
The book is a re-telling of the horrific events in the lives of a king, Agamemnon, explaining how and why he sacrificed his daughter, Iphigenia, to the gods, hoping to ensure his victory in battle. Her betrayal and death is avenged by her mother, Clytemnestra, whose actions rival that of Lady MacBeth. Meanwhile, the other daughter, Electra, and the only son of the family, Orestes, must shape their lives, torn between love of their father and grief for their sister. (Not much love lost from either for their mother, who by this time has taken unto herself a very unpleasant lover. In the end she meets a very gory end.)
Much of the story is told from the point of view of Orestes, who finds companionship and love with his friend, Leander, with whom he has shared the horror of being kidnapped, abused and imprisoned, and the triumph of escape and survival.
As with most of Toibin's books that I have read, it left me feeling I should go off and attend to the huge gaps in my historical knowledge – this time, of the Greek myths and legends. This book is completely different from his novels set in Ireland, although it reminded me a bit of The Testament of Mary, where he took a known story and re-told it from a completely different angle.
House of Names will challenge you, but it's worth it!
Mohsin Hamid, Exit West, $32.99
Reviewed by Heather O'Connor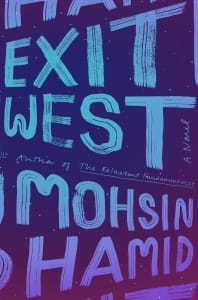 Many of you will have read The Reluctant Fundamentalist (or seen the film), an earlier work of the author. In Exit West, he brings a really interesting take on the refugee experience, writing with a mix of stark reality and a touch of magical realism which you don't expect in books dealing with displacement and incredible hardship.
You don't know the identity of the city about which he writes, but it is readily recognisable as a site of civil war, destruction, displacement, death and despair – we see it every night on TV news programs. The central characters are a young couple who meet and fall in love amid the chaos. They agonise about the decision to flee the city, leaving behind family and friends. Their escape is through a series of magical windows, the first of which lands them in Greece. From there, they make their way to London, only to face a new series of challenges, finding housing and jobs and fitting in with the wave of refugees who preceded them.
This book provides a different focus on the refugee experience; it explains why people leave their homes, and what they face when (or if) they arrive at their final destination. Often this includes barriers which appear almost insurmountable for individuals, and explains why refugees naturally gravitate to communities of fellow displaced countrymen and women for survival and support. A central theme of the book is the tension which arises when desperate people see no alternative but to leave their homes, yet find little or no welcome at the end of their truly awful journeys.
The book is an important contribution to what will remain a world-wide problem for decades. The element of magical realism perhaps reminds us that in a world where distance is collapsing, "windows" will open through which desperate people will escape.
Georgia Blain, Between a Wolf and a Dog, $29.99
Reviewed by Heather O'Connor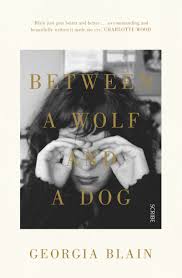 This is a novel that will move you to tears. While completing the work, the writer found out she was suffering from brain cancer, the same fate facing Hilary, one of the characters in the book, and the mother of the main character, Ester. Hilary is widowed and determined to take control of her life and the manner of her death, which she does, independently of her family—food for thought as we all debate the ethics and other issues surrounding end-of-life planning.
Ester is a family therapist, but her own family dynamics and relationships don't appear to benefit from her professional skills. She is estranged from both her sister and her ex-husband, although by the end of the book you are hopeful there will be some sort of reconciliation, perhaps brought about by the death of their mother.
Although the issues explored are all difficult and often painful, the book is a celebration of the capacity of people to deal with the complexity of everyday life. As one critic said, "…a joyous tribute to the beauty of being alive."
Georgia Blain's early death, which occurred a few days before that of her mother, Anne Deveson, is a great sadness for all Australians. Vale two great women.
Zoe Morrison, Music and Freedom, $32.99
Reviewed by Heather O'Connor
Zoe Morrison has a broad and interesting background in music and in issues surrounding violence against women, two themes at the heart of this award-winning first novel.
Music and Freedom is the story of a young girl from country Victoria whose life is transformed when she wins a scholarship to Oxford to study music. Her early days there are marked by loneliness and overwhelming homesickness, but she gradually becomes absorbed in the life and culture, and seems destined for a successful career as a concert pianist. A disastrous marriage follows with a cruel, abusive husband who ensures that her music career is cut short. We first meet her as a frail 70 year old woman, tying up the ends of her life, filing and discarding notes and books, when she hears through her wall the strains of the Rachmaninoff Piano Concerto Number 2, the demanding piece that marked the end of her career.
Then follows the account of her friendship and mentoring with a young musician next door, as they struggle together to conquer the Rach 2. (At this point you might want to revisit the film Shine to remind yourself of another musician who was undone by the Rach 2).
Despite the violence and the squandering of a professional life, the story is, in its own way, uplifting and optimistic. As a first novel it is yet another example of the prodigious talent of Australian writers. Highly recommended.
Julian Barnes, The Noise of Time, $19.99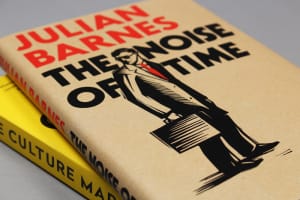 Reviewed by Heather O'Connor
I remember trying to read Flaubert's Parrot years ago and vowing not to try anything by Julian Barnes again. Wrong. I have completely changed my mind – might even go back to it! Early this year I read his 2011 Booker Prize winner, The Sense of an Ending, and then picked up this latest book which I liked even more. It is an account of the life of Dmitri Shostakovich (1906-1975), arguably the most famous Russian composer of the 20th century. His life spans the 1917 Russian Revolution, two world wars, the rise and fall of Stalin and the worst years of the Cold War. His choice to stay within Russia and to reach some sort of accommodation with those in authority ("The Power") is fascinating. His despair, his depression, the conflict of whether to co-operate and survive as a musician or rebel and possibly die, or to live in exile, makes this an important and in some ways a monumental book (at less than 200 pages).Barnes provides us with glimpses of the lives of his contemporaries – Russian musicians and writers who did choose exile rather than be controlled by the State. The references are so fascinating that you will be prompted to go off and find more about their lives as well. This is a great introduction to one of the giants of the 20th century, as well as an analysis of the struggle to live a life of integrity in the face of overwhelming power and control. Highly recommended.
Annie Dunne, by Sebastian Barry, $19.99

Reviewed by Heather O'Connor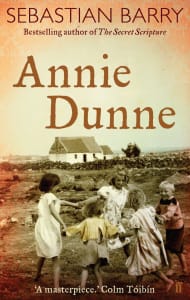 One of the greatest joys of my life is reading almost anything written by almost any Irish writer – and Sebastian Barry is in my top five favourites. Over Christmas I read Days Without End, and then found Annie Dunn. Set in the 1950s in Ireland, it could have been describing the lives of 19th century rural women. So little had changed for those who struggled on marginal farming land, who were unmarried and who relied so heavily on themselves and their relationships with family and neighbours. Annie and her cousin Sarah manage a small farm by themselves; as "spinster aunts" they also take on the responsibility for two young relatives whose parents are away in London looking for work. The book describes the everyday challenges of unrelenting work and the precarious ability to survive when faced with such decisions as selling their only horse, thus their only means of transport.
Annie's existence relies entirely on the continuing support of Sarah who has provided her with a home in exchange for her labour. The relationship between the two women is so touching it occasionally brought tears to my eyes. Just the description of their work together on washing day tells it all. But there are also extremely grim issues of abuse, of the vulnerability of women living without men, and of the uncertainty facing those without a home to call their own.
Sebastian Barry's writing is often described as poetic, and Annie Dunn is the ultimate example of that truth – it is really beautiful. In 230 pages he packs in a fabulous description of Irish country life, of families, of the essential decency of humanity in the face of the dark side. Treat yourself to reading it straight through.
Margaret Drabble, The Dark Flood Rises, $29.99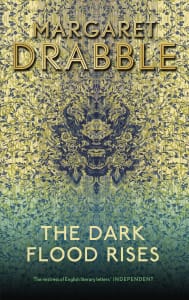 I haven't read any book by Margaret Drabble for years, so this was a bit of trip down memory lane. I can't remember her being quite so "earnest" – I'll have to re-read some of her earlier works. One reviewer of this, her nineteenth novel, remarked that people under 60 might not get much out of this book, but for those of us on the other side, it is an excellent survey of so many of the issues that come with ageing. The main character, Francesca Stubbs, is in her 70s and still working and travelling in her capacity as an assessor of programs and housing for the elderly – "housing for the refusing-to-die." That will ring a bell for many of us! She is also still preparing and delivering meals for her ex-husband (which I found a bit hard to believe). More interestingly, she remains a loyal and devoted friend to women with whom she has shared years of intimacy. This aspect of her life seemed to me the most believable and touching of the many relationships described in the book.
Her relationships with her children are complicated, but again, the way she handles both daughter and son are believable and—strange words perhaps—decent and respectful. The challenging aspect of her life that struck me most was how she was dealing with her own ageing, and in particular, facing up to what she calls "the thinning of emotions" – finding it hard to recall "passionate and ridiculous emotions of her youth and middle age …" For anyone facing the latter third of their lives, this is as good an introduction to the process as any, certainly more engaging than the myriad of "how to" books on the subject!
Heather O'Connor
Nutshell
Ian McEwan                     
Reviewed by Heather O'Connor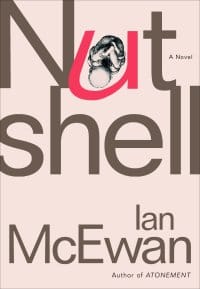 I think I have mentioned before how excited I get when my favourite authors bring out a new book: here we go again! Ian McEwan has surpassed himself this time: the novel is short (200 pages) and can easily be read in one sitting—which I did. The narrator is his youngest ever—in fact, a third-term foetus. He's described as a modern day Hamlet, who lies helpless in his mother's womb, listening to her plot to kill her husband, the father of the foetus.
The co-plotter is her brother-in-law, a truly horrible character and the direct opposite of his sensitive brother (although there is a twist there too). The conspirators drink copious amounts of wine and enjoy a vigorous sex life, both of which impact directly on our foetus, whose philosophising about the state of the world is worth reading as a stand-alone commentary (see, especially, pages 25-27).
This book is a gem—so may well McEwan live another ten years and continue to produce such fascinating work. He has promised not to write about golf, income tax or the VAT. Other than that, his imagination shows no signs of diminishing. McEwan really is the grand old man among novel writers, and Nutshell is amongst his best.
Incest: Shhh, Keep it in the family
Yasmine Bonner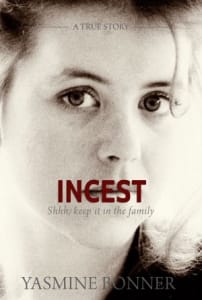 Reviewed by Sarah Gardiner
Stories of family dysfunction are, for some, new information. For others, reading Yasmine's story will give the feeling of not being alone. Even the cover of this book contributes to its meaning: the face of a young girl with the title printed over her mouth. Silenced. The young girl is in fact Yasmine, herself, at eighteen years of age when she started writing her book.
Yasmine Bonner's writing, so the blurb on the back tells us, is 'straight-forward and sharp-shooting'. I agree. In fact the strength of the book is the matter of fact style. It is writing that reinforces the reality of her tale.
Yasmine's story is of the horrors of her early life. These horrors kept happening, seemed expected of her and her story was invalidated. This is what other incest victims experience. This book also tells about cultural denial.
I read the 'good' bits of Yasmine's life with interest. I got a real sense of place, the feel of her home. There are evocative descriptions of young girlhood, school life and friends as she grows through her teenage years. Her life in Perth with many sisters, and the later addition of two brothers, is fun.
I read of Yasmine's confusion. Her subsequent behaviour led her to being labelled a 'troublemaker'.
A difficult time from her early childhood through to her eventual escape from her father.
This year Yasmine and her husband moved to their property in Brogo. Apparently Yasmine is a keen gardener (she and her husband are about to plant 400kgs of garlic!) and enjoys her beloved Shetland dogs. She published her book in 2015. The book is available online through Amazon.
Chris Cleave, Everyone Brave is Forgiven, $29.99 (reviewed October 2016)

Chris Cleave in his notes at the conclusion of the book tells us that he was inspired to write this book as a tribute to his maternal grandfather, Captain David Hill of the Royal Artillery. Captain Hill served on the island of Malta, where near starvation was as challenging as the almost daily bombing raids by the Germans. Some of the facts of his service are reproduced in the novel, but otherwise, the plot is as imagined by the author. The first few chapters didn't grab me, mainly because the main female character, Mary, was the 18 year old daughter of a local MP (presumably a conservative). She was obviously over-indulged and both she and her best friend were typical English upper-class pains. Mary hoped to become a spy or something equally glamorous when she volunteered at the outbreak of the Second World War. However, she is assigned to schools, and to her credit, insists on face-to-face teaching, at which she proves to be exceptional. Her character begins to develop as the reality of the blitz and other hardships of wartime kick in. Her romance with her superior (and later on, with his best friend) are quite moving, although I must admit that the romantic feelings of an 18 year old set against the tragedy of war strike me as a bit contrived. This is a book that improves as it goes along and in the end, leaves memories and impressions of war that are a tribute not just to his grandparent, but to all those who served and to those who waited.
PS: Another good book by Cleave is Gold (about Olympic athletes).
Charlotte Wood, The Natural Way of Things, $29.99 (August 2016) Heather O'Connor
I've made a vow to always the buy the book which wins the Stella Prize for women's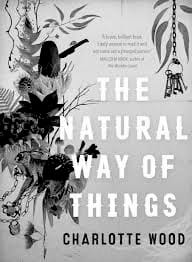 fiction, because it's such a terrific addition to Australia's literary life. The 2016 prize went to well-known author, Charlotte Woode, and the book is causing the same arguments amongst my reading friends as The Slap did a few years ago.
Two friends said is was the best and the most important book they had read for years; two couldn't finish it, one commenting that it was taking misogyny to new levels, making The Handmaid's Tale look quite tame. It is the story of a group of young women who are kidnapped, taken to a remote location from which escape proves impossible, starved, forced into hard labour, denied any comfort or dignity. It tells the struggle of individual women to survive, avoid further torture and/or rape by the men who are their guards. The misery is all-consuming; the small victories of the women hardly compensate for the unrelenting horror of the experience, although there is some hope glimpsed in the friendship of two of the women.
I'm still not sure what I think about it, but given the controversy that it is causing, the way in which it has polarized readers, perhaps it is important to read at least one book a year that sets your teeth on edge. I just know I was terribly relieved when I got to the end of it.
Elana Ferrante,  The Neapolitan Novels Text Publishing $22.99 (July 2016) Heather O'Connor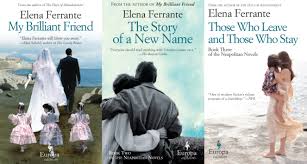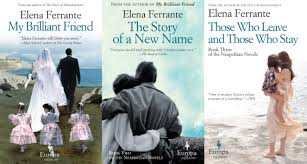 There are four books in this series: My Brilliant Friend, The Story of a New Name, Those Who Leave and Those Who Stay and The Story of the Lost Child. The publication caused something of a literary sensation and jettisoned the author (who remains anonymous) into international fame. Each book traces a period of time in the lives of two women who maintained a friendship stretching from their childhood days in Napoli. I read the first two, and to be honest – that saw me out. It's not that the story lines are not fascinating – the importance of long-term friendships, the challenges facing young women born into poor and confined circumstances, how women meet and overcome enormous obstacles to create interesting lives for themselves. However, the longer I read, the more I wanted to kick everyone along – it seemed to be taking an incredibly long time to tell what in effect, is a fairly simple story of human existence. But don't take my word for it – millions of readers around the world have been captivated by the stories and the writing. Through the Triangle and Well Thumbed Books, the four books will be available in the library. I'd love someone who reads and loves them to write another review!
In the meantime, start to catch up with your Sisters in Crime reading for the second weekend in October. Sulari Gentill has agreed to come for the festival, and a couple of her books are in the library, and one is available to borrow from Well Thumbed
Lian Hearn Emperor of the Eight Islands: The Tale of Shikando, Hachette $29.99 (June 2016) Heather O'Connor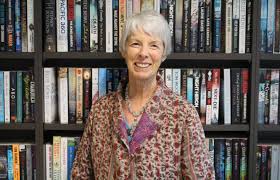 If, like me, you have been a huge fan of Tales of the Otori series (Across the Nightingale Floor et al), you will be so happy to know that this wonderful writer, now resident in Australia, has launched another series based in medieval Japan. This time, the central character is Shikanoko, a young man who has been made a sorcerer against his will. Despite numerous hair-raising encounters with evil spirits (and evil humans), assassins and ghosts, his innate goodness and the protection of his guardian spirits see him through to the end of this first in the series.
I confess to almost giving up after the first fifty pages, given the large number of people involved, the complexity of the relationships and my difficulty in understanding who was who. However, I am so pleased I persevered, because once I got over the panic of wondering which character was trying to unseat which Emperor etc, I just devoured it – didn't look up for nearly two days.
Lian Hearn has spent years researching Japanese history and language, and she brings to this book the same skills and respect for the culture as she did in the Otori series. Even if you are not into fantasy, give yourself the gift of reading this over the winter months – it is fantastic
Sulari Gentill, Gentlemen Formerly Dressed, Pantera Press $22.99 (May 2016) Heather O'Connor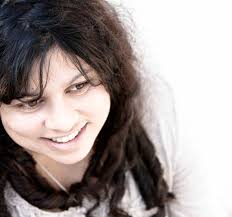 In the lead-up to the Sisters in Crime weekend extravaganza in Cobargo and Bermagui (second weekend in October, 2016), I have been seeking out Australian women writers of crime. Sulari Gentill was born in Sri Lanka, but emigrated here at the age of seven, so I'm sure it's OK to claim her as ours. She trained as a lawyer, (having abandoned her first love, astrophysics), then turned to fiction writing, creating a series of historical crime fiction books. Her hero is Rowland Sinclair, a wealthy Australian artist whose friends and companions are bohemian-types, typical of those abroad in the 1930s. He is also an amateur sleuth whose adventures are set in countries around the world, and whose social standing brings him into contact with real-life historical figures such as Churchill. Evelyn Waugh, George Orwell, various politicians, including Nazis in Germany and Blackshirts in England before the second World War.
Gentlemen Formerly Dressed is one of eight in the series; it begins with a bizarre murder in London where Rowly lands after escaping from the Nazis in Germany. The bizarre world of the English aristocracy is navigated by our hero and his left-leaning friends as they determine to prove the innocence of a young woman falsely accused of the murder of her eccentric uncle (found dead in a fluffy nightgown – please read on!)
Sulari Gentill lives in Batlow and as well as working on her award-winning novels, also produces truffles, and draws upon the editorial skills of her historian husband whose special era of interest is the 1930s, hence her detailed knowledge of the social context in which her hero is carrying on his investigations.
Perhaps she can be persuaded to come over the mountains to the Sisters in Crime weekend??
Yann Martel,  The High Mountains of Portugal, Text Publishing $29.99 (April 2016) Heather O'Connor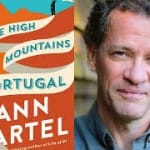 I confess that the reason why I chose this book was because of a recent trip I took to Portugal, not to mention that The Life of P, by the same author, is just about everyone's favourite. If I thought it was a bit out there, it is as nothing compared to this 'magic realism' (I think that's how you would describe it).
The book is in three distinct parts, each with a strong link to the high mountains of Portugal, beginning in 1904 and covering the next five decades. The first section, entitled Homeless recounts the story of a young man who is on a quest to find a treasure in the mountains, and to assist him, he borrows one of Portugal's first cars to help him on his way. The book is almost worth reading just for the descriptions of the car and the challenges it presents to this young non-driver.
Thirty five years later, under the heading Homeward, a pathologist is tackling a murder mystery worthy of Agatha Christie. The clues all point back to the adventures of our young hero from Homeless. Finally in Homecoming, we move to the story of a Canadian professor who moves to Portugal to recover from the grief of losing his wife, and in one of the many strange twists to the story, finds himself taking along a young chimpanzee as his chief companion. If this all sounds a bit contrived and confusing, don't be put off – the writing is beautiful and there are great descriptions of deep love and tragic loss. A worthy follow on from Pi.
Geraldine Brooks,  The Secret Chord,  Hachette Australia, $34.99    (March 2016)   Heather O'Connor
Australian award-winning author,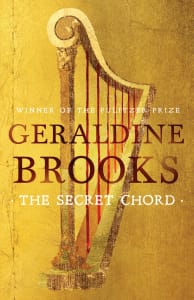 Geraldine Brooks, brings to each of her books a completely different voice, and her latest novel, The Secret Chord, doesn't disappoint those of us who hang out for each of her offerings. Her first novel, Years of Wonder, was set in 17th century Britain, March moved to America in the 19th century, People of the Book, spanned the centuries, based in Sarajevo, then back to 17th century America with Caleb's Crossing. Each is a gem; if you haven't discovered this fabulous author make 2016 the year you treat yourself to each of her books – my favourite is The People of the Book. With The Secret Chord, she brings her vivid imagination to the life of King David from his time as a young shepherd, through his rise to power and his fall from grace. He is a morally complex character and hero, and through him, Brooks again draws us into an historical period of which we may not have much knowledge. I found the first sections a bit hard going – especially details of military battles, which leave me a bit cold I must confess. I skipped over some of this, and by the end of the book, she had me yet again feeling that I had really learnt about a culture that hitherto was a bit of a mystery.
Carolyn Hirsh,  Politics, Death and Addiction, Brolga Publishing. (February 2016)    Heather O'Connor

Carolyn Hirsh is a Melbourne-based writer whose memoir, Politics, Death and Addiction, was short-listed for the Finch Memorial Prize, 2013. This is a story of love, tragedy, family, professional life, addiction and recovery.
At the heart of Carolyn's life has been her commitment to social justice while at the same time, she constantly juggled responsibilities associated with being a sole parent, after she was widowed as a young wife and mother. A product of her time (and her gender), she worked and studied to improve her qualifications and her ability to support her daughters. She joined the Labor Party and again, after a long struggle, won pre-selection for a seat in the Victorian Parliament. She went on to become the first woman in Victoria's history to be made a parliamentary whip, and retained throughout her time as an MP a passion for accessible housing for low-income earners, and for educational opportunities for adults.
If Carolyn's book had just covered these issues, it would be still be a gift for those of us who are fascinated by the journeys of people who contribute to public life. But the story of a mother dealing with the unbelievable sorrow of the suicide of her daughter adds a totally different dimension. Her subsequent addictions to poker machines and to alcohol are described with great honesty and sadness, and will surely be an inspiration to anyone struggling with the same issues. Her eventual recovery and the adoption of her new life as a writer provide even more inspiration.
This is a book that doesn't shirk from the hard issues. The writing of it has been part of Carolyn's recovery, and is also an extension of her determination to support and affirm others who have suffered family tragedies. Her personal and professional self-analysis is a great gift to the community for which she has worked so tirelessly and to her family and friends.
Margaret Atwood, The Heart Goes Last, Bloomsbury $32.99 (December 2015) Sarah Gardiner

Lucky for us, Margaret Atwood is still turning them out. Fifty-five publications to date: fiction, poetry, essays and children's books. I have always enjoyed the work of this Canadian author, especially her futuristic stories such as The Handmaid's Tale and Oryx and Crake.
The Heart Goes Last tells a similar story of an horrific future age of economic collapse and high tech solutions. For some it is a life of poverty and crime while others nestle into the security of a model town. This book is not a sci-fi fantasy but a marvellous jigsaw of utopia and age old human emotions. People still cheat and Elvis still lives. The many twists and turns leave the reader, like the characters, not knowing what to believe. Always there is a lurking horror and the really creepy stuff actually creates a happy ending.
A very easy read, funny and scary. The Heart Goes Last will renew your faith (or despair) in the longevity of humanity and make you paranoid.
Pat Barker, Noonday, Hamish Hamilton, $32.99 (November 2015)   Heather O'Connor
Noonday completes the story of Elinor Brooke, Paul Tarrant and Kit Neville, the two previous novels being Life Class and Toby's Room. It is the first time that Pat Barker has written about the Second World War, her Booker Prize winners being set in the period of the First World War (The Regeneration Trilogy). She places the three friends, who had been together in the Slade School of Art in their youth, in the 1940 London blitz, the descriptions of which constitute the strongest element of the book. The despair, destruction and sheer terror of the nightly bombings are described with the same skill with which her earlier books capture the horrors of the 1914-1918 war. The three all work as volunteers (ambulance drivers, wardens), rostered at night to attend the innumerable fires and collapsed buildings, while at the same time, grappling with the problems of everyday life and relationships. I'm not sure the characters ring quite as true as they did in her earlier novels, and this trilogy doesn't reach the heights of Regeneration. Nonetheless, Pat Barker remains one of my all-time favourites.
Many thanks to everyone at the Triangle who continue to support us readers by purchasing a book every month which eventually ends up in the library – at 12 books a year, averaging $30.00 each, the scheme is very generous and of benefit to us all – especially me, who gets to choose from the new best-sellers.
Happy reading over Christmas!